Elgato presents Facecam, Wave XLR and Stream Deck: 3 accessories for streamers and content creators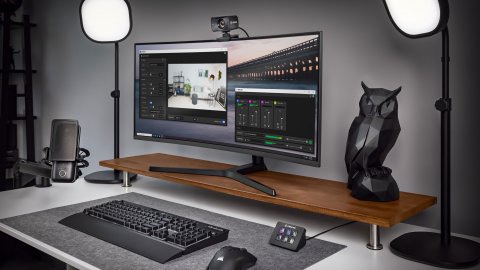 Elgato presents Facecam, Wave XLR and Stream Deck
Elgato, a well-known manufacturer of hardware and software for streamers and content creators, has announced the arrival of three new professional products for recording and broadcasting multimedia content. In particular, the new Facecam, the Wave XLR and the Stream Deck were officially presented. Respectively it is a professional webcam that we have already reviewed capable of capturing the video signal in 1080p at 60 frames per second, a device for connecting XLR microphones to the computer through a simple and practical interface and finally a completely customizable control system. for quick management of instruments during live broadcasts.
Let's see in detail the technical specifications released by Elgato, together with other curious details on the Facecam, the Wave XLR and the Stream Deck.
Elgato Facecam
Elgato Facecam Elgato Facecam is a pioneering product in the world of professional quality webcams. Facecam is able to acquire the video signal with a 1080p resolution at 60 frames per second, using the
Sony
Starvis CMOS sensor. The connection with the PC or Mac takes place through the USB-C cable included in the package.
The webcam can be mounted through the appropriate support to each monitor, otherwise the 1/4 "thread can be used to fix it on other accessories. Using the official Camera Hub application it is possible to access a whole series of tools and settings to optimize Facecam shooting. In addition, the Stream Deck plugin fully supports integration with the entire system and the change of some parameters with a simple touch.
The list price set by Elgato for the Italian market is € 199 and is also available on Amazon. If you want to find out more about this product, we invite you to read the review of the Elgato Facecam on our pages.
Technical sheet
Lens: Elgato Prime f / 2.4 24mm glass Sensor: Sony Starvis CMOS Field of view: adjustable 82 ° Resolution: 1080p Frames per second: 60 Connection: USB-C cable Software: Camera Hub app Compatibility:
Windows
and Mac Price: 199 € on Amazon
Elgato Wave XLR
Elgato Wave XLR If you want to use your XLR microphone on your computer to record audio or stream, Elgato has it available for you its Wave XLR. This accessory connects to the PC via USB and acts as an audio signal conversion device to be sampled by the software on any operating system.
On the front the Wave XLR has a silent capacitive button available for the microphone activation and a multifunctional control knob. Under the shell, on the other hand, hides the Clipguard technology, which prevents audio distortions during peak input levels.
The Elgato Wave XLR
offers up to
48 V phantom power for condenser microphones and reaches up to to 75 dB of intensity amplification of the microphones. This device also integrates seamlessly with Stream Deck for greater control of audio parameters during streaming broadcasts and is perfectly compatible with Elgato's proprietary software, Wave Deck. The price set by the manufacturer is 169 € and the product is also available on Amazon.
Data sheet
Audio input: XLR Connection: USB-C cable Phantom power supply: 48 V Amplification: 75 dB Technology: Clipguard Software: Elgato official application Compatibility: Windows and Mac Price: € 169 on Amazon
Elgato Stream Deck
Elgato Stream Deck Finally, the latest product recently presented by Elgato is the new Stream Deck. It is an interface with customizable LCD buttons, to which it is possible to assign actions to control apps and tools dedicated to recording and live broadcasting.
The buttons are completely removable, so that you can customize a to your liking the Deck configuration. Even the external shell can be removed and replaced with other customized ones to adapt perfectly to any desk and gaming station. The connection with the PC is made via USB-C cable.
Using the Stream Deck 5.0 application it is possible to configure each button of the Stream Deck to obtain an extremely versatile control interface that is fully adaptable to any workflow on computer. As already highlighted for the other products, this device is an ideal companion to the new Facecam and the Wave XLR. The list price set by Elgato is € 149 with availability on Amazon.
Technical sheet
Device: button interface with customizable body Buttons: removable with display Customizable LCD Connection: USB-C cable Software: Stream Deck 5.0 Compatibility: Windows and Mac Price: 149 € on Amazon
Have you noticed any errors?