Atomic Heart: Mundfish talks about the release date, the endings and the PS4 version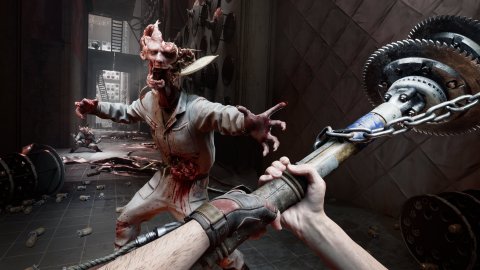 Atomic Heart
Atomic Heart, the interesting first-person shooter from Russian developer Mundfish, returns to be talked about thanks to a series of information shared by the team via the official Discord channel.
There is talk of
the release date, the endings and the
PS4
version.
Speaking of the release date, Mundfish says: "Unfortunately, we can't say yet. Usually, developers are very careless about the release date, they postpone it and keep saying "tomorrow." But it's not all as simple as it seems from the outside: the release date affects communication with publishers, it will affect the
Xbox Game Pass
program, of which Atomic Heart is a part, as well as the presence in stores and the global network of major releases (where everything is adjusted to fit each other). In general, we can't tell you the release date right now due to a million little nuances, starting from factors beyond our control (localization of the game in other languages), ending with the mood and atmosphere within the team, which of course will be worse if we eventually have to move this date. But you should know the main thing: never before now we have been able to say "The game is ready, now it is in the polishing and final assembly phase". And now, quite recently, we have said this sentence - and it is true. The long wait is almost over, we promise you "
Atomic Heart: strange creatures will stand in front of us Speaking about the Atomic Heart endings, Mundfish states: "We have 2 endings. But we are not an RPG: Atomic Heart has a strictly linear plot, and we don't has to wait for incredible variability. We put an important moral choice in the hands of the player near the end, because we want to push the community to argue and discuss the themes we have exposed in the story. We want the player to draw their own conclusions and take the own decision, without being influenced by forces from above. "
It is finally confirmed that the PS4 version of the game is functioning properly. Here are the words of the Atomic Heart team: "We will answer this question closer to release, because until the last day we will be pushing to reduce the minimum system requirements of Atomic Heart, and we are not yet entirely sure how far we can go. We want everyone to be able to play. On PS4, we have good stable performance, we are definitely not abandoning the previous generation version, and we are doing everything possible to optimize the game and to satisfy players with low hardware configurations. "
Atomic Heart will also allow you to fight hand to hand Mundfish finally explained that the development of Atomic Heart started in 2018. The game experience will be fluid, ie without loading screens. As for potential DLCs, they will only be considered after the game's launch. Finally, here is a 22-minute gameplay video, lots of action for the expected FPS.
Source Did you notice any errors?
---
If you are wondering when the release date is for Atomic Heart, it is currently unknown as an official date has been yet to be announced. All we got so far is that it will come out sometime this year, but nothing definitive is known at the time of writing. 
However, our best guess it will come out sometime from October to December 2021, but we will still have to wait and see. Hopefully, it comes sooner than later, as the game looks fantastic.
Moving on, what we do know about Atomic Heart is that when it does launch, it will also launch on the Xbox Gamepass, Xbox One, Xbox Series X/S, PC, and Xbox Cloud gaming. 
What is Atomic Heart? 
Atomic Heart is an upcoming action roleplaying game that takes place in an alternate timeline where the Soviet Union became highly advanced. Along with this, robots, the internet, and all sorts of crazy science fiction electronics became a reality in 1955, a concept similar to the origins of the Fallout universe.
Players will have to survive this strange world using some of these very technologies to destroy crazed androids, robots, and flying machines. Crafting and studying enemy moments will also play a key part, and the overall gameplay seems most similar to a game like Bioshock.
Stay tuned for more Atomic Heart coverage at Pro Game Guides. 
The post When is the release date for Atomic Heart? appeared first on Pro Game Guides.