Xbox Game Pass, April 2021: the first batch of free games for subscribers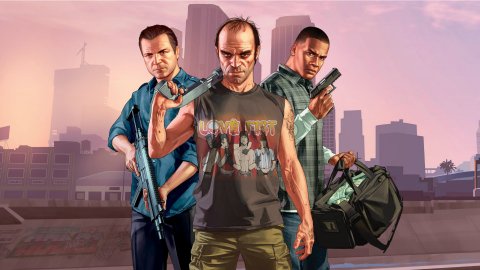 Xbox Game Pass, April 2021
If there is one thing that seems to be agreeing everyone, even in an area where clashes between factions are on the agenda such as the gaming landscape, it is that
Xbox Game Pass
currently represents an offer of truly impressive value. for users. Throughout the month of March we have had further confirmation, with three progressive releases of new games of considerable richness and variety, including a mass release of the games from the Bethesda catalog with the official achievement of the acquisition by Microsoft and now we wait to see how the run of the service will continue for April 2021.
Xbox Game Pass, the list of games added to the catalog in the first batch
of April 2021
For the moment, we are faced with a first delivery that contains, yes, various lesser titles but also some 90 pieces of considerable caliber: first of all Grand Theft Auto V, which had already passed from Xbox Game Pass and will therefore return to be part of it for a few more months. Although
it is now
an "old" game, it continues to sell a lot, so its inclusion in the service represents a rather challenging move for Microsoft, probably. The other title that has made a lot of talk about itself is MLB The Show 21, which marks the first case of
Sony
PlayStation first party game in the Game Pass catalog, representing a truly historic episode.
Grand Theft Auto V - Cloud and Xbox, April 8
If there is a game that needs no introduction, it is definitely Grand Theft Auto V, which has now become a real own mass cultural phenomenon. Despite being released 8 years ago or nearly so, the Rockstar Games game continues to sell a lot every month, with 2020 being its best year since launch in 2013, reaching a total of 140 million copies sold so far. On the other hand, it is still one of the best examples of action game with a true and wide open world, as well as having an online multiplayer platform that is still populated and played by a lot of people. It may seem strange, but we imagine that there are still several players who have not had the opportunity to have their gaming experience in Los Santos and in this case this is an opportunity not to be missed: download the substantial great county built by Rockstar to be the backdrop to the raids of the three crazy protagonists, there is really a great deal of hours to spend there.
Zombie Army 4: Dead War - Cloud, Xbox and PC, April 8
The union between zombies and Nazis, which started out as a bizarre trash provocation between horror B-movie, has now become a real classic even in the field of videogames and Zombie Army 4: Dead War is an excellent example . It is a third-person shooter developed by Rebellion as a sequel to the previous Zombie Army Trilogy, a series that was born as a spin-off of Sniper Elite. Indeed, it shares the historical setting with the sniper shooter, only in this case it is clearly a fantastic reinterpretation in a horror key. Set in 1946, Zombie Army 4: Dead War stages Hitler's return from hell with all his Nazi zombie troops. In this bizarre mix of WWII, horror and occult we are dealing with a cooperative campaign for 4 players and various game modes, complete with slow motion sequences characteristic of the Sniper Elite series.
Disneyland Adventures - Cloud, April 8
The Kinect era seems to be a distant memory for Microsoft, but for years the motion-sensing peripheral has been a pillar of the Xbox division, as evidenced by the various remaining titles in the catalog as an ancient legacy of this somewhat controversial era. Disneyland Adventures
is one of
them, but which is part of that category of titles adapted so that they can still be played with a traditional controller. In this form we find it in the Xbox Game Pass catalog, in particular with the possibility now to be played directly on Android smartphones through the cloud catalog of the service. It is a sort of virtual visit to Disneyland Park in Anheim in California, which
allows you to
wander around for a faithful reproduction of the park in 3D by taking part in various activities that are configured as mini-games of various kinds. This is clearly a rather special game, dedicated above all to a young audience but not only, which can also be used on mobile phones.
Rush: A Disney / Pixar Adventure - Cloud, April 8
We continue with the recovery of the games originally released on Xbox 360 to take advantage of Kinect but then also readapted as titles to be used with the standard controller, in this case with Rush: A Disney / Pixar Adventure, also made available on the cloud in order to be played on android mobile. It is a multi-event 3D platformer that leads us to explore different environments, with characters, scenarios and situations taken from different Disney Pixar films such as Up, Toy Story, Toy Story 2, Toy Story 3, The Incredibles, Cars, Cars 2, Ratatouille and Finding Dory, the latter added with the remastered version of the original game, released in 2017 on Xbox One. Curiously, as well as Disneyland Adventures, this title was also curated by Asobo Studio, a talented French team that later established itself with A Plague Tale and Microsoft Flight Simulator. Rush is a game for the whole family that obviously focuses on the stardom of its characters and settings, but it is also a rather engaging 3D platformer.
NHL 21 - Xbox, April 12
EA Play continues to supply the
Xbox Game Pass Ultimate
catalog of games and an important part of these are the sportsmen, with Electronic Arts having a good amount of high-caliber licenses. In this case we are dealing with NHL 21, which is the new official simulation of the top ice hockey championship in North America, updated to the current season with roster and related events. It is, as always, a simple evolution of the previous chapter, built on the usual EA
Sports
Ignite engine, developed by the Vancouver division, but it is practically the only video game on the sport in question available worldwide and is in any case made properly . In our country it is certainly a niche title, but the tradition of hockey video games is long and historical, moreover its appearance in the Xbox Game Pass catalog can easily provide the opportunity to experience this version, which has a rich and different modes.
Rain on Your Parade - Cloud, Xbox and PC, April 15th
The odd moment of this Xbox Game Pass release is definitely Rain on Your Parade, a game indie developed by Unbound Creations in which we find ourselves controlling a cloud intent on sowing panic in 50 levels, bringing down rain, lightning, hail, wind and other atmospheric agents on different targets. The premise is very simple: for each level we find a certain amount of actions to be carried out and objectives to be completed, which usually involve bathing some unfortunate, electrocuting something else and in general making life somewhat complicated for all those who find themselves. under the radius of action of the "nice" cloud. Obviously, everything starts from a wedding, like any self-respecting storm, but from there a long journey starts in different and in some cases rather crazy settings, between exteriors and even interiors. Rain on Your Parade is the classic title that we find ourselves playing with a smile on our face, but with a rather original concept.
Pathway - PC, April 15th
There is a very interesting idea behind Pathway, which may not be expressed to its full potential but which is still original enough to build a game at least to try. It is in fact a mixture of classic adventure, strategic and survival, or a set of genres that may seem little amalgamated as basic characteristics and which in fact is a bit of a strange hybrid, but still fascinating. We find ourselves controlling a handful of hero adventurers in the 1930s, at the gates of the Second World War, in an attempt to stop the evil plans of the Nazis who want to get hold of various relics and related objects and myths and occult powers. A sort of Indiana Jones in pixels, so to speak: the story unfolds along a composite map between adventure moments with dialogues, survival situations with the collection and management of resources and above all battles in a strategic turn-based style, all represented with a particular style 2D pixel graphic that helps to give a "vintage" look to the whole.
MLB The Show 21 - Cloud and Xbox, April 20
Finally we are at the stone of scandal: MLB The Show 21, a game developed by Sony San Diego, not only arrives on Xbox platforms but also launches directly in Xbox Game Pass. The question has generated a great stir, of course, because it is perhaps the first Sony first party, so far an exclusive PlayStation, to arrive on Xbox but above all to land directly on the catalog downloadable by subscribers to the Microsoft service, where on PS5 the classic disbursement of € 70. The reason for this initiative is mainly linked to the requests of the American Baseball league, eager to expand the only officially licensed game to other docks and to exploit for this also the consolidated Game Pass channel, now increasingly used also by fans of sports games. In any case, MLB The Show 21 is truly a great baseball simulation, which continues the great tradition established by Studio San Diego from season to season, with career modes, multiplayer and various game options, all equipped with a realization truly remarkable technique.
Have you noticed any errors?