PS5 and PS4, May 2021: the best games of the month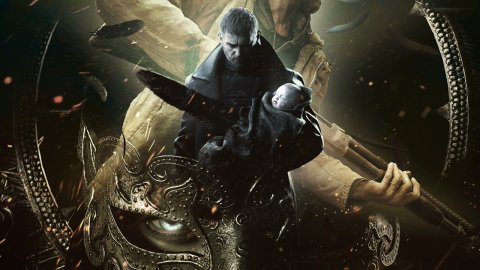 PS5 and PS4, May 2021
There is no
doubt:
Resident Evil Village
is the highlight of May 2021 on
PS5
and
PS4
. The new episode of the Capcom series is long awaited by owners of
Sony
consoles, who can't wait to immerse themselves in a new, disturbing nightmare.
This month, however, other games of great depth are also released: from the exciting
Mass Effect Legendary Edition
collection to the intriguing PvPvE experience of Hood: Outlaws & Legends, from the action RPG mechanics of Biomutant to the return of a real classic with Shin Megami Tensei 3: Nocturne HD Remaster.
Resident Evil Village
Resident Evil Village, Lady Dimitrescu and her daughters. Released on PS5 and PS4 on May 7th
New episode of the Capcom survival horror series, Resident Evil Village takes up the mechanics of the seventh chapter, the first person view and the same protagonist, Ethan Winters, to involve us in a new adventure, set this time in a remote European village where witches, monsters and vampires seem to move.
Determined to save what is left of our family, in the game we will have to collect resources and objects to upgrade the weapons of which we are in possession, get new equipment from the creepy merchant of the village and use all possible resources to try to survive this new nightmare. Will we succeed?
Hood: Outlaws & Legends
Hood: Outlaws & Legends, a fight sequence with the guards. Released on PS5 and PS4 on May 10th
Set in a dark fantasy setting inspired by medieval England, a kingdom controlled with an iron fist by the state, Hood: Outlaws & Legends starts with the legend of Robin Hood for narrate the deeds of a handful of thieves and mercenaries who battle in an attempt to take possession of the county's treasures.
The PvPvE experience sees two teams of four players face off on different maps with the aim of getting to the chest full of coins first and stealing it from the guards who guard it. It will not be easy: we will have to exploit the characteristic abilities of each different character to gain an advantage and capitalize it.
Mass Effect Legendary Edition
Mass Effect Legendary Edition boasts remastered 4K graphics. Released on PS4 May 14th
The famous BioWare saga returns
with Mass Effect Legendary
Edition, a remastered edition that includes the first three chapters of the series, technically improved thanks to high resolution and enhanced effects, but also refined in terms of gameplay due to a whole series of measures aimed at modernizing the experience.
We are therefore talking about an unmissable collection for the nostalgic of the Normandy and the adventures of Captain Shepard, but also for new users who want to approach a historic sci-fi franchise for the first time, revived as part of a package that also includes all the downloadable content released over time.
Biomutant
Biomutant, the unusual protagonist grappling with the vast open world of the game. Released on PS4 May 25th
The wait has been long, but finally Biomutant is preparing to make its debut, catapulting us into a post-apocalyptic world inhabited by anthropomorphic animals. Under the command of a combat-savvy mutant, our task will be to find the origin of a mysterious plague that is killing the Tree of Life, uniting the various tribes under a single banner.
A ' no small feat, which we can however complete using the powerful martial arts Wung-Fu, a large arsenal of weapons to be collected or built using the resources collected within the scenario and the possibility of recoding our DNA in order to obtain new capabilities. All against the backdrop of a vast open world full of things to see and do.
Shin Megami Tensei 3: Nocturne HD Remaster
Out on PS4 May 25th
Remastered edition of the iconic RPG released by Atlus in 2003, Shin Megami Tensei 3: Nocturne HD Remaster again engages us in the disturbing story of an apocalypse that destroys Tokyo and transforms it into something different: a scenario inhabited by few survivors , from the spirits of those who died during the Conception and from fearsome demons.
At the command of an anonymous and silent protagonist, we will have to face the many pitfalls of this new world together with some companions and make a difference within of the clash that is taking place between gods and creatures of the underworld, fighting our enemies in the context of a particularly multifaceted turn-based system rich in strategic elements.
Other games to be released in May 2021
Skate City, in out May 6 Assassin's Creed Valhalla: Wrath of the Druids, out May 13 Subnautica: Below Zero, out May 14 Leisure Suit Larry - Wet Dreams Dry Twice, out May 18 Knockout City, out May 21 May Rust, out May 21 King of Seas, out May 25 Earth Defense Force: World Brothers, out May 27 Call of the Sea, out May Yonder: The Cloud Catcher Chronicles, out May
Have you noticed any errors?