Games With Gold, May 2021: from Armello to LEGO Batman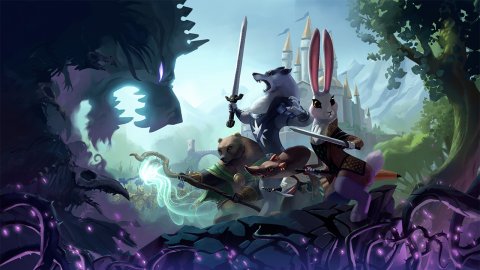 Games With Gold, May 2021
Something changes but the
Games with Gold
remain more or less the same, which also for May 2021 offer the usual four
free games for
Xbox
Live Gold or
Xbox Game Pass
Ultimate subscribers, two taken from the Xbox One catalog and two from Xbox 360 in backward compatibility. The level of games remains more or less average and even for this month there are no particular jolts from the offer chosen by
Microsoft
for subscribers to its oldest service as regards Xbox, which is practically no longer news.
However, there have been some interesting news in recent days, in particular the elimination of the need for the Gold subscription to be able to take advantage of free-to-play games and party chats, which makes them completely free to all the effects: this is a maneuver that was long overdue and was only recently announced with the resounding turnaround made by Microsoft on the possible annual price increase of Live Gold. In addition to eliminating the threat of this increase, the company has also decided to remove the free-to-play paywall, making the situation equal to what happens on competing platforms. Beyond this,
there is no
trace that indicates the possibility of a total elimination of the Gold by making the online multiplayer free, as some rumors claimed some time ago, so we continue to wait for any developments on the question. In the meantime, let's get on with the classic Games with Gold.
Armello - Xbox One, from 1st to 31st May
Defined as "a board game that comes to life", Armello is a particular game that mixes elements from RPG, card games and strategic tabletop, infusing everything with a fascinating and strange atmosphere given by its fairytale characterization, between the poetic and the dark. The Kingdom of Armello, dominated by different factions of anthropomorphic animals, is as beautiful as it is dangerous, full of dangers, bandits and continuous conflicts between different houses, to which we must also add the terrible threat caused by "Putrefaction", a still unknown evil that it is spreading over the earth and seems to leave no escape for any creature it encounters on its path. With the King now ill, a terrible fight breaks out for the conquest of the throne, which leads to bloody clashes between the animalistic houses: imagine a sort of
Game of Thrones
but with anthropomorphic animals instead of the well-known fighters, but without the whole assumes an aspect too cute and reassuring, since the war always remains bloody in Armello. The result of an ambitious idea of ​​the indie League of Geeks team, this is a complex and profound game, which requires application but which is also endowed with an undeniable charm: you can find more information about it in the review of Armello by Andrea Centini .
Dungeons 3 - Xbox One, from May 16th to June 15th
The title isn't really the most original, it must be said, but Dungeons 3 is still a game that shouldn't be underestimated. Indeed, it is definitely a good game, although it has been out for about four years now: in case you have not had the opportunity to try it so far, since it is a title not too much in sight, this is an opportunity not to be missed. The series was born as a "spiritual sequel" of the legendary Bullfrog Dungeon Keeper, but in particular this chapter deviates from the source of inspiration to find a truly unique path: it is a hybrid between management with dungeon construction and strategic in time real. The story sees Thalya, a dark elf converted to good by her stepfather, but destined to return to dark origins and control a massive dungeon full of threats, to be hurled at the hapless human adventurers who seek to destroy its core. If on the one hand the gameplay is based on the historical basis of Dungeon Keeper, or on the construction and management of the dark dungeon, on the other hand it is also possible to carry out sorties outside, guiding the fighters as in a classic RTS and in particular on the style of Warcraft. It may seem like a weird game solution but in reality it works well and represents a really interesting game in this game of Games with Gold, as the review by Simone Tagliaferri also demonstrates.
Lego Batman - Xbox One and Xbox 360, from 1st to 15th May
The Lego Batman
video game offers
an interesting mix of action and adventure It's been 13 years since the release of Lego Batman, but this still remains one of the best titles of the Lego series ever, the progenitor of a specific series that has continued to garner wide acclaim. The Batman in the Lego version, on the other hand, has a very special charm, perfectly managing to build a world parallel to the classic DC Comics one and endowed with a sarcasm and a truly biting and apt self-irony, which is found in good part even within this game. For the rest, it is the classic mix of action and adventure with various puzzles to be solved using Lego-based construction and destruction, but in this case everything is made more complex and also more logical and stimulating by the use of various gadgets and different costumes that Batman and Robin can use. Of course, after 13 years and numerous sequels and spin-offs, it is highly likely that many have already played the title in question and it might have been desirable to make available a more recent game in the large Lego family, but in case you haven't yet had the opportunity to conclude Lego Batman we advise you to do so now, because it is really one of the best Lego-based titles out on the market.
Tropico 4 - Xbox One and Xbox 360, from 16 to May 31
Haemimont Games and Kalypso have finally built a remarkable empire with the Tropico series, so much so that El Presidente himself is probably proud given the results achieved so far. Tropico 4, offered this month in the Games with Gold, was originally released about ten years ago and this too is therefore now decidedly overtaken by the following chapters and other similar productions, but it is still a very "city builder" style management software. interesting and worth trying. It is about taking over the fate of a small country located in a tropical paradise and trying to make it become an economic and political power for the rest of the world as well. To achieve this we must manage practically every aspect of the life of the country, as befits a true enlightened dictator: the player must therefore follow the economic, political and social issues of the small tropical pseudo-republic, trying to follow his own vision of the future. and adopting from time to time different choices and strategies to make the most of resources, grow the economy and compete with the world superpowers. The series is now well established on the gaming market and you have probably already had something to do with it, but if you haven't played it before, still consider this free Tropico 4.
Have you noticed any errors?