Games With Gold, April 2021: from Vikings to Hard Corps: Uprising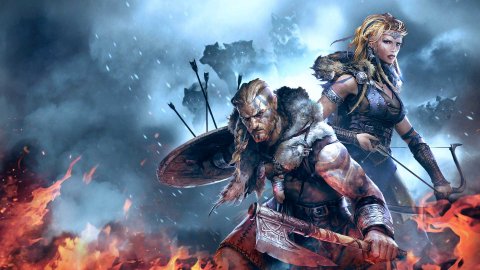 Games With Gold, April 2021
Despite everything, the Games with Gold continue their journey and also for April 2021 they offer four other free games that can be used on
Xbox Series X
| S and Xbox One, two of which thanks to extended backwards compatibility as per tradition. Also in this case, it must be said that the choices are somewhat singular, since these are titles that are not particularly in sight, which once again renews the famous question on the actual usefulness of this initiative by
Microsoft
, given that clearly all the efforts are now concentrate on the
Xbox Game Pass
offer.
The Games with Gold of April 2021, 4 other free games between Xbox One and Xbox 360
While the latter continues to be simply superlative, which has also been confirmed by the latest releases of titles arrived in March, it is clear that Games with Gold have become almost an uncomfortable task for Microsoft, which in the meantime is implementing important changes in its online services, with the choice to rename the Live platform to Xbox Network and start the procedures for the elimination of the mandatory Gold on free to play games. In all this, the Games with Gold continue but recently they have strung together a series of months considered somewhat disappointing by fans, especially when placed in contrast with the games offered by the PS Plus. However, we must not exaggerate with the generalizations, given that anyway also within this April 2021 we can find a couple of offers that should not be underestimated.
Vikings: Wolves of Midgard - April 1 to 30
An action RPG with a Viking setting is already an excellent premise and Vikings: Wolves of Midgard delivers precisely that to the player that one would expect from such a title: lots of furious action in Nordic settings, with some interesting grafts more classically in the style of role-playing games. Developed by Games Farm and published by Kalypso, Vikings takes us along the coasts of Midgard, in a world where Viking mythology and history come together with a bit of fantasy, prompting us to fight the fearsome Jotan, hordes of terrifying undead monsters. , and the creatures of Ragnarök. In several respects, we could consider this as a sort of Viking-style Diablo and the reference to the famous title
Blizzard
makes sense both in the setting of the game - between framing and general rhythm - and in the role and progression mechanisms of the character. Obviously, there is the necessary proportions to do, as the scale of Vikings: Wolves of Midgard, in terms of the extension of the settings and the progression of the character, is certainly less, but if you are looking for an alternative on this sub-genre this could be a great choice.
Truck Racing Championship - From April 16th to May 15th
Not quite the racing game everyone has been waiting for, probably, but fans of the most bizarre simulations will enjoy: Truck Racing Championship is the official game of truck racing, which perhaps not everyone knows but really exists and is also regulated by a sports federation of which this game is officially licensed. Developed by N-Racing and published by Nacon (ex-Bigben, now a specialist in this type of games), Truck Racing Championship is the only official simulation focused on all the peculiarities of the ETRC, offering players the opportunity to take part of a rather faithful reproduction of these strange truck rides on circuits. We therefore find ourselves competing with a giant truck of 5 tons and 1,000 horsepower against 12 opponents, with a somewhat simulative approach and the need to carefully follow the rules set for this type of event in order not to run into any penalties. Truck Racing Championship is developed on the KT Engine, that is the same technological base that moves WRC and offers various game modes, but clearly it is a very particular and niche racing game.
Dark Void - From 1 to 15 April
The writer has a bizarre connection with Dark Void and in general the wave of Capcom titles coming from the end of the first decade of 2000, when the Japanese publisher had decided to groped new paths also through outsourcing and collaborations with Western teams. Not all things went the right way and this Airtight Games title is a clear demonstration, yet many ideas still remain interesting and charismatic today. For this reason, with a certainly unpopular opinion, we welcome with a smile the return to the scene of Dark Void, whose recovery through Games with Gold can even anger users who would like more valid or glamorous games as a gift, but it can represent also a good deal. We are far from the perfect form of the third-person shooter, but this game remains a unique experience both for the particular "vintage sci-fi" Rocketeer style characterization, and for the fact that it offers practically two games in one, passing from the shooter with covers to the aerial one at any moment, something that is not easily seen again afterwards. With all its flaws, Dark Void remains an experience to try.
Hard Corps: Uprising - April 16-30
Straight from an era that this classic shooter with a 2D structure seems to be a long way off, carrying two signatures now usually associated with something else: Arc System Works for development and Konami as publisher. Despite its relatively simple and unassuming appearance, Hard Corps: Uprising could be the most interesting title in this batch of Games with Gold games, if you have the right propensity. The name might not suggest it easily, but it is a chapter of the historic Contra series, a spin-off of Contra: Hard Corps but also considered as a prequel to the progenitor, no less. Despite the use of 3D graphics, the game is in all respects a 2D "run and gun" shooter with platform elements on the classic Contra style, with some additional implementations such as the ability to spend points to increase special weapons and skills and different possibilities of movement more dynamic than the tradition, which make it an action game even more complete between the possibility of fire and mobility between platforms. Unfortunately, the charm of bitmap graphics is quite another thing, but if only from a gameplay point of view this is a welcome return to classic shooters.
Have you noticed any errors?