Xbox Series X | S and Xbox One, April 2021: the best games of the month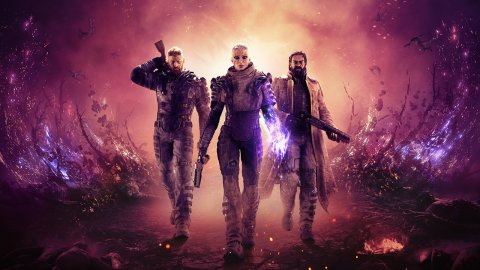 Xbox Series X | S and Xbox One, April 2021
What are the best games coming to
Xbox
in April 2021? The first on the list is undoubtedly Outriders, the new shooter developed by People Can Fly, which
Xbox Game Pass
subscribers will
be able to
download at no additional cost from day one.
This month, Judgment, the spin -off of the Yakuza series debuting on
Microsoft
platforms after the publication of all the episodes of the main franchise, and the long-awaited remake of NieR Replicant ver. 1.22474487139.
Outriders
Outriders, a combat sequence based on special powers. Out on
Xbox Series X
|
S and Xbox One
April 1st
Developed by People Can Fly, Outriders is a cooperative-based shooter in which up to three players can fight together against the backdrop of a creepy sci-fi scenario . The story is in fact set on a distant planet, Enoch, colonized by the terrestrials so that it could be their new home.
The character we control, a skilled ex-soldier in charge of managing security during the initial phases of the colonization, finds himself involved in an anomalous event and ends up in a cryogenic sleep for thirty years, only to awaken in the middle of a real war, mysteriously in possession of superhuman powers that will allow him to restore peace between the warring factions ... or at least try.
MotoGP 21
MotoGP 21, one of the official images of the game. Out on Xbox Series X | S and Xbox One on April 22nd
MotoGP 21 once again sees the Italian Milestone team committed to offering motorcycling enthusiasts a racer with wide simulation facets, characterized by a model of solid and widely adjustable guide, therefore ideal for any need: from less experienced users to purists of the genre.
A plant once again at the service of a traditional structure, with fast races and time trials but also a career mode that promises great numbers and substance, putting us in command of a driver determined to climb the rankings starting from the divisions minors before making their debut in the official MotoGP championship.
NieR Replicant ver. 1.22474487139
NieR Replicant ver. 1.22474487139, a frenetic combat sequence. Released on Xbox One April 23rd
Remake of the action RPG originally released by Square Enix in 2010, NieR Replicant ver. 1.22474487139 catapult us into a post-apocalyptic scenario to tell us the story of a formidable warrior who wants at all costs to save his sister, struck by a terrible disease called Necrography.
It seems that there is a cure, but to find it the protagonist of the adventure will have to leave on a difficult mission in the company of a talking book and a couple of allies, facing traps and opponents of all kinds thanks to a substantially improved combat system, as well as graphics and sound.
Judgment
Judgment, the protagonist in one of the game's cutscenes. Out on Xbox Series X | S on April 23rd
The excellent spin-off of Yakuza makes its debut in April also on next-gen consoles: in Judgment we will follow the events of Takayuki Yagami, a former lawyer who left the profession to become a private investigator and be able to deal personally with the prosecution of certain crimes, without having to comply with procedures and red tape.
Born and raised in the fictional Kamurocho neighborhood of Tokyo, Takayuki learned to defend himself and carry out his own investigations together with a trusted friend, using various tools but without disdaining the physical involvement, which is necessary when the criminals on duty try to threaten him.
Other games out April 2021
MLB The Show 21, out on Xbox Series X | S and Xbox One on April 20 Assassin's Creed Valhalla: Wrath of the Druids, out on Xbox Series X | S and Xbox One on April 29 R-Type Final 2, in out on Xbox One April 30 Praey for the Gods, out on Xbox One in April