PlayStation Store, April 3, 2021 offers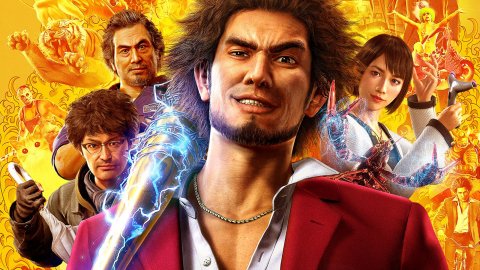 PlayStation Store
The Spring Discounts have arrived on
PlayStation
Store, with many offers on
PS5
and PS4 games, which you can buy by taking advantage of discounts of up to 75%. It goes without saying that for some titles this translates into the lowest price ever.
The promotion is valid until April 15th, so you will have plenty of time to make your own assessments. Certainly this is an interesting initiative, which offers various products, including recently published ones, at significantly reduced figures. Here are our proposals!
Yakuza: Like a Dragon
Yakuza: Like a Dragon, Ichiban Kasuga and most of the playable characters. First offer ever and therefore the lowest price ever for Yakuza: Like a Dragon (PS5 and PS4, 41.99 euros instead of 59.99), the episode that revolutionized the famous SEGA series by changing protagonist, setting and gameplay, in the latter case replacing the traditional action combat system with jRPG-style turn-based battles.
The story revolves around Ichiban Kasuka, a young member of the Arakawa family who after eighteen years in prison must find out what happened to his old boss and the Tojo Clan, apparently vanquished by the mighty Omi Alliance. Against the backdrop of beautiful Yokohama, Ichiban will not be alone in his mission and
will be able to
count on the help of numerous friends!
13 Sentinels: Aegis Rim
13 Sentinels: Aegis Rim, one of the characters observes a huge Sentinel. The latest title developed by Vanillaware, the author team of Dragon's Crown, 13 Sentinels: Aegis Rim (PS4, € 29.99 instead of 59.99) is also one of the most original games of recent years, capable of mixing paths in a single solution very multifaceted narratives and different mechanisms.
In fact, we will follow the events of thirteen different characters who, however, do not all live in the same timeline, yet find themselves interacting in some way to defend the planet from
the attack of
a horde of giant monsters. To counter the threat we will have to use the Sentinels, huge robots built precisely to face this type of enemies in strategic-based clashes.
In retail format we have already seen similar discounts, but on PlayStation Store it is the first time that The Last of Us 2 (PS4, 30.09 euros instead of 69.99) is available at such a low price. It goes without saying that this is an opportunity not to be missed for anyone who has not yet tried their hand at the poignant, painful and engaging adventure of
Naughty Dog
.
A few years after the events of the first chapter, Ellie and Joel they are established in Jackson, until a dramatic event destroys their peace of mind. The girl then sets off on a mission of pure and simple revenge, unleashing her fury against the armed group that she believes responsible for what happened, without giving anyone discounts.
Ghost of Tsushima, the protagonist Jin Sakai returned as a Ghost. The same goes for Ghost of Tsushima (PS4, 39.89 euros instead of 69.99), which was available in retail format at lower prices but never at such a low figure on the PlayStation Store. Also optimized for PS5 thanks to a dynamic 4K mode and 60 fps, the title of Sucker Punch is a solid and refined action adventure, capable of conquering both critics and audiences.
Set on Tsushima Island During the first Mongol invasion, the game puts us in the shoes of Jin Sakai, a samurai who is defeated by enemy soldiers and reduced to death, only to return to the battlefield as a Ghost and avenge his slain comrades. Wonderful in its landscapes, frenetic in its fighting, Ghost of Tsushima is definitely worth the purchase, all the more so on offer.
Other games on offer
Immortals: Fenyx Rising, one of the many environmental puzzles present in the game. We have often talked about Immortals: Fenyx Rising (PS5 and PS4, € 34.99 instead of 69.99), but it is impossible to avoid mentioning it again since with the Spring Discounts the brilliant Ubisoft action RPG is available at half price . One more reason to experience Fenyx's mythological adventure among the wonders of ancient Greece!
Ghostrunner (PS4, 20.99 euros instead of 29.99), the engaging action game in first person set in a disturbing future, where social disparities have reached extreme levels and a cyber warrior accepts the mission to eliminate the person who controls this iniquitous and merciless system by climbing the towering Dharma Tower.
Twin Mirror, a narrative sequence of the game. The latest title made by Dontnod Entertainment, Twin Mirror (PS4, € 19.49 instead of 29.99) is a thriller in which we follow the story of Sam Higgs, a former investigative journalist who is asked to investigate the death of an old friend of his , which took place under mysterious circumstances. Interfacing with his Mental Palace to analyze clues, the protagonist brings to life a story that is not innovative but fascinating.
Free to PlayStation Plus subscribers in February, Control's Ultimate Edition (PS5 and PS4, 23 , 99 euros instead of 39.99) is the first promotion and is therefore offered at the lowest price ever on the PlayStation Store. We have already talked often and gladly about the value of the action shooter by Remedy Entertainment, so if you haven't played it yet, you should really recover it.
Have you noticed any errors?