Rainbow Six: Parasite, details on the gameplay emerge from the leak of the alpha test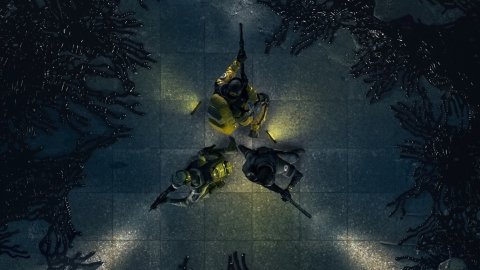 Rainbow Six
Tom Clancy's
Rainbow Six
: Parasite seems to be the new title of the online multiplayer shooter in progress at
Ubisoft
formerly known as Rainbow Six Quarantine, and some details of the gameplay have emerged in these hours thanks to the leak of a technical test in alpha.
According to
what reported by IGN, some users have made an unauthorized stream of the technical test of Rainbow Six: Parasite through video platforms such as Twitch and Facebook Gaming, and before Ubisoft intervened to remove everything there was still the possibility of gather some information on the new chapter in question.
Some details had already emerged when an hour of gameplay of the former Rainbow Six Quarantine appeared online over the weekend, further information was then gathered with a painstaking recovery work after the sources were deleted.
The game apparently takes advantage of cross-play and the ability to transfer progres yes and saves from one platform to another thanks to its reliance on the servers of the Ubisoft Connect proprietary service. Among the operators available on the roster of fighters are Alibi, Lion, Vigil, Ela, Finka and Tachanka, who should retain at least most of their specific abilities already seen in Rainbow Six: Siege.
Tachanka may have access to a Mounted LMG, Alibi uses the Prisma decoy to attract enemies, for example. When selecting an operator, you can see the equipment screen where you can switch to the customization of
weapons and
applications from a choice of various gadgets, among which are Recon Drone, Body Armor and Ammo Satchel, as seen. , as well as Stun Grenade, Nitro Cell and Scan Grenade.
Players are introduced to the fight through a simulation that introduces the main enemies, the Archæans. These are hostile forces deriving from what looks like a parasite, the fate of alien creatures that have different behaviors and abilities and who organize themselves in order to warn their companions in case of danger, possibly awakening the nests, which must be killed in a priority manner.
The stealth approach is the recommended one, perhaps using the REACT Blade until you get to discreetly kill the enemy and possibly collect a sample of the substance that makes up the creatures. In the event that these are blatantly killed or a nest is awakened, a kind of corrosive material called Biofilm spreads around the level, which makes it more
difficult to
move around the map.
A type mission requires you
to complete
objectives focused on collecting information and samples, or placing probes in dormant nests. This is done by proceeding through various areas on a map, passing through the air ducts which must then be sealed to prevent enemies from passing through, but it is necessary to coordinate with the companions so as not to leave anyone behind and reach the various points of extraction.
Operators who are left behind are considered MIA and are trapped in "Archæan trees", but can be rescued in subsequent raids, which require special procedures for the recovery of lost operators. Through the technical test the preliminary PC requirements of Rainbow Six Parasite were also discovered.
Cooperation between players will be decisive in Rainbow Six Parasite Source
---
Rainbow Six Parasite gameplay leak features Rainbow Six Siege operators
Rainbow Six Parasite – Alien Siege (pic:
Ubisoft
)
Ubisoft's sci-fi Rainbow Six spin-off, the game previously known as Quarantine, has leaked online and it's surprisingly similar to Siege.
The unavoidable problems caused by the pandemic have made it so that if anything goes wrong with a game's development for another reason it's very difficult to tell, but something has definitely been going on with Rainbow Six Parasite.
First announced in June 2019, as Rainbow Six Quarantine, nothing has been seen about the game in public beyond a pre-rendered teaser and yet it's supposed to be out this year.
You can only speculate as to why there's been so much secrecy but as ever leaks have managed to fill the gap in knowledge and a lengthy gameplay video has turned up on Facebook Gaming, from an ongoing technical test.
Although we can't embed the video it's still live if you click through the link here, even though Ubisoft keep taking it down from YouTube.
Advertisement
Advertisement
The quality isn't great, and you can see the watermarks in the background that are supposed to stop exactly this sort of leak happening, but it clearly shows the game in action as you fight alien creatures called Archaeans.
That's not something you'd expect to be doing in a Rainbow Six game but rather than being Rainbow Six in name only the footage shows that several operators from Rainbow Six Siege featured, complete with their established abilities like decoy holograms and unique weapons.
The gunplay seems to be essentially identical and there are also features from Siege like reinforcing walls so enemies can't break through them so easily, or smashing through them yourself.
More: UK
The plot seems to revolve around some sort of infection, so the Archaean may actually be mutated humans, with Ubisoft previously describing the game as a squad-based survival first person shooter.
The emphasis is clearly on PvE action and it seems that the game is essentially an expansion of the popular Outbreak mode from a few years ago, which is one of the few times that Rainbow Six Siege has emphasised PvE action.
When Ubisoft will reveal more about the game in public is a mystery but based on the leaked footage it looks pretty close to completion.
Email gamecentral@metro.co.uk, leave a comment below, and follow us on Twitter.
MORE : Rainbow Six Siege Year 6 to include Resident Evil crossover
MORE : Female Rainbow Six Siege caster Jess quits after sexual assault threat
Advertisement
Advertisement
MORE : Far Cry 6 beta emails are a scam says Ubisoft
Follow Metro Gaming on Twitter and email us at gamecentral@metro.co.uk
For more stories like this, check our Gaming page.