Starcraft 2: A Bitcoin prize would make the losers of a 2011 tournament millionaires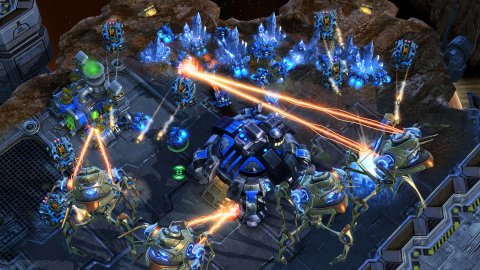 Starcraft 2
Only in recent years have Bitcoins become a serious matter: despite the collapse of these hours, a single Bitcoin is worth tens of thousands of dollars. To think that in 2011 25 BitCoins were given away as a consolation prize of a
StarCraft
2 tournament, well, is a clear mirror of the times. While the winner has won $ 500, which due to inflation is worth much less today than 9 years ago, the losers of this tournament are potentially 4 millionaires.
On Twitter, in fact, the image is circulating of an old Starcraft 2 tournament and its prizes. The winner took home $ 500, the second 250, the third 150 and the fourth 100. Nothing exceptional, even if for the times it might have seemed good money. What makes you laugh, however, is the consolation prize. Those who ranked from fifth to eighth place, in fact, took home, I guess among the general disappointment, 25 BitCoins. Not having a precise date, we can imagine it was a prize worth around $ 25.
What few imagined is that in the last 9 years the value of BitCoins has risen enormously, reaching 58 thousand dollars per "piece". If they still had the prize, the four scars of the tournament would have won $ 1.4 million each if they sold at the peak
of February
21, 2021. Or "only" $ 1.1 million if traded today.
We imagine the pain of these people to see these values, especially if they have lost the prize somewhere or have sold it after the first appreciation.
You what would you do in such a situation?
---
Shopify enters esports with Starcraft II team Shopify Rebellion
You're watching
Advertisements
Shopify, an eCommerce brand has officially entered the world of esports with the new organisation and Starcraft II team Shopify Rebellion. The Canadian esports team will be bringing three players to compete in Starcraft tournaments, as it looks to further make an impact in the growing esports scene.
The three players the Shopify Rebellion has currently signed are; Julian 'Lambo' Brosig, Byun 'ByuN' Hyun-woo, and Sasha 'Scarlett' Hostyn. The organisation will also be run by Dario 'TLO' Wünsch as a manager, with Jeremy 'SteevesJ' Steeves taking the position of the general manager.
Considering the team is brand new, there is no previous data to suggest how they will perform at events in the future. So we'll just have to keep an eye on this new organisation for the time being.