State Cashback, here's the ranking (January 19)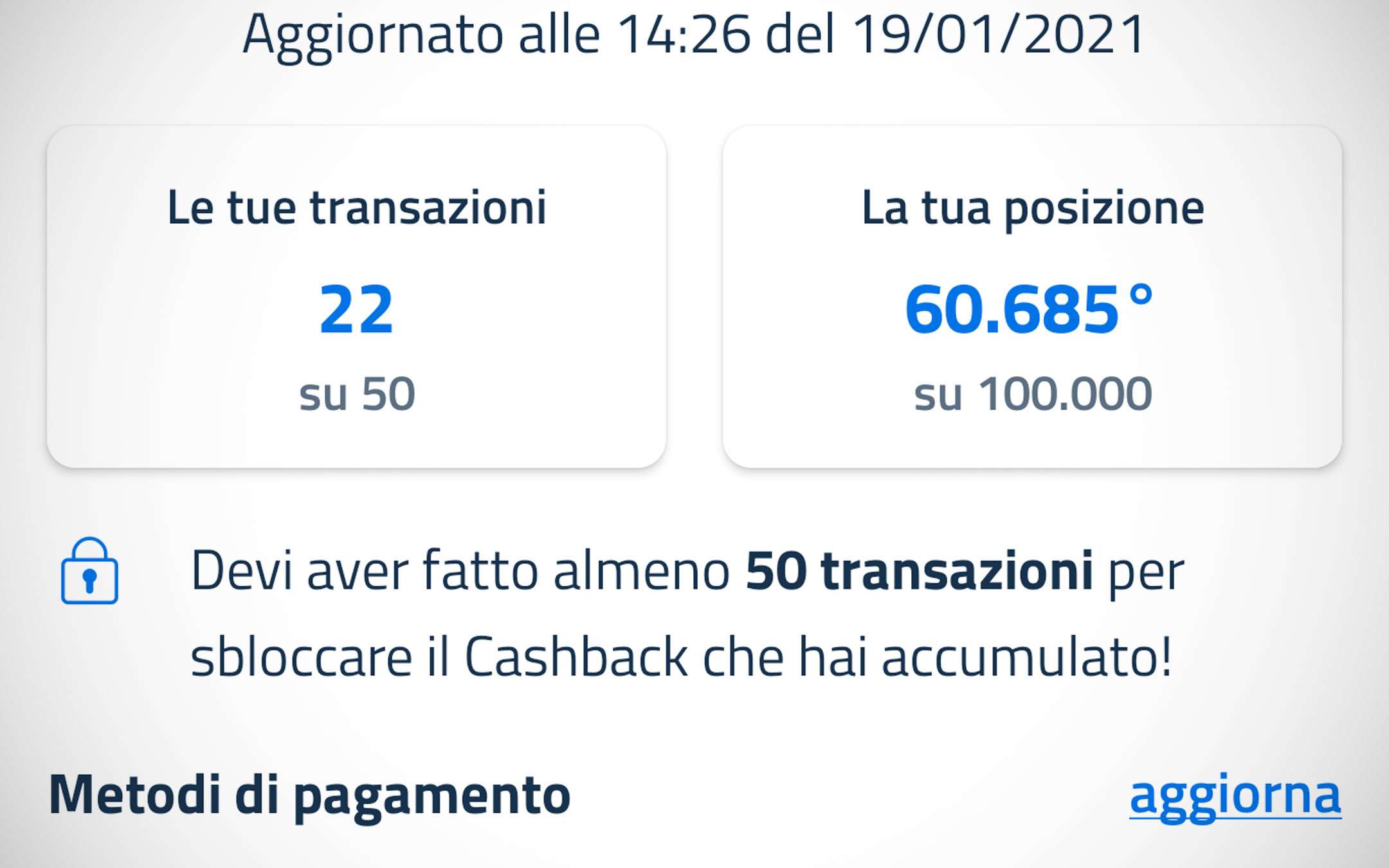 How many operations will need to be done to enter the ranking of the "lucky ones" who will be able to win 1500 euros thanks to the six-monthly Super Cashback of the Cashless Italia Plan? From today some users are able to see it also from the IO app, after having chased each other for a few days the rumors relating to rankings that appeared on some apps belonging to the program.
In theory, the ranking should only appear once reached the first 50 transactions recorded, a useful goal to unlock the 10% cashback on the amount spent up to a maximum of 150 euros. In reality (although the reason for this change is not known) some participants can access the ranking starting today by going to the IO app, clicking on the cashback of the current semester and then viewing the estimate of their temporary
position on
the right. Those who still do not see the ranking, will probably be able to access it in the next few hours, at the end of a presumably progressive rollout.
20 transactions to enter the ranking
As of today, January 19th, the figure the limit to access the super
cashback is
20 transactions: this is the number of payments made by the user who is currently in the 100,000 position, the last to be entitled to the bonus.
The app does not show how many transactions the first in the ranking has performed,
which could
be at the same time a fig leaf or an ill-concealed intention to intervene on some distortion probably occurred among those who occupy the very first positions in this very special race to pay. IO instead highlights, with a skilful "gamification" effect that will stimulate greater activism among the participants, how many operations are needed to take home the final prize.
With 12 active transactions, it is around the position number 500 thousand, while with 22 transactions it is already close to position number 60 thousand:
A little more than a coffee a day, in short, to guarantee the chance to win 1500 euros: not bad, for a game that does not ask to spend more, but only to pay for one's transactions with digital tools.
It should be noted that the current ranking is extremely partial due to a series of transactions (via PagoBancomat) which will only be aligned in the next few hours: it is a delay linked to the Bancomat system which is expected to be resolved by tomorrow, therefore the figure of today's 20 lim
it operations
will presumably be updated upwards.