Xbox Game Pass, May 2022: games for the first half of the month for subscribers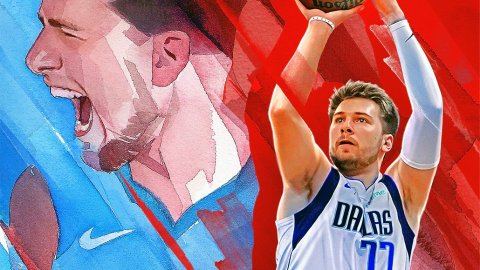 Xbox Game Pass, May 2022
We have arrived in May 2022 and the gaming year is encountering a moment of greater relaxation than the furious start of the first months, but it could be the calm before the storm, considering the summer events coming up and the announcements that will emerge from these. This month's first batch of
Xbox Game Pass
games reflects the relatively quiet time we're in, with a nice assortment of indie titles that can be considered 'minor' in terms of production
size compared to
the big triple-As that they emerged in other periods, but this does not mean that it is a mandate to be underestimated. Simply, these are more peculiar experiences, but so varied that they represent a truly rich and interesting offer.
In the meantime, we must also register some additions to the
Xbox Game Pass catalog
to arrive practically surprisingly and officially not included in the lists reported in recent days: FIFA 22 and NBA 2K22 were introduced at the end of April, thus adding two 90 pieces to the catalog, both to enrich the field of sportsmen. So let's start the overview of the games scheduled for the first half of May 2022 at least for what has been officially announced so far, waiting for further information and possible surprises.
Loot River - Xbox, PC and Cloud, May 3rd
LootRiver, an image of the game With a combination that is truly unprecedented, Loot River aims to put together the action Roguelike RPGs, dungeon crawling and Tetris, no less. It is not easy to guess what this juxtaposition refers to until you see a video, or even better you don't try the gameplay firsthand, which is why we suggest you do it right away since the Straka Studio game is already available in the catalog for Xbox Game Pass subscribers. In addition to advancing through labyrinthine levels fighting against everything that moves, however, with a remarkable rate of violence and speed of action, the player is also required to build his own path by moving blocks of different shapes, in order to fit them together. and compose a path to follow to go deeper and deeper into the mysterious ruins to explore. To find out more, we refer you to our review of Loot River published just in these days, however recommending a download with direct proof, which never hurts.
Trek to Yomi - Xbox, PC and Cloud, May 5th
Trek to Yomi Having conquered everyone since its first video appearance, Trek to Yomi is probably one of the most anticipated Game Pass day one launches this month and just see images or videos to see why . This is a "cinematic" action game, featuring a side view and a "2.5D" scroll setting. A somewhat dated solution, but which combined with the particular graphic characterization and above all the fascinating setting chosen makes this title really very interesting.
The source of inspiration for Flying Wild Hog, in this case, is Akira Kurosawa's cinema and in particular his samurai films, which is evident not only in the subject but also in the stylistic cut given to the representation of the whole. The story tells of Hiroki and his heroic attempt to protect his village to keep a promise made to the old master, fighting with his own katana against overwhelming force. As reported in our Trek to Yomi review, not everything went exactly the right way, but the game remains a highly recommended experience for those under the spell of feudal Japan.
Citizen Sleeper - Xbox, PC and Cloud, May 5th
Citizen Sleeper, an image of the game A role-playing game with a sci-fi setting that has the difficult aim of re-proposing, in the field of videogames, the freedom and the various possibilities of RPG " pen and paper "is definitely a project to keep an eye on, even more so if it comes from the mind of Gareth Damian Martin, previously author of the fascinating In Other Waters. Citizen Sleeper is set on an old space station called Erlin's Eye and tells the story of some outcasts who try to escape the ruthless machine of interplanetary capitalism. The or the protagonist of the game is a or a Sleeper, basically a digital human consciousness on the run who does not want to be captured by the Essen-Arp conglomerate, which claims it as its property. We are therefore called to participate in the life of Erlin's Eye to try to survive and escape from pursuers, between the need to carry out different occupations, take sides with the various factions present, heal and improve one's body and make decisions capable of changing the trend. of history.
Danganronpa 2: Goodbye Despair Anniversary Edition - Xbox, PC and Cloud, May 10
Danganronpa 2: Goodbye Despair, cast group image Continue the path of the series Spike Chunsoft on Xbox Game Pass with the arrival of Danganronpa 2: Goodbye Despair Anniversary Edition, which follows the launch of the first chapter in the catalog in recent weeks. This is another chapter in the strange series of visual novels with a tone halfway between humor and horror, which stages another thriller in a school setting with students of the prestigious Hope's Peak Academy engaging in a sadistic game, such as by tradition. The usual teddy bear-killer Monokuma, who has meanwhile become the school principal, transforms the strange tropical journey of the boys into a real nightmare, forcing them to kill each other and then participate in harrowing trials in which they must try to accuse each other, to being able to survive at the expense of others. In short, the ingredients are the known ones but obviously the settings, characters and situations change, to stage another disturbing story to be experienced in one breath.
Eiyuden Chronicle: Rising - Xbox, PC and Cloud, Console, May 10
Eiyuden Chronicle: Rising, a screenshot of the particular action RPG The spiritual heir of Suikoden, coming from the same authors of the classic Konami, has expanded to include another game, characterized by a structure somewhat different. Eiyuden Chronicle: Rising is connected to Eiyuden Chronicle: Hundred Heroes, but it differs from it in gameplay and general setting: while the latter is a JRPG that fully recalls the classic tradition, with lots of graphics in "2D-HD" style to be as faithful as possible to the sources of inspiration, the first is an action RPG with a 2D and scrolling setting, which is somewhat reminiscent of the titles of Vanillaware. Rising will be available from May 10 on Xbox Game Pass and allows you to get in touch with the particular world built by Natsume for this interesting classicist project. Eiyuden Chronicle: Rising has a decidedly action approach but also contains strategic elements, with the ability to build a city and manage it better.
This War of Mine: Final Cut - Xbox, PC and Cloud, May 10
This War of Mine, a screenshot with the interior of a building At the time of its original release, This War of Mine had a major impact on the gaming landscape, staging the war as it had rarely been seen previously: it was not about living it on the front line, in the guise of an elite soldier ready to face entire armies, but in the shoes of desperate civilians, with little hope but with the unshakable will to survive and protect the loved ones in a city destroyed by war and under siege. This War of Mine: Final Cut is an extended version of the original, containing DLC, expansions and various updates made in the eight years since the standard chapter was released. As reported in our This War of Mine: Final Cut review, the game continues to be extremely good and at this point even dramatically current, considering how ubiquitous warfare has become in everyday communication and information in this period. However, it is a well-structured and interesting game, which deserves to be played if it hasn't been done before.
NHL 22 (EA Play) - Xbox, May 12
NHL 22, game-in-game image EA Play's contribution to this Xbox Game Pass release currently concerns NHL 22, unless further introductions are made. Also in this case, it is a sportsman: part of one of the EA
Sports
historical series ("It's in the game"), it is the official simulation of the top ice hockey championship in North America, with all the licenses updated to the 2021/2022 season. For the occasion, the developers of EA Vancouver have made an important technical change at the base of the game, passing from Ignite to DICE's proprietary Frostbite Engine, which also contains an upgrade to the next gen version for
PS5
and Xbox Series X
| S. All this brings new animations, new applied physics and various other technical improvements, while in structural terms the simulation remains very similar to the previous ones, except for the introduction of the Superstar X-Factors, or the special abilities that make some players unique. br>
Have you noticed any errors?