Steam Deck: size compared to other portable consoles, it's really big!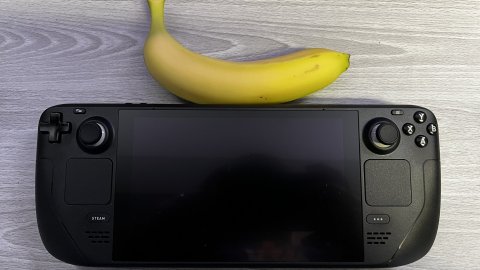 Steam Deck
Steam Deck is a really big PC hybrid handheld console. To understand its actual size, let's see this series of comparisons made by youtuber Cary Golomb. Ours has unveiled well-known and other lesser-known machines, creating a series of truly indicative photos.
Let's start with PS Vita, which just can't cope with Steam Deck.
Below we can see the Steam Deck outclass the bulky Atari Lynx in size and hold its own against the size of two controllers side by side (Steam Controller and
Xbox
Élite Controller).
Not even the Game Boy box can make it against the Steam Deck, let alone the minute FamiCom
.
Nothing, the TurboExpress can't keep up with the comparison.
Nintendo Switch
OLED tries, but there's nothing to do.
What about GameGear? Absolutely not. Steam Deck is thicker, albeit finer, especially by mounting various accessories on the
Sega
console.
The Game Boy Advances, normal or SP, are just fragments of Valve's portable console.
Even the forgotten NGage and the GPD Win 3 can't hold up. It looks like Valve has made the biggest portable gaming hardware ever.
The Ayaneo approaches the Steam Deck, which can console itself for the narrow escape with a banana.
PSP could not miss in this roundup, but it is not a worthy competitor. But here comes a wild VirtuaBoy who wants to say the about him. Steam Deck wins in width, but Nintendo's unfortunate VR console wins in overall size and ugliness (jokingly).
Staying on Nintendo's unfortunate consoles, here is a comparison with the Wii U controller (which is not a competitive console, however).
In short, the essence is that the Steam Deck is a remarkable object in terms of size. We hope it is also well manageable.
Have you noticed any errors?
---
Steam Deck praised by developers ahead of its release
The Steam Deck will start shipping worldwide at the end of February, and multiple developers have talked about what they like regarding Valve's portable PC.
Shipping from February 28, the Steam Deck is almost out in the hands of players, but it's already been in the hands of developers for some time, as they've been adjusting their games and testing the hardware to make sure titles run on it when it launches.
In preparation for the launch, PC Gamer talked to plenty of developers to get their opinions of the Steam Deck.
Jonathan Smårs, of Iron Gate said: "I was surprised how well games work on it without any changes, and how good it feels to play on it. Valheim worked from day one on Steam Deck without any changes".
Steam Deck developer's kit Credit: Valve
"The graphic settings need to be set down a bit compared to my high end PC of course, but I'm still impressed with what such a small handheld can handle without any platform specific optimizations," Smårs added.
"The touchpad for the mouse, I dare say, might be one of the best I've ever used," added Raymond Doer, owner of SixtyGig Games. "I'll need to design a controller layout for it, as well as write controller support for the game, but I suspect my game will be playable on it when that's done."
Among many features, one will let players who suspend certain games on the Steam Deck be picked up exactly where they left off on their PC. The Dynamic Cloud Sync feature is designed to allow players who want to easily pick up and play a game from their PC or Steam Deck – and vice versa – do so easily.
One anonymous developer also said of the Steam Deck: "The issues I'm encountering feel like 'dev build' sort of issues so they've not really bothered me. I get firmware updates fairly regularly, they're working really hard and it shows."
In other news, the best Guitar Hero player in the world has admitted to actually cheating their way through most of their accomplishments.