Silent Hill: Konami does not renew the domain of the official website and someone has taken advantage of it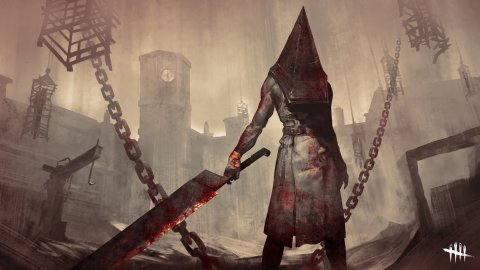 Silent Hill
Konami has not renewed the domain of the official Silent Hill site. We do not know if it is a voluntary choice or a sensational oversight, but the fact is that the Japanese company no longer has any rights to the domain "www.silenthill.com". And someone took the opportunity to buy it and modify the portal to their liking, to make a little joke.
At the moment when you access the aforementioned site, what appears is a single page with a black background with a tweet of Masahiro Ito saying "I wish I hadn't made the fo *** to Pyramid Head".
Here is the new official site of Silent HIll For the uninitiated, Ito was the art director and designer of characters, monsters and settings of some of the games in the Silent Hill series, including the original trilogy. The tweet, which at first might seem like the joke of a fake account, is 100% true and was published on February 20, 2022, accompanied with a second post in which he adds "the reason is not that I have not been paid for the statues. . I never got paid for those. " In short, a little dig at Konami.
As a user on Neogaf points out, it is not the first time that Konami has "forgotten" to renew the domain of the official Silent Hill site. It also happened in 2019, but evidently no one came forward
to buy it at
the time.
Source # 1 Source # 2 Did you notice any mistakes?
---
GTA 6 trailer update, Sony PS5 March 2022 event, Silent Hill surprise
GTA 6 trailer, PS5 event and Silent Hill rumours (Image: ROCKSTAR SONY KONAMI)
GTA 6 is one of the most anticipated games on the horizon, and rumours are circulating that we could see the first ever trailer for the next Grand Theft Auto within the next few months. It's thought that the first full reveal of GTA 6 could be sooner than many people expect, with rumours tipping a first-look at GTA 6 before Take Two holds a big investor's call in May. And one notable insider has claimed that the rumoured GTA 6 trailer could give fans a proper look at gameplay for the next Grand Theft Auto.
TezFunz2, who previously correctly said GTA 6 would get announced in 2022, has claimed the first trailer for the next Grand Theft Auto could feature 'work in progress' material similar to the initial GTA 5 trailer.
That trailer featured in-game footage which showcased the wide variety of sights that can be seen in Los Santos.
Speaking about the first GTA 6 trailer, TezFunz2 said: 'Yeah. Just expect the usual initial annoncement we are used to this year.
'Work in progress materials. Like the first GTAV trailer.'
GTA V: Rockstar confirm enhanced
game will be
available on PS5
TezFunz2 didn't say when exactly the GTA 6 trailer could be, but from the sounds of it we could be getting more news on the next Grand Theft Auto at some point in 2022.
Elsewhere, PS5 fans have been given hope that a major PlayStation event will be taking place in March.
A number of high-profile leakers have claimed that a big PS5 event will be dropping in March.
And hot on the heels of these comments from Tom Henderson and @Shpeshal_Nick another leaker has added to the rumours surrounding a March State of Play or PlayStation Showcase event.
The first ever trailer for GTA 6 is rumoured to be dropping this year (Image: ROCKSTAR)
This time around it's accountngt who has discussed the rumoured Sony March event, claiming PS5 fans will get an update on Hogwarts Legacy during it.
The leaker, who correctly revealed recently that the new Fantastic Beasts trailer was getting delayed, said an update on the highly anticipated Harry Potter game was coming in March.
Sharing a GIF of the game @accngt posted: 'Heard about new stuff today...Yes, you can 100% expect a new trailer in March'.
In separate tweets the leaker added to claims that a March 2022 PlayStation event was happening.
And finally anyone hoping for a return of long-dormant survival horror franchise Silent Hill have been delivered a surprise update.
If you now head to www.silenthill.com you will see the website shows a screengrab of a tweet from Silent Hill artist Masahiro Ito.
A huge Sony event is rumoured to be happening in March 2022 (Image: SONY)
Rumours have long swirled around the Silent Hill franchise returning (Image: TRISTAR)
The tweet from Ito-san says the artist wishes he had never designed iconic Silent Hill villain Pyramid Head.
Prior to this the site had an image of Pyramid Head, showing the monster's height as being nine feet and saying 'he was first'.
This was a reference to the buzz created by Resident Evil 8 villain Lady Dimitrescu standing at over nine feet tall.
It previously had been reported that after the Silent Hill domain elapsed it was purchased by a mysterious party from Konami for around $10,000.
So both this Lady Dimitrescu meme and the latest update to the site could be the work of the domain's alleged new owner.
Even if that's the case, whispers on the ground still suggest the Silent Hill franchise could be making a comeback, with Bloober Team - makers of the brilliant 90s survival horror throwback The Medium - allegedly working on a new entry in Konami's much loved series.