Hideo Kojima and the book about his adorable memes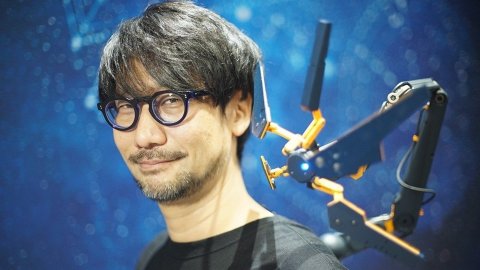 At the end of last year, during the always too cold Swedish winter, I was constantly reading The Drifting Classroom by Kazuo Umezz (in Italy "Aula alla Deriva"). While I was leafing through the pages of this disturbing manga, I paused on some beautiful boards thinking "What a sight, it makes me think a lot about Death Stranding". I was lost in the strong sense of isolation that permeated this story, in the representation of a completely fractured group of people. I also observed the dark and viscous surface of the wastelands in which Sho - the kid protagonist of this Japanese horror - found himself very similar to the tarred areas of the last work signed by Kojima Productions. "Who knows if Hideo Kojima and Yoji Shinkawa have read it, or if they have positioned it in some moodboard to define the aesthetic traits of the world explored by Sam Porter Bridges", I thought.
The Drifting Classroom by Kazuo Umezz When we talk about video games, we often focus a lot on the influences they have on each other, on how certain game mechanics evolve and interpenetrate in the creative mix of other productions. Impossible to think of Gears of War without Resident Evil 4, Virginia without Thirty Flights of Loving, Journey without ICO. Yet there are many stylistic, thematic and gameplay choices that draw heavily (more or less intentionally) from other media such as cinema and literature.
It is no
t particularly difficult to identify the stylistic influences of Lynch's cinema in the Remedy productions, or the cosmicism of HP Lovecraft in the works of Frictional Games.
This summer, during the always too hot Sicilian summer, I took in my hands Il Gene del Talento and My Adorable Memes, the latest book by Hideo Kojima, published in Italy by 451 Publishing with translation by Davide Campari. I took it both because obviously - as an admirer
of Metal Gear
's father - I wanted to better understand his approach to media and pop culture, and because the Italian edition also has a more beautiful cover (even if Kojima does not seem to have it) it happens). To tell the truth, I initially thought the book was a kind of unique essay on the intertwining of the media and the world of entertainment. But I soon realized, after a few pages, that The Genius of Talent is nothing more than a collection of short articles, written by the game designer over the past 10-15 years.
Kojima ei books
Death Stranding, the latest work by Kojima Productions The book is mainly divided into two parts. The first contains articles written for Da Vinci magazine between 2010 and 2013. In this one, Kojima talks mainly about literary works - many of which are Japanese - that have struck him and that have in one way or another influenced the works of him and also his way of life. Starting with Agatha Christie's Ten Little Indians, we arrive at Steven King's Salem Nights. They are all short readings that are very light and easy to follow. You will almost never find passages in which it is explicitly stated how a certain book has directly influenced Metal Gear, PT or Death Stranding, but the most skilled admirers of Kojima-san will certainly be able to grasp several connections with his video games. Leafing through the pages you will feel like you are reading a Kojima publisher, thrilled by many great works created by equally great authors. You will perceive how much literature has played a huge role in his formation, and how different international influences have, in one way or another, left a mark on this man composed of 70% of cinema.
To my genuine surprise, one of the works discussed in this first half is The Drifting Classroom: in his analysis Kojima focuses mainly on the horror sector of Umezz's manga, and identifies what is one of the main themes of the work: the sense of isolation. It is something that pervades the environments and that weighs down the existence of many of the characters in this manga released in the late 80s. Above all, it is the same isolation that Kojima felt during his teenage years, with his family and with his schoolmates. Nowhere in his analysis is a direct connection with the making of Death Stranding declared, and of course I do not have the presumption to say that I really took it, but here lies the pleasure of reading these short articles: they allow us to imagine and visualize the network of works that, in some way, are part of the cultural background of each person.
Kojima and the cinema
The Italian edition of Hideo Kojima: The Gene of Talent and My Adorable Memes It is, on the other hand, on the cinematographic field that the second part of the book focuses. This other half, in my opinion a bit more interesting and personal, collects articles written by Kojima between 2007 and 2009 for Papyrus magazine. Many of the episodes that are told by the Japanese designer are connected to his personal life, to his relationship with his children, and to the memories of his father. The loss of his father (who has always fueled the theme of the father-son relationship in practically every job of him) has, from an early age, made Kojima sink into a strong sense of loneliness.
Between one article and another, Kojima reveals that it was thanks to so many books or films like Taxi Driver that he managed to emerge from his heaviest periods of depression. It is perhaps his analysis of Martin Scorsese's film that shows us more closely, in a truly very personal and also intimate way, the insecurities and difficulties faced by Kojima. Although there is a certain sense of confidentiality, these stories allow us to get closer to what is a figure of industry normally distant and with an almost mythical aura. Among the various other works we then move from 2001: A Space Odyssey to Blade Ranner, also making a salute to Lieutenant Colombo and a stop from Joy Division and New Order.
In a chapter of the book, Kojima tells how a particular character in a book inspired some traits of The Boss On balance, therefore, we realize that the main body of the book gives us a glimpse of Kojima which is limited to the pre Guns of the Patriots / Peace Walker and pre The Phantom Pain period. Perhaps this is a bit what I felt lacking in Il Gene del Talento: considering the unbridled pace with which the world and the entertainment industry evolve, it would have been interesting in my opinion to read something about more recent works that may have influenced the latest works of Kojima Productions. For this, alas, we must continue to rely on his Twitter account and the various 180-character analyzes.
At the center of the book remains the concept of meme intended as a cultural seed capable of being handed down and influencing the world. Many of the books and films told by Kojima in Il Gene del Talento stand out for having taken strong creative risks and, in several cases, for having been appreciated only many years after their release. It is precisely these risks that allow art to evolve and influence the creativity of many other creatives. It is on this search for risk and exploration that the conclusion of a book focuses which, however, I feel I can recommend not only to Kojima fans, but also to those interested in discovering many works from the present and the past.
This is how
, according to Kojima, we expand our horizons and are able to push the boundaries of creativity. Looking for adorable new memes, I've already put a lot of new stuff in the cart.
Hideo Kojima grew up devouring everything: books, films, manga and music albums "We can only focus on what we have inside, and, therefore, we must continue to improve our sensitivity and our eyes. [...] Each person and everything has its own story to tell. And the system for connecting the various "me" across time and space is the act of reading, telling and communicating those stories. "
Have you noticed any errors?