Windows 10 and iOS: finally a good match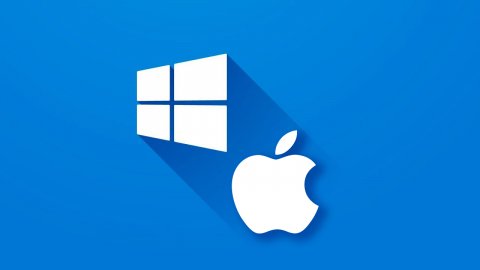 Windows 10 and iOS
Apple
and
Microsoft
are two giants of the tech industry. Both companies offer their customers truly excellent products so, in a certain sense, they compete for the same target audience. Apple offers a wide range of devices, creating a truly interconnected ecosystem. Microsoft, on the other hand, does not have any products belonging for example to the smartphone or smartwatch category. The Redmond company has tried, in the past creating a mobile operating system for their
Windows
Phones, unfortunately, however, the attempt was not successful. The popularity and evolution of Android and iOS has always overshadowed Microsoft's efforts, forcing them to abandon their project to devote themselves to something else.
This is exactly how the need arises to use for example a computer with Windows 10 for work and an iPhone as the main smartphone. If in the past these two very different devices were in fact two completely separate worlds, now things have changed radically. Thanks to the continuous efforts of both Microsoft and Apple, it is finally possible to use the Windows operating system on the computer and a smartphone with iOS with a good fluidity. In fact, today we are going to give you some advice on how to synchronize an iPhone or iPad with your Windows computer to create a system capable of automatically communicating between all devices.
The power of synchronization
Photo synchronization with iCloud on Windows 10 The cloud service offered by Apple was first introduced with iOS 5 back in 2011. Thanks to it, all branded devices with the apple they can synchronize data with each other such as contacts, calendars, notes, messages, documents, photos and in general other files shared by the installed applications. Subsequently, several improvements and new functions were introduced, such as the ability to synchronize passwords, Safari bookmarks, but also innovative functions such as shared notes, Handoff and Sidecar. All these features have been designed to improve and optimize the ecosystem, giving a huge advantage to the user who only owns Apple devices.
Apple, however, has never completely neglected the owners of computers with the Windows operating system , in fact, the software support has always been quite satisfactory. For years now, we have been able to use iTunes on our PC to be able to sync our iPhone or iPad, make backups, manage our music or transfer photos. In the same way, Apple has also brought iCloud to Windows 10 and year after year it has managed to optimize its operation, even if it is an element foreign to their ecosystem. In fact, we will see later what advantages can be obtained by installing the aforementioned iCloud application on Windows 10, to try to synchronize the devices in our possession.
iCloud on Windows
Data transfer between smartphone and PC Installing iCloud on Windows allows us to log in with our Apple account directly on the Microsoft system. In this way we will synchronize five key elements present on all our Apple devices:
Photos Files on iCloud Drive Bookmarks and Favorites Safari Password Contacts, Calendars, Reminders, Mail As for photos, in the Explorer of our PC we will find a special path dedicated to iCloud photos. With a few clicks with the mouse we can then access our albums and manage the photographs just as if they were physically present in our computer. Similarly, even the iCloud Drive files, after synchronization, can be found in a special folder on Windows. The operation here is very similar to what we have seen with other similar applications, such as Dropbox or Google Drive. Each file that we decide to upload to the iCloud Drive folder on our iPhone and iPad will also be made available on Windows following a synchronization with Apple servers.
If you use Safari as your primary browser on your iPhone or iPad, you probably have several bookmarks saved in the application. Once iCloud is installed on your Windows PC you will be asked to install an add-on for your favorite browser, so that you can immediately synchronize all the bookmarks and pages you visit. Synchronization is bilateral, so even adding a new Chrome favorite in Windows 10, after a few seconds you will find it directly on your iOS or iPadOS device. The real highlight, which is often a rather annoying headache, is password management. By installing another plugin in our default browser, it will be possible to recall all the passwords saved on iCloud to be able to quickly access all our accounts on the web. The plugin requires a simple entry of a verification code, generated directly at the bottom of your screen by the iCloud software on Windows 10. So
if you have
all your passwords saved on iCloud which you access with the use of Face ID or Touch ID of your Apple device, you will surely appreciate this integration in Windows 10.
Synchronization between smartphone and PC Finally, if you need to synchronize your contacts, calendars, reminders and mail accounts, iCloud offers you a direct integration with Microsoft's Outlook and Office suite. With a few simple steps you
will be able to
extend the data present in these applications on iOS and iPadOS, directly in the counterparts on your Windows 10 system. This is a very convenient operation, especially for not having to manually reconfigure all the mailboxes, so how to transfer your telephone book individually, contact by contact.
Additional software
Duet Display in action on Windows PC and iPad In addition to the functions designed and developed in synergy
by Microsoft and
Apple, on the web it is possible to find an avalanche of third-party software, created specifically to improve and expand the synchronization between iOS / iPadOS and Windows 10 devices. Among these we want to mention for example Duet Display, a truly formidable application for those who want to extend the screen of the computer to get a second monitor on a device like the iPad. Its operation is really very simple and it also supports direct connection via wireless, by connecting to the same home network.
Continue On PC instead is an application created directly by Microsoft for iOS with the intention of replacing the fantastic Handoff function offered by Apple. By installing the software on your mobile device and logging in with the Microsoft account on your PC, you can add a new option to the sharing menu on iOS and iPadOS. For example, if you want to share a web address from your iPhone to be able to consult it on your computer, just choose this new sharing option to receive a pop-up on your Windows PC and continue browsing from your computer. or other file types (regardless of weight), you can use SHAREit. The application was created to replace Apple's popular AirDrop function in a way. The latter in fact works exclusively with Apple devices and is undoubtedly one of the strengths of their ecosystem. By installing the free software (includes some advertising banners that can be removed with the full version) you can quickly transfer any file from your iPhone or iPad to your Windows PC and vice versa. The transfer will take place via the local network, so make sure both devices are connected to it (via wireless or cable).
Many other third-party applications such as the popular Todoist task manager use the new authentication system linked to Apple ID. A very appreciated addition on Apple devices to be able to register quickly to any service, without sharing our personal data in the clear. In addition, the Apple ID acts as an access point to iCloud, thus allowing the synchronization of files and account preferences. In this way, simply by logging in with your Apple ID in the application you have just downloaded, you will immediately get all your data inside it, perfectly synchronized with what is done on your iPhone or iPad.
Dialogue exists
Windows 10 and Apple logo We are now far from the era in which Windows and iOS spoke two completely different languages, making it difficult to combine together for business and non-business needs. While there are still distinct advantages reserved exclusively for Apple devices only, synchronization and integration with the Microsoft operating system has improved dramatically. Of course, it's not all as immediate as it happens on Mac, iPhone and iPad, where you just need to log in with your Apple ID
to find all
your data on any device in a few moments. However, by installing some software, in a few minutes, you can get very close to the degree of integration offered by the Apple ecosystem, having a Windows PC apparently excluded from this world. So if you were wondering: does it make sense to buy a Windows computer by owning an iPhone, iPad or even a MacBook, we hope this article will give you a complete overview of how these two ecosystems integrate. Let's not forget also that Windows has on its side other exclusive advantages of this platform, such as compatibility with various professional programs and clearly the whole world related to gaming and Game Pass.
Have you noticed any errors?