Tales of Arise, exclusive preview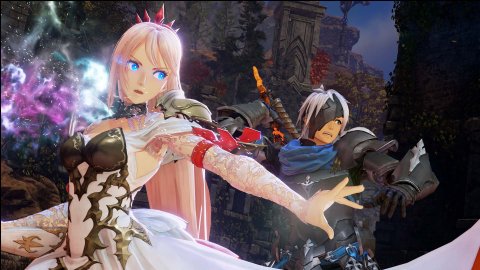 Tales of Arise
Initially announced in mid-2019, Tales of Arise has been postponed for over a year due to
the pandemic
that has slowed down virtually every industry and in doing so the Bandai Namco franchise risked skipping a generation for the first time in its long history. For the uninitiated, in fact, Tales is a series belonging to the JRPG genre with twenty-five years and sixteen titles on its shoulders, without counting the spin-offs and mobile iterations: it made its debut in 1995 on Super Famicom with Tales of Phantasia and has been grinding more and more fans since then. If you don't know it, however, no one blames you. Although it has also made converts in our hemisphere over the years, the Bandai Namco series has suffered from intermittent localization, and only recently has it had the honor of being marketed in Europe and even translated into Italian.
The main feature of the series is undoubtedly the strong Japanese drift, which is found both in the plots and in the characterization of the characters, not to mention the real-time fights: in this sense, each Tales is practically a anime made JRPG. A proven formula that, however, had begun to creak, especially on the technical front. When Bandai Namco decided to take its time to work on innovation, the pandemic did the rest. Tales of Arise should have been released last year, long before the new generation consoles, but then it had
disappeared from
the radar ... until today: in fact we had the opportunity to preview a
new trailer
and a long session of gameplay, and to chat with producer Yusuke Tomizawa who answered our questions in an exclusive interview. Mark September 10, 2021 on your calendar because it will be then that Tales of Arise will hit the shelves, digital and otherwise, all over the world.
---
Tales of Arise re-emerges with a fresh trailer and promise of news in the spring
Tales of Arise has re-emerged with a fresh trailer and the promise of news in the spring.
Bandai Namco published the familiar trailer, below. It ends with a note to say news is coming spring 2021.
Article Continues Below
Loading... hold tight!
'Spring is just around the corner, and we've been working hard to make it unforgettable!' Bandai Namco said. 'Catch the first new glimpse from Tales of Arise.'
Tales of Arise was announced at E3 2019 for release in 2020 on PC, PlayStation 4 and Xbox One. It was delayed indefinitely in June 2020, and we haven't heard much since.
Arise is the 17th main entry in the Tales series of Japanese role-playing games and the follow-up to 2016's Tales of Berseria. We don't know much about it save it stars two people from the opposing worlds of Dahna and Rena.
Article Continues Below
Loading... hold tight!
Here's the official blurb:
'Tales of Arise takes place in a solar system containing the two neighbouring planets of Dahna and Rena. The inhabitants of Dahna have always paid reverence to their planetary neighbours on Rena - a planet they can clearly see in their sky - as a land of the righteous and divine. For the people of Dahna, legends and lore about Rena and its inhabitants have been handed down for countless generations, and through time, have become facts in their minds that have masked a cruel reality for the people of Dahna.
'For 300 years, the people of Rena have ruled over Dahna, pillaging the planet of its resources and stripping its people of their dignity and freedom. Tales of Arise begins with two people, born on different worlds, each longing to change their fate and create a new future for themselves and perhaps their people. Featuring an original cast of characters, a dramatic storyline, dynamic combat, breath-taking environments, with some classic Tales Of elements included; Tales of Arise marks a new beginning for the famed JRPG franchise.'
Yusuke Tomizawa (head of the God Eater franchise) leads the Tales Of development team.
This week, Bandai Namco was found to have trademarked 'Bandai Namco Next', which may be its name for a Nintendo Direct-style online briefing during which it will detail upcoming projects.
With the promise of more Tales of Arise news in the spring, perhaps that's when we will see this Bandai Namco Next - and maybe even Elden Ring.