Gears 5, Sea of ​​Thieves, Ori… The best games optimized for Xbox Series X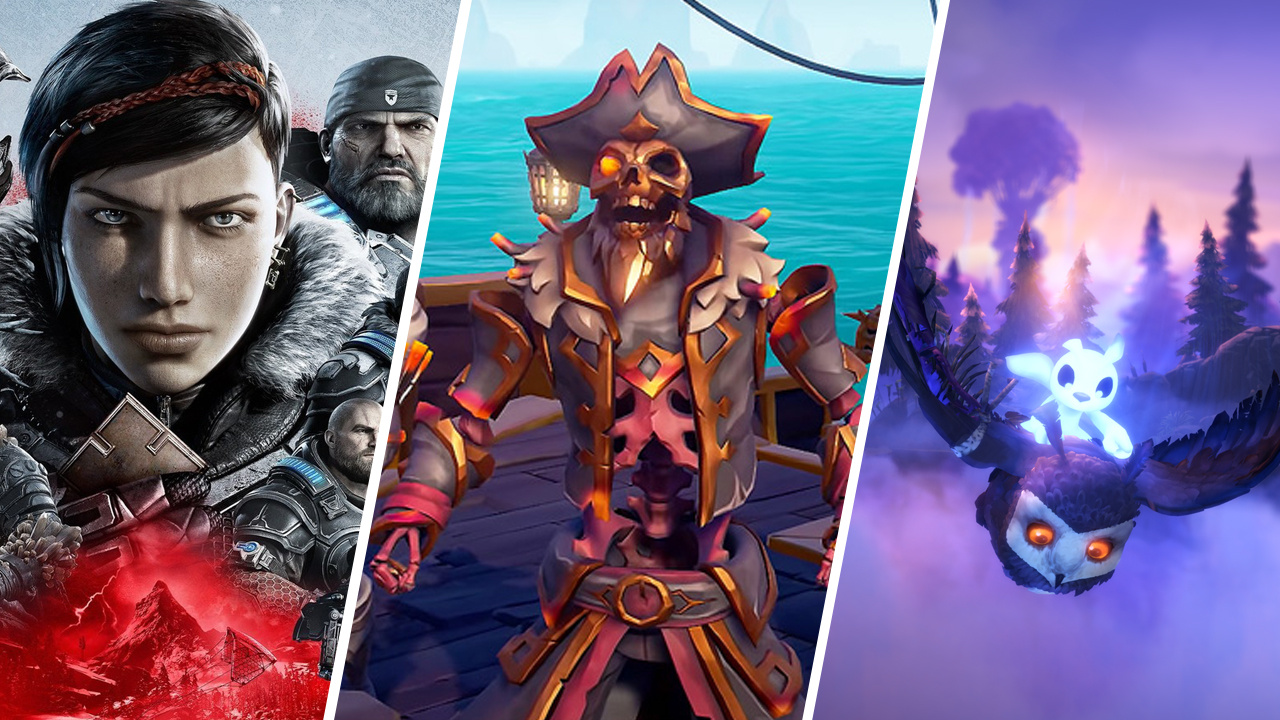 Gears 5
All of the games in this selection also benefit from shorter load times.
Assassin's Creed Valhalla
Unmissable from the launch of Xbox Series X, Assassin's Creed Valhalla immerses us in the skin of Eivor, a viking weary of the frigid lands of Norway who will take his fellows to England , looking for a more hospitable corner. A journey that can be enjoyed through several modes on the
Microsoft
console: performance (60fps / 4K dynamic) and resolution (30fps / 4K native). Valhalla can be considered a best of in the Assassin's Creed series, with aspects drawn from recent and older titles. The title thus marks the return of the famous secret blade and phases of infiltration, while maintaining a massive open world, with a particular emphasis on exploration and combat.
Read the test Assassin's Creed Valhalla Free Upgrade from Xbox One to Xbox Series.
Sea of ​​Thieves
While we are on the theme of travel, let's talk about Sea of ​​Thieves, another must-see from Microsoft's library, especially on Xbox Series X. The title de Rare, which is also part of Game Pass, displays next-gen 4K at 60 frames per second, with the possibility of going up to 120hz / 1080p. Two options to enjoy this enchanting multiplayer adventure game in great conditions, where you can cooperate with your friends to pilot a boat, follow quests, find treasure, and of course fight demonic creatures. First criticized for its lack of content, Sea of ​​Thieves now provides everything you need for sessions full of surprises.
Read the test of Sea of ​​Thieves Free upgrade from Xbox One to Xbox Series (available in Game Pass).
Ori and the Will of the Wisps
Equally enchanting as Sea of ​​Thieves but in a very different genre, Ori and the Will of The Wisps is a metroidvania where you play as Ori, a little creature who will have to explore the threatening lands of Niwen, following a robbery that has turned into drama. As in the past, Moon Studios demonstrates flawless artistic mastery, even more accomplished this time around, with special emphasis on the movement system and combat. The icing on the cake: it is possible to enjoy this beautiful program in 4K / 120 frames per second, even up to 6K at 60fps. For the latter case, the image will appear sharper on a 4K screen. Everything you need to appreciate this very good title, crowned with an 18 out of 20 in our columns.
Read the test of Ori and the Will of the Wisps Free Upgrade from Xbox One to Xbox Series ( available in the Game Pass).
It too offers very pretty environments, but warm in a racing car. With Forza Horizon 4, Playground Games once again asserts its talent for creating fun, technically very solid racing games where a smile is everywhere. For this time, the studio takes us to England, and the result is a little
marvel
. Especially on Xbox Series X, where the title runs in native 4K at 60fps with the added bonus of a lot of graphics improvements (more detailed models, improved textures, better managed effects). The result is comparable to the best on PC. You will understand, a very comfortable rendering for an already solid game on Xbox One, but this time a little more sublimated.
Read the test of Forza Horizon 4 Free Upgrade from Xbox One to Xbox Series (available in Game Pass).
Forza Horizon 4: Hot Wheels Legends DLC arrives
Loading video Forza Horizon 4 trailer
Gears 5
After years of resting on the formula of cover shooter he popularized, Gears of War innovates with Gears 5, the latest episode of the series. This time around, the linear phases of the franchise mingle with more open-ended sequences, where the player
will be able to
choose from main and side quests. The opportunity to also introduce a new character: Kait Diaz, who will have to discover the origins of his family as well as those of the Locust. An adventure that can be enjoyed in native 60fps / 4K in single player, and up to 120hz in multiplayer. Like Forza Horizon 4, the whole thing comes with graphics improvements, the result of which tickles the PC version. One of the technology showcases for Series X.
Read the free Gears 5 Upgrade review from Xbox One to Xbox Series (available in Game Pass).
Borderlands 3
Seven years after the canonical second episode of the series, Gearbox returns with Borderlands 3, the latest installment in the famous looter shooter franchise. For the occasion, the studio does not upset the formula that made it famous, always with dozens of weapons, this time even more numerous and with secondary fire to vary the pleasures. An arsenal that will be used by the player to defend themselves on the famous planet Pandora, but also in new places spread across the galaxy. A world that is possible to travel through next-gen for up to four players in co-op, all at 4K / 60fps. Perfect for a laugh with friends, Borderlands is still just as good at making us laugh.
Read the free Borderlands 3 Upgrade from Xbox One to Xbox Series review.
Devil May Cry 5: Special Edition
After seducing the press and gamers with its original release in 2019, the fifth installment of the adventures of the sons of Sparda returns to next-gen with Devil May Cry 5: Special Edition. On the program: ray tracing on Xbox Series X (in 4K / 30fps or 1080p / 60fps) or up to 120hz without the famous reflections. Note that this release also includes a new playable character, Vergil, as well as a "Legendary Dark Knight" difficulty setting, with many more enemies onscreen. In fact, the title obviously retains the same charm as when it was released, with a lot of weapons and techniques to recover over the course of the adventure, in addition to the three heroes already present. The opportunity to enjoy it even more on next-gen.
Read the test of Devil May Cry 5: Special Edition No free upgrade between old-gen and next-gen.
Control Ultimate Edition
It too is coming to a new generation console with quite a few improvements: it's Control, the latest hit from the Remedy studio. The title plunges us into the skin of Jesse Faden, in search of answers in a strange building where she will develop powers. Powers that will allow him to tear off elements of the scenery to swing them, fly or even violently repel his enemies. On next-gen, the action game can be enjoyed in two modes: performance (60fps / 4K dynamic) and graphics (30fps / 4K dynamic and ray tracing). Everything is only accessible through the Ultimate Edition of the title. A version that will also allow you to enjoy the two DLC available.
Read the test of Control Ultimate Edition No free upgrade between old-gen and next-gen with the basic version of Control.
Complete list of games optimized for Xbox Series X
12 minutes 3 of 10: Season 1 Anodyne 2: Return to Dust Another Dawn ARK: Survival Evolved ARK II As Dusk Falls Asdivine Cross Assassin's Creed Valhalla Avowed Back 4 Blood Balan Wonderworld Blacksmith of the Sand Kingdom Blood Bowl 3 Bridge Constructor: The Walking Dead Bright Memory 1.0 Bright Memory: Infinite Call of Duty:
Black Ops Cold War
Call of Duty: Warzone Call of the Sea Chivalry 2 Chorus: Rise as One Close Combat Concept Destruction Control
Crash Bandicoot 4
: It's About Time Crimsonland Cris Tales CrossCode CrossfireX CRSED: FOAD Crypto by POWGI Cuisine Royale Cyberpunk 2077 Cygni: All Guns Blazing Dawn of the Monsters Dead by Daylight Dead Static Drive Demon Hunter: Revelation Descenders Desperados III Destiny 2 Devil May Cry 5 Special Edition Diablo II: Resurrected DIRT 5 Dreaming Sarah Dungeons & Dragons: Dark Alliance Dustborn Echo Generation Enlisted Evergate Everwild Exo One Exomecha Fable Far Cry 6 FIFA 21 Football Manager 2021 For Honor Fortnite Forza Horizon 4 Forza Motorsport Freddy Spaghetti Gears 5 Gears Tactics Ghostrunner GONNER2 Grounded Halo Infinite Halo: The Master Chief Collection Haven Hellbreachers Hello Neighbor 2 Hitman 3 Hood: Outlaws & Legends Hot Wheels Unleashed Hunting Simulator 2 Immortals: Fenyx Rising It Takes Two Just Dance 2021 JYDGE Kid Tripp King Oddbal Lake Last Stop Lord of the Rings: Gollum Life is Strange: True Colors Little Nightmares II Mad Streets Madden NFL 21 Maneater Manifold Garden Marvel's Avengers Mass Effect Legendary Edition Metro Exodus Microsoft Flight Simulaton Minecraft Dungeons MLB The Show 21 Monster Energy Supercross - The Official Videogame 4 Monster Truck Championship Morkredd Mortal Kombat 11 Ultimate Edition Mortal Shell Enhanced Edition MotoGP 21 NBA 2K21 Necromunda: Hired Gun Neon Chrome Overseer Edition No Man's Sky Observer: System Redux Ori and the Will of the Wisps Outbreak Outbreak: Epidemic Definitive Edition Outbreak: Lost Hope Definitive Edition Outbreak: The New Nightmare Definitive Edition Outbreak: The Nightmare Chronicles Definitive Edition Outriders Overcooked! All You Can Eat Override 2: Super Mech League
Overwatch
Persian Nights 2: Moonlight Glow Phantasy Star Online 2: New Genesis Pinkman + Planet Coaster: Console Edition Poker Club Pragmata Psychonauts 2 Puyo Puyo Tetris 2 R.B.I. Baseball 21 Recompile Resident Evil Village RIDE 4 Riders Republic Rocket League Rogue Company RPG Time: Legend of Wright R-Type Final 2 Ruined King: A League of Legends Story S.T.A.L.K.E.R. 2 Sable Samurai Shodown Scarlet Nexus Scorn Sea of ​​Thieves Second Extinction Senua's Saga: Hellblade II Sherlock Holmes: Chapter One Shredders Song of Iron Spacebase Startopia Sparkle 2 Sparkle Unleashed Spirit of the North: Enhanced Edition Star Wars: Squadrons State of Decay 2: Juggernaut Edition State of Decay 3 Sumatra: Fate of Yandi Superhot: Mind Control Delete Tekken 7 Tesla Force Tesla vs Lovecraft Game Of The Year Edition Tetris Effect: Connected The Artful Escape The Ascent The Big Con The Elder Scrolls VI The Falconeer The Gunk The Medium The Outer Worlds The Tourys The Wild at Heart Thunderflash Tom Clancy's Ghost Recon Breakpoint Tom Clancy's Rainbow Six: Siege Tom Clancy's: The Division 2 Tunic Twin Robots: Ultimate Edition UltraGoodness 2 Undead Horde Unexplored 2: The Wayfarer's Legacy Vampire: The Masquerade - Bloodlines 2 War Thunder Warhammer 40.000: Darktide Warhammer: Chaosbane Warhammer: Vermintide 2 Watch Dogs: Legion We Happy Few Werewolf: The Apocalypse - Earthblood World of Tanks World of Warships: Legend WRC 9 FIA World Rally Championship Yakuza: Like a Dragon Yes, Your Grace Zombie Army 4: Dead War