Days Gone for PC: official release date announced by Sony, new trailer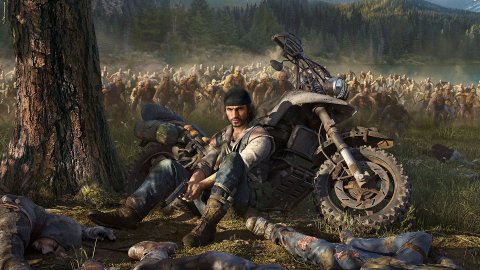 Days Gone for PC
Days Gone finally has a release date on PC, officially announced by
Sony
: the game will be available on Steam and
Epic Games Store
starting May 18.
A few days from details on improvements and features of Days Gone on PC, here is the news we have all been waiting for, accompanied by a new trailer and the post by Kevin McAllister of Bend Studio, which we report below.
Days Gone is coming to PC! We can't wait for more and more players to immerse themselves in the epic journey of Deacon St. John, once an outlaw biker and now a stray and bounty hunter, committed to surviving in a post-apocalyptic open world where danger lurks everywhere.
Days Gone, Deacon riding the faithful motorcycle. Explore the vast High Desert of the Pacific Northwest on your trusty stray motorcycle. Drive past collapsed bridges, inspect abandoned vehicles, avoid traps and find the exit from blocked tunnels. Find supplies inside dilapidated buildings to craft a variety of items, then barter them in villages to prepare for your journey through a haunted, ever-changing environment.
We're delighted to
be able to
show you a preview of Days Gone on PC with our feature trailer. Take a look at what features you'll find on PC when you launch Days Gone for the first time, starting May 18, 2021. Days Gone is already available for pre-purchase from several digital retailers, including Steam and the Epic Games Store.
Our team has worked hard to ensure that all players, both new and old, have a unique experience with Days Gone on PC. Here are the added features we showed in the trailer:
You can't escape this world
Mow down a relentless horde at the Old Sawmill with the ultra-wide 21: 9 monitor mount. The unlocked framerate further enriches the various enemies of this hostile open world, including humans, wild animals and the feral creatures known as Furious. Combat with hordes of
up to 50
0 Furious has never felt so real.
Be in control
Travel through the wilds of Farewell by trying out new visual customization options, including increased level of detail and foliage view distance, as well as various enhancements . Play Days Gone on your terms. Use original or third-party controllers, or walk the Dead Road using your mouse and keyboard.
Photo Mode
Capture the detailed and realistic world of Days Gone with the new ultra-high resolution photo mode. Share your shots with us through Bend Studio's social channels: Twitter, Facebook and Instagram. Amaze us with your works!
Source Have you noticed any errors?
---
'Days Gone' hits Steam and Epic Games Store on May 19th
The Telegraph
David Cameron lobbying row: Civil servant allowed to join Greensill while working in Whitehall
A senior civil servant was granted permission to join the lender Greensill Capital while still working at the highest levels of government, a watchdog has revealed. Bill Crothers was head of Whitehall procurement, in control of a £15 billion annual purchasing budget, when he took on an external role as part-time adviser to the finance company's board in September 2015. Boris Johnson was understood to be personally concerned about the disclosure on Tuesday night, while Labour described it as 'extraordinary and shocking', renewing demands for an MP-led inquiry into the lobbying row engulfing Greensill and David Cameron. The lender, which filed for insolvency last month, has been at the centre of controversy over the access its founder Lex Greensill was granted to numerous Whitehall departments during Mr Cameron's administration. The former prime minister then went on to join Greensill in 2018, and has been revealed to have directly lobbied Rishi Sunak and a series of other ministers on the company's behalf. Correspondence published on Tuesday between the appointments watchdog and the Cabinet Office revealed the overlap in Mr Crothers working for both the government and Greensill. Read more: The David Cameron/Greensill scandal explained In a letter to Lord Pickles, chairman of the Advisory Committee on Business Appointments (Acoba), Mr Crothers said of his role at Greensill: 'It was seen as a way of me transitioning back into the private sector, and was supported by the Cabinet Office leadership.' Suggesting other top mandarins had also taken on dual roles in the private sector, he added: 'This advisory role was not seen as contentious, and I believe not uncommon.' Mr Crothers then left the civil service in November 2015 and went on to become a director at Greensill the following year.