MechWarrior 5: Mercenaries, release date on Xbox Series X | S, XOne, Steam and GOG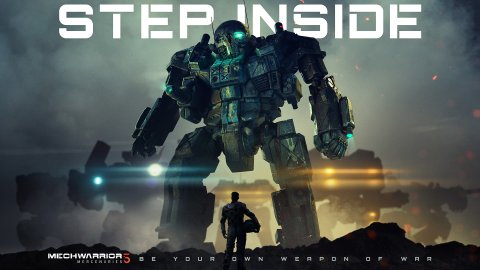 MechWarrior 5
MechWarrior 5: Mercenaries has an official release date on the
Xbox Series X
|
S and Xbox One
, as well as the Steam and GOG platforms: the game will be available starting May 27.
Available on
Xbox Game Pass
for PC since last May, MechWarrior 5: Mercenaries will soon make its debut also on
Microsoft
consoles.
That's not all: the launch of the game on Xbox, Steam and GOG will take place simultaneously with the publication of the first DLC, titled Heroes of the Inner Sphere, which will add more content to the experience.
MechWarrior 5: Mercenaries is the next installment in the MechWarrior series, developed by Piranha Games on PC.
The game is set in 3015, with humanity now on its way to interplanetary colonization in the part of space called the Inner Sphere, an area characterized by numerous wars over time, after the fall of the Star League, which led to the subdivision of space in five Successor States.
Also known as Great Houses, these factions have been at war for centuries and are now in the midst of the Third War of Succession, which has been going on for 150 years now.
The main weapons with which this war is fought are the BattleMechs, led by elite pilots called MechWarrior.
In MechWarrior 5: Mercenaries we find ourselves playing a novice pilot during the war, within a driving and combat system that mixes tactical and shooter elements, passing from third person, subjective and PvE to as for the Campaign, based on a career-style progression of the driver and guided by the player's choices.
Source
---
MechWarrior 5: Mercenaries launching on Xbox Series X|S with first DLC, 'Heroes of the Inner Sphere'
MechWarrior 5: Mercenaries marks the revival of a dormant franchise enjoying an extended hiatus. Initially launched on PC as an Epic Games Store exclusive, MechWarrior 5 recently came to the Microsoft Store as part of Xbox Game Pass for PC. Now, after MechWarrior 5: Mercenaries delayed its launch on other platforms, the mech-battling shooter has announced a date to arrive on Xbox Series X, Xbox Series S, and Xbox One as an Xbox console exclusive! It's also arriving on GOG and Steam PC stores, giving players more ways to find the game.
As promised, Pirahna Games is delivering the first DLC expansion for MechWarrior 5: Mercenaries at the same time it launches on new platforms. Heroes of the Inner Sphere arrives with MechWarrior 5 on May 27, 2021. Not a ton is known about the DLC at this time, but Pirahna Games will share more information as we get closer to launch. There's also no pricing information or news on whether or not MechWarrior 5: Mercenaries will launch into Xbox Game Pass on consoles. We'll have to wait a little bit longer to learn more!
Prepare for MechWarrior 5: Mercenaries with one of the Best Headsets for Xbox Series X|S, which offer you a ton of choice for every need and budget.
A catalog of games
Xbox Game Pass Ultimate
All your gaming needs, in one subscription.
Is the Xbox Game Pass Ultimate the best value in all of gaming? It's possible. Ultimate bundles your Xbox Live Gold subscription, an Xbox Game Pass subscription for both Xbox consoles and Windows PCs, and Xbox Cloud Gaming for on-the-go. That means access to hundreds of games, with more added all the time, for a single monthly subscription cost.
We may earn a commission for purchases using our links. Learn more.
Cooperate and competeHere are our favorite multiplayer games on Xbox
Some of the best games in the Xbox ecosystem are multiplayer games where you either team up with or face off against other players. Here are our favorite multiplayer titles available on Xbox One and Xbox Series X/S.