Life is Strange 3: "New cast, new powers, new story", no Chloe and Max?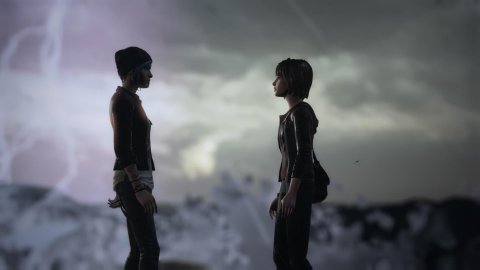 Life is Strange 3
Square Enix has confirmed that on March 18 we will have the opportunity to see a new Presents, an event dedicated to the latest announcements dedicated to Outeriders,
Marvel
's Avengers, Tomb Raider, Just Cause, Balan Wonderworld and new games from Square Enix Montreal. Certainly, moreover, the new Life is Strange 3 (unofficial name) will be presented. What will the game be about? No one knows for now, but for sure there will be a "new cast, new powers and a new story".
The announcement comes directly from the Life is Strange Twitter profile: you can see it yourself at the bottom of the news. As mentioned, this does not tell us anything about what will actually be present in the game, but it basically confirms that this "Life is Strange 3"
will not be
dedicated to Chloe and Max, protagonists of the first game and its Before the Storm prequel. We can't say for sure yet, of course, but the phrase "new cast" leaves little doubt.
Life is Strange 3 won't be all about Chloe and Max? According to a recent rumor, the real name of Life is Strange 3 is "Life is Strange True Colors". It seems that it will be divided into 5 episodes, like the previous main seasons, and will be developed with Unreal Engine 4. The protagonist will be called Alex and will be an Asian-American woman who can read people's minds. The developer should instead be Deck Nine, author of Before the Storm. We will
be able to
find out if this leak is correct on March 18.
We also report that Dontnod, original author of Life is Strange,
is working on
5 projects not yet announced.
---
Life is Strange 3 reveal to headline new Square Enix live stream series
Square Enix is planning to reveal a new Life is Strange game during the live video stream to announce new titles, next month.
The Square Enix Presents showcase on March 18 will be headlined by the new Life is Strange game, as well as updates for the forthcoming RPG Outriders, and platformer Balan Wonderland.
In a blog post on Thursday, the developer invites us to be "there for the World Premiere of the next game in the critically acclaimed series, where you'll meet a new protagonist with a fascinating new power."
The new title will be the third in the adventure game series, following the previous episodic instalments, firstly in 2015 and then in 2018/9. The heavily story-driven game, where you make choices affecting your character's actions, has been a massive cult hit and this is an eagerly-anticipated reveal. While Square Enix confirms there'll be a new protagonist, it's unclear whether characters from previous instalments, like Chloe and Max, will be along for the ride too.
Elsewhere, Square Enix will focus on the Tomb Raider 25th Anniversary celebrations, new updates to Marvel's Avengers (including the addition of Hawkeye and an update for PS5/Xbox Series X) and the release of Just Cause for mobile devices. There'll also be some new mobile game announcements and a look at some games from TAITO, Square Enix's sister company.
The first show in the new series will be available on YouTube, Twitch and the new Square Enix Presents website. It commences at 1pm EDT and 5pm GMT. The Spring 2021 naming means we can probably expect these streams once a quarter.
The company says: "SQUARE ENIX PRESENTS is a new digital series where we'll make game announcements, share news, updates and previews of our upcoming games throughout the year!"
Are you pumped for a new Life is Strange game? Let us know @trustedreviews on Twitter.
Chris Smith is a freelance technology journalist for a host of UK tech publications, including Trusted Reviews. He's based in South Florida, USA.  …