Haunted Space announced for PC, PS5 and Xbox Series X | S, Italian Games Factory will be at Il Cortocircuito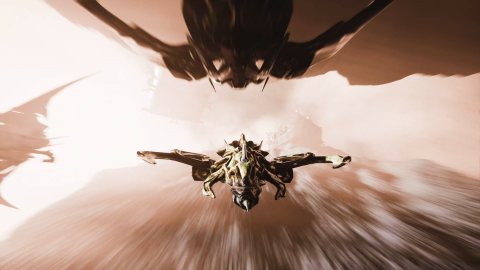 Haunted Space announced for PC
Yesterday, during the Spring Future Games Show, Haunted Space was announced, the first Italian Games Factory game for PC,
PS5
and Xbox Series X
and S. It is a space simulator with horror elements to be played completely in single player.
Below you can see the announcement trailer, as well as the first images of the game taken from the Steam page of the same. Before leaving you to all the information on the game, we inform you that today Ivan Venturi and Luca Michelotti, the game directors of Haunted Space, will be guests of Il Cortocircuito di today. The appointment is as always at 3 pm on the Twitch channel of sportsgaming.win.
+8 For more details, read the description of Haunted Space always taken from the Steam page of the game:
HAUNTED SPACE - RAIDERS OF THE SONIC MATTER is a single-player space simulator in which sci-fi and horror mingle in an adventure based on exploration, combat, trading and upgrading of your own ship, with innovative gameplay elements and never-before-seen space creatures before.
A game set in a remote space, in the distant galaxy Neterun, where the precious Sonic Matter is found. A space formerly dominated by the mighty Neterunian civilization, now gone, but actually still present in the form of spirits, whose souls have reassembled themselves as frightening creatures composed of space debris and organic matter.
A spectacular visual sector that, if your graphics card supports it, uses Ray Tracing in sidereal space in a completely new way.
The audio is immersive and binaural, with the climax points underlined by pressing or poignant music.
Death is "almost" permanent. In fact, sometimes, you can decide yourself to face a certain mission by filling the hold of your ship with explosives and making yourself explode inside your target, then recovering the "backup" of your soul in the space station where you were previously docked.
10 systems and lots of quests for each of them, in which you can freely decide
what to do
and what will be your destiny as a predator of Sonic Matter.
Thanks to the Co-Pilot, you can choose how much control to have of the spaceship: total, for a complete simulation in all its parts, up to simplified, for a more immediate gameplay in which artificial intelligences accompany us in the various phases of the game. Up to making it completely accessible to disabled and blind people, supporting the Eye Gaze and AudioGame technologies.
---
Haunted Space announced for PS5, Xbox Series X|S. and PC
Merge Games, in collaboration with Italy-based developer Italian Games Factory, has today announced that Haunted Space is coming to PS5, Xbox Series X|S, and PC. Haunted Space has both sci-fi and horror elements, incorporating a story-rich space combat and exploration experience. Set in the far future, players discover a new energy called Sonic Matter, which leads to the second age of humanity facing a mysterious threat.
"We are thrilled to announce Haunted Space today", said Luke Keighran, MD, Merge Games. "Using the power of Unreal Engine, the talented team at Italian Games Factory have created something truly stunning which we think sci-fi and space sim fans everywhere will enjoy. They have created a galaxy steeped in mystery and danger that we believe will deliver a unique and exciting experience for gamers."
"We are proud and excited to reveal Haunted to the world today", said Ivan Venturi, Director, Game Designer & Producer, Italian Games Factory. "We've given shape to a world we've imagined for a long time; a mysterious environment, where the thrill of the unknown is mixed with a post-apocalyptic sci-fi vibe, ghostly apparitions, weird gigantic creatures and many other things never seen before in a space game. We'll have lots more to share in the coming months, and we hope you'll join our raider brotherhood!"
Key features include:
Explore the Neterun Galaxy – Traverse multiple unique star systems, each filled with danger and intrigue. Play in first-person or third-person perspective as you overcome the challenges of this dangerous backwater of space
Experience a deep and epic sci-fi horror story – Neterun is full of monuments and relics left by an ancient civilisation and the galaxy is haunted by their ghosts. Unravel the reasons for their presence and fight for survival against their supernatural threat in a story inspired by the dark and twisted tales of Heavy Metal and 2000AD
Take on the fearsome Colossi – Overcome the odds in fierce multi-stage boss battles against ancient God-like creatures composed of organic matter and space debris
Make your mark – Trade and craft new ships and ship equipment using powerful and customisable ship modification tools – create and buy new weapons, shields, cargo containers, engines and more
Next-generation immersion – Stunning ray tracing effects and immersive audio put you in the heart of the action like never before
Play your way – In Haunted Space, the innovative co-pilot system allows you to choose the level of control you prefer, from a complete space simulation, through to a more arcade-style experience. At its maximum level, the co-pilot makes the game accessible for blind and visually impaired users, and it also supports eye-tracking
Chris WhiteVideo games are cool. Don't let anybody tell you any different.