GeForce NOW: 10 million subscribers, lots of news coming with new subscriptions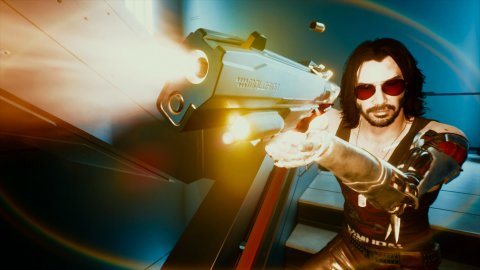 GeForce NOW
Nvidia has announced many new features for the second year of GeForce Now, a cloud gaming platform that has now exceeded 10 million subscribers. The juiciest is the new subscription formula, called Priority membership, which for € 9.99 per month gives the same benefits that Founder users have: priority access to game sessions, extended session duration and RTX ON.
The possibility of subscribing to an annual subscription for € 99.99 has also been added, news that will make many happy. Founder subscriptions with a special rate of € 4.99 per month will be maintained and will receive new benefits.
Be that as it may, let's read all the details of the upcoming news for GeForce Now subscribers taken from the official press release:
The entry of GeForce NOW into its second year of life is accompanied by a steady increase in subscribers to the platform - 10 million subscribers to date, and for this reason NVIDIA
is aiming for
ever more consistent and exciting news, adding new subscription solutions.
The first is a new premium offer, the Priority membership, which allows the same benefits that Founders members have, namely: priority access to game sessions, extended session duration and RTX ON for stunning graphics thanks to ray tracing and DLSS in supported games.
Monthly subscriptions for this type of subscription are available for € 9.99 per month. In addition, NVIDIA has come up with a new annual subscription option, at € 99.99.
GeForce NOW wouldn't be the same without Founders members. For this reason, we are adding a new benefit, Founders for Life, which maintains the special introductory fee of $ 4.99 as long as the account is active.
Whether for a limited time or for a lifetime, we want our Founders members, and all GeForce NOW supporters, to remain a part of our family.
Next level
We are very happy with the feedback we receive from our subscribers; they are very useful for us as they allow us to improve the service and plan future news. Here are some examples of optimizations and improvements made during the last year:
Many exciting launches of major titles, available directly from the day of their release, such as Cyberpunk 2077, and many of the best free games; Continuous growth of the game library, which now includes more than 800 titles;
Opening of new
data centers, more than 20 around the world; Expansion of the capacity of existing data centers, which has allowed us to further grow the service; Improved quality of service, with many more optimizations on the way.
GeForce NOW continues to grow and we are constantly working to improve streaming quality and ease of use, with the aim of adding more and more games.
With Update 2.0.28, which we are currently making available to subscribers and will be available to everyone within a week, streaming quality takes another step forward.
A very important support is that of the Vsync adaptive technology which synchronizes the server-side 60 or 59.94 Hz frame rates of the server to coordinate with the client-side display, reducing interruptions and latency in games supported. Furthermore, a new adaptive de-jitter technology will allow us to increase the bit rate to obtain better quality even on unstable networks.
As mentioned above, we are working hard to make GeForce NOW easier to use by creating updates that allow subscribers to get into the game even faster. The first phase of these optimizations includes linking the account to the main games on the platform, arriving in the next 2 months, and useful updates for the preloading of the games that should reduce the time by about half.
Additionally, we are adding resources within our busiest data centers and new locations for our servers. The next will be in Phoenix, Arizona, and then we'll open our first Canadian data center, in Montreal. We expect both centers to be operational by
the end of
2021; this will reduce waiting times for Priority and Founders members.
In addition, we have received a lot of questions from our community regarding the arrival of GeForce NOW in new countries; following many requests, we have entered into an agreement with a new partner in Turkey, Saudi Arabia and Australia.
GeForce NOW Alliance partners manage regional data centers and offer GeForce NOW in local currency, with local language support. This means reduced latency, significantly better ping times, and less waiting. GeForce NOW Alliance does not stop there, we will also arrive in many other territories!
Your Thursday in the name of #GFN
Last but not least, we are updating our appointment on Thursday with GFN - our unwavering commitment to bringing great PC games and service updates to our subscribers, every week.
In 2020, we added and released an average of 10 titles per week. Our goal is to bring more and more games, increasing the number by about half by the end of the year. Additionally, we have continued to add support for additional digital game stores. In case you missed the news, last week we released GOG.COM versions of four games from CD PROJEKT RED, including
The Witcher 3
: Wild Hunt Game of the Year Edition.
Considering today is Thursday, we can't wrap up updates without giving our members their weekly fix
of new game
s - we're releasing 7 new titles on GeForce NOW.
Here is the complete list:
Do Not Feed the Monkeys (Steam) GoNNER (Steam) Loop Hero (Epic Games Store) Monopoly Plus (Steam) Snooker 19 (Steam) System Shock: Enhanced Edition (Steam) Wanba Warriors (Steam)
New subscription solutions, optimized streaming and more and more titles for our members - the second year of GeForce NOW has just begun.