Fallout 76, the tried and tested of the new Spring update: Ready and Loads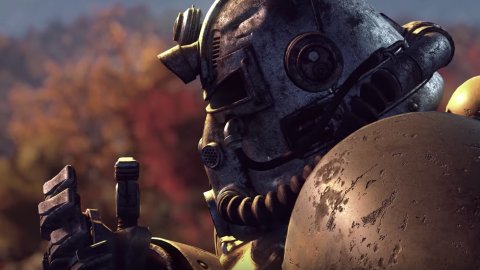 Fallout 76, the tried and tested of the new Spring update
We've been constantly coming back to talk about Fallout 76 for years. Since its debut on the market and all the turmoil generated, we had tried in our review to give an idea of ​​the potential in the long term. A series of reinterpretations, of steps back and then finally redemption with Wastelanders. Exactly one year ago, the first major update of Fallout 76 gave almost everyone the idea of ​​what this chapter of the saga was really capable of proposing.
In these weeks the new year of content begins, which opens with a spring full of interface improvements and a series of management facilities that are both in demand and appreciated. Let's take a look at what Appalachia is becoming and what it holds for the future.
Polygamists from CAMP
Let's face it: we all hated the difficult and cumbersome management a bit of the CAMP . The main place of prosperity for players in Fallout 76 has often led to the desire to abandon them to themselves, even to exploit them only as a method to spend as few caps as possible with fast travel. It is true that all those players who love the construction phase of Fallout 76 cannot do without it, but the difficulty in handling and moving often makes the desire pass.
The Bethesda guys must obviously be aware of this. , because they have decided to remedy this problem with a series of improvements to the management of their CAMP . First of all, news of the news, we will no longer be limited to a single place. Each player will
be able to
create different shelters, call them independently from each other and even assign them custom icons.
This new feature is called "slot" and
allows you to
choose different places to camp, without having to make a single choice within a gigantic map like that of Appalachia. Only one of these will be active each time, but it will be easy to change from one to the other just by opening the map and selecting them. In fact, through a handy widget you will always have your camps under control and you can decide which one should be the one currently active. No costs, no penalties, nothing that prevents you from constantly changing your choice. Once the C.A.M.P. favorite, this will become visible and available on the map, obscuring the previously active one until further notice.
It is easy to understand how this element also makes
it possible to
simplify travel and the choice of the place to build, also being able to insert one's own display cases where to show off the elements that most make our exploits iconic.
The joy of loadouts
Finally here we are! How many times have you come to think that the content and variety of Fallout 76 required the freedom to modify your build? With Ready and Loads: this is the name of the new update that will be available to everyone on April 27th, all players above level 25 will finally have access to the recipe for building the validating machine. Also present in the various stations around Appalachia, through these machines it will be possible to reset your S.P.E.C.I.A.L. and create different builds, finally giving the freedom to choose which direction to go with your characters based on your needs.
Currently there are only two slots available, but there is still the will to change this appearance. Despite the limit, you can sleep peacefully, because alternating loadouts and redistributing points will always be
free for everyone
, thus leaving the player the freedom to move as they see fit.
We partially understand Bethesda's choice to have waited so long before giving this chance. On the other hand, even the legendary talents are still recent and it is a feature that greatly simplifies the life and choices of the players, made with more confidence during the build phase. At the same time, however, it is a fundamental content especially for those veterans with hundreds of hours behind them, eager to test something totally new without having to create a new character from scratch.
Little else ... or almost
We were aware that this was not the most important update of the year for Fallout 76. In addition to the two changes we discussed above, we add a few more balance, as well as a handful of game content.
It is the daily operations that increase in number and variety. The content is doubled, adding a new modality: "decryption" and also a series of new threats. Decryption is nothing more than a kind of stealth mode that will require you to hunt down a series of code vectors, so as to disable interceptions. In this mode the enemies become even more lethal and, above all, they ignore what your resistances are generated by equipment and the like. For this it becomes important to move as stealth as possible and, where you can, avoid the clash. Among the new enemies there will be groups able to regenerate each other by means of new mutations, as well as ardent and cultists of the Moth Man.
Therefore, during the new daily rotations it will be possible
to find all
these new contents, including new locations such as Vault 96. Nothing that upsets the system or adds dozens of unprecedented hours, but still a way to vary from the usual daily tasks that will make the most assiduous players happy.
Among the various small additions
there is also
a revisitation to the aiming system assisted, the ability to create a certain amount of objects in bulk, as well as the improvement of the tracking of activities and, as a promise, also the refinement of melee attacks.