Xbox Game Pass, June 2022: games for the first half of the month for subscribers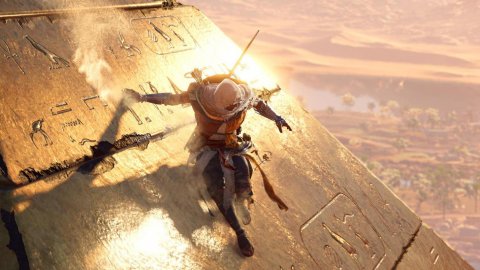 Xbox Game Pass, June 2022
Another month, another race, but in this case we are in a crucial period for the Xbox world: June 2022 is also characterized by the arrival of
Microsoft
's annual conference, from which news will certainly arrive regarding the subscription service in question. While waiting for the Xbox & Bethesda Showcase on June 12 at 7pm and the announcements that are sure to come from there, let's take a look at the first batch of games coming to
Xbox Game Pass
for subscribers in June 2022.
The fact that Microsoft intends to reserve some surprises on the occasion of its presentation event is also clear from the characteristics of this first run in June: first of all it is "only" 6 games, which obviously are not bad at all but they turn out to be less than the classic amount of titles added in an Xbox Game Pass batch, then there's the fact that they only arrive until June 7th.
Xbox Game Pass, games arriving in the first part of June 2022 Usually, the two entries in the catalog correspond to the two halves of the month, but in this case the first wave covers only the first week: this seems just a clear signal of other games planned for the following days, which will be revealed only in the evening of 12 June. In the meantime, let's see what has been announced so far, also remembering the titles that will leave the catalog in mid-June 2022.
For Honor: Marching Fire Edition - Xbox, PC and Cloud, June 1st
For Honor: Marching Fire, a fight scene
Ubisoft
's medieval fighting game with hack and slash elements back to top Xbox Game Pass in its expanded and enriched version, playable on Xbox consoles, PC and cloud gaming, bringing with it the various evolutions carried out by Ubisoft to the base code and with the possibility of expanding it with the numerous packages made available over the years . For Honor: Marchino Fire Edition therefore includes the original game and the various expansions, including the substantial Marchino Fire, for a complete experience. For those unfamiliar with it, it is a third-person fighting-game-style action that sees us interpret warriors inspired by various historical periods and various geographical backgrounds: there are knights from the Western Middle Ages, samurai, Vikings, gladiators and other types of fighters between to choose from, each with their own fighting style and specific weapons. Between pseudo historical reconstruction and orb barrel, For Honor is an interesting evolution of the classic concept of the fighting game in an enlarged online context, definitely worth trying. Here is our review of For Honor: Marching Fire.
Ninja Gaiden: Master Collection - Xbox and PC, June 2nd
Ninja Gaiden: Master Collection, screenshot of one of the games A nice dose of old-fashioned action comes thanks to the Ninja Gaiden: Master Collection, a collection containing the three chapters of the series Ninja Gaiden Sigma, Ninja Gaiden Sigma 2 and Ninja Gaiden 3: Razor's Edge, each containing the original versions and also all the DLC released for each single chapter and also some new additional modes, such as Ninja Trials and Survival mode in Ninja Gaiden Sigma. Although these are chapters that are richer in terms of content, the Master Collection has been received in a rather mixed way by fans, who would have preferred a revival of the originals released on Xbox platforms, instead of the later versions for
PlayStation
, which are characterized by some censorship. applied to the characteristic gore of the old chapters and to some changes applied to the gameplay to make it even less difficult. In any case, these are still games with superfine gameplay, which feel a bit the weight of the years but are still perfectly enjoyable, although the more experienced may probably prefer the recovery of the three original Xbox chapters, all usable in backward compatibility. br>
Assassin's Creed Origins - Xbox, PC and Cloud, June 7
Assassin's Creed Origins, an image from the Ubisoft game Perhaps the most interesting game in this first part of June 2022, Assassin's Creed Origins together with For Honor: Marching Fire should represent a renewed partnership between Microsoft and Ubisoft for Xbox Game Pass, which should also lead to the introduction of Ubisoft +, in some unspecified form, within the Xbox service. Considered by many to be one of the best chapters of the series, Assassin's Creed Origins is set in ancient Egypt, thus relying on one of the most fascinating and charismatic settings seen in the fictional-historical series, also representing a significant technological leap compared to previous episodes. Just in these days it has also received a patch that brings the frame-rate to 60 fps, in addition to receiving a resolution increase through the advanced backward compatibility of the Xbox Series X | S, so it certainly presents itself at the best of the possibilities for this relaunch on Xbox. Game Pass. In case you haven't played it before, this is definitely the best opportunity to do so.
Chorus - Xbox, PC and Cloud, June 7
Combining classic space shooter with A somewhat Remedy-style narrative adventure, Chorus presents itself as a truly particular game, in some respects the heir of Wing Commander as regards the construction of a sci-fi world based on a complex story and action centered on aerial evolutions and fighting.
Fishlab's game can count on a really interesting characterization, staging the epic of Nara, a space pilot with great capabilities and her ship Forsaken against an entire fleet led by the Circle, a dangerous cult that threatens to wipe out a large part of the universe. Chor
us is not
a perfect game, as we have also seen in our review, but it represents a sort of rarity nowadays, considering the way in which its particular setting hosts an action shooter with also narrative characteristics, so the advice is to try it as soon as it is made available in the
Xbox Game Pass catalog
.
Disc Room - Xbox, PC and Cloud, June 7
Disc Room, a screenshot of the crazy Devolver Digital game From Devolver Digital comes another incredibly fun madness with Disc Room, a sort of action based on dodging self-propelled circular saws. In the year 2089, a giant disk appears in Jupiter's orbit and humanity tries to figure out
what it is
by sending a brave explorer inside. What you discover inside is a kind of sadistic trap capable of providing incredibly hours of fun, trying to survive as long as possible. Disc Room requires you to go through various square rooms, each with some specific objectives to accomplish, trying to avoid being cut in half by the various saws and sharp objects that roam inside them. In essence, it's about trying to survive for as long as possible until the door that leads to the next room opens. The progression grants the unlocking of some power-ups that can (slightly) simplify things, but the whole is a constant challenge to the limit between action, puzzles and bullet hell-style features.
Spacelines from the Far Out - Xbox and PC, June 7
Spacelines from the Far Out, an image of the game Speaking of strange mixes and indie experiments, Spacelines from the Far Out presents itself as a remarkable example of these oddities, in arrival at day one on Xbox Game Pass. It is a cooperative management game with rogue-like elements, centered on the management of a space airline. It is therefore a question of increasing one's fleet with new spaceships and managing them in the best possible way, controlling the various aspects of space travel and trying to solve the many inconveniences that may arise during these paths. Although it may seem boring, just take a look at images and videos to understand what we are dealing with: Spacelines from the Far Out is in fact definitely far from a realistic representation of space travel, recovering rather the typical characterization of science fiction years 60 with strongly humorous tones. By running the business in the best possible way you can unlock various elements that can improve aircraft and other aspects of the travel company, also leading to a noticeable rate of customization.
Have you noticed any errors?