Fall Guys: Ultimate Knockout, some tips to get started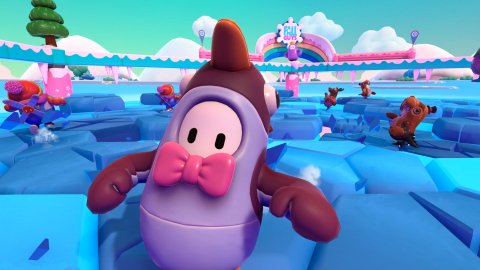 Fall Guys
"
There will be
only one left." Who would have thought that the legendary "Highlander" motto would make a good comeback more than 35 years later for Fall Guys: Ultimate Knockout?
Mediatonic's battle royale-style MMO party game lends itself perfectly to "eliminatory" spirit of the 1986 film, but it does so with a mix of crazy online trials in which 60 players compete in a chaos that harks back more to the crazy Japanese TV show Takeshi's Castle.
Dal June 21, 2022, the title is free on all platforms and the competition is so fierce. Luckily we are here to give you a handful of sneaky
tricks to get
you started, and get the better of your opponents when you are alone and have no friends to play with. Let's get started.
Betray your friends
Betraying other players is key in Fall Guys to ensure your safety. Let's be clear: don't take this invitation as your life advice. We don't want to be held responsible for broken friendships. No, we are referring only to Fall Guys, a title whose mechanism contemplates the victory of a single user; however, team play is not a bad idea, quite the opposite.
Some rounds of this mad scramble for survival require cooperation to overcome, and this is where all your treachery will have to come into the picture.
Show a cooperative attitude and be active in the sequences where
you need to
join forces to advance: over time the other players will end up trusting your good faith and that will be the time to treacherously plunge them into defeat.
Take advantage of the dive
The dive is an action that could save your life in Fall Guys At first, the dive seems like a simple and obvious move; in reality, however, it hides a utility that goes beyond appearance, capable as it is of removing chestnuts from the fire in many uncomfortable situations.
The advice is to take advantage of the dive every time you have the opportunity: in a race where you need to cross the finish line before the others, this action could guarantee you that fundamental momentum on the finish line. save you from elimination, for example.
Not to mention its decisive contribution in dodging bullets and in increasing the time you can spend in flight if you use it in combination with a jump. Use it, use it and then use it again: your survival is at stake.
"Go ahead, I'll join you"
In Fall Guys it's important to let the big group lead the way for you How said, in Fall Guys, excelling is the main goal, yet there are many ways to accomplish our mission. Sure, acting as a leader by showing others the high road can be a good system, but we definitely prefer something more slippery.
Letting other players go ahead to stay in the back is undoubtedly an exposing conduct to fewer risks, and which, indeed, will even allow you to exploit circumstances to your advantage.
Has the big group found the best path to reach the finish line? Well, from your secluded position now you just have to climb the mass of bodies that have piled up and thus proceed towards the qualification.
Follow the crowd
Follow the group is an excellent ploy in Fall Guys Following the crowd is a piece of advice that is in fact the close relative of the previous one, but with a few, small differences.
Not clear on the situation? Have you come across a round in which
it is not
easy to find your way around and understand
what to do
? Do as if you were looking for something in a foreign country whose language you do not know: go after those who inspire you trust. In Fall Guys, the line between elimination and qualification is often very thin and can be a matter of details.
Which is why, following a tightly packed group of opponents - who most likely know where to go - can be a good strategy. Of course, by exploiting this mechanism, which we imagine you
will not be
the only ones to implement, you too could assume a resolute and fearless attitude, only to deceive those unfortunates who will have had the sole fault of putting their lives in your hands. The choice is yours.
Cold blood
Panic will be your worst enemy in Fall Guys Traps, pitfalls, other players who press us ... Fall Guys is full of pitfalls, but who is the absolute worst opponent to face? That's right: the frenzy. In each new round of the Mediatonic battle royale it is easy to end up prey to survival frenzy, thus losing that clarity necessary to get the better of the general pandemonium.
Avoid panicking, therefore; reason; focus on the situation and take your time: an anxious and uncritical approach to gameplay will only make you stumble over the same obstacles, thus generating trivial and avoidable errors.
Play at a calculated pace and, as far as possible, rationally, it will help to earn you some more chances of victory than those users who choose the path of impatience.
Play dirty
Any shot is allowed in Fall Guys Last, but not least, the possibility of pulling and pushing opponents for pure personal gain. A very unorthodox game conduct but which is of extraordinary use near an obstacle or the finish line.
Pushing a rival and making him fall towards the abyss of elimination is a tasty left-handed shot, especially if carried out together with an ally against a third, innocent unfortunate.
But be careful not to let yourself be held back while you are grabbing someone: your movements will be very limited. The solution? Grab someone from behind. But, hey, we didn't tell you anything eh.
And here we are at the bottom of our mini survival guide. What do you think about it? What are, in your view, the best tips for staying afloat in Fall Guys? Write them in the comments below.
Have you noticed any errors?