Demon Slayer: Akaza Figuarts Zero, review
Demon Slayer
Demon Slayer's brand - Kimetsu no Yaiba shows no signs of weakening and Tamashii Nations is doing really well with a wide range of characters coming out one after the other. This copy of Akaza for the Figuarts Zero line that arrived in the editorial office as an Italian preview, is taken from the blockbuster feature film Demon Slayer Movie - Mugen Train.
The character
Akaza is a demon with patterned tattoos all over his body and looking like a young boy. In his way of moving and expressing himself, he seems in all respects an artist who points to what he calls "Supreme Art", or the maximum martial power. Akaza has spent over a hundred years of battle and training, and battles have led him to defeat powerful opponents. He feels disgust for the weak, killing them without hesitation. | the packaging. Also in the front portion we can see, on the left side, a photo of Akaza and the logos inherent to the product: at the top left the logo of the anime Demon Slayer and diametrically opposite the holographic quality seal that certifies the product as original and the two Tamashii logos Nations and Bandai Spirits. Moving to the back we find the official photo of the statue that will be paired with the new Figuarts Zero by Rengoku (sold separately) and the writings that enhance and enhance the details. Internally it is already assembled and protected by two blisters and a layer of transparent film to protect the paints and the most pointed parts that could suffer shocks or damage during transport.
Akaza
The figure of Azaka as a whole is about 18 cm high, and is entirely made of PVC. Like all previous releases of this series, once again the company has used stage effects that act as a base, in fact, we find the demon wrapped in smoke in a pose in mid-air as it prepares to launch its devastating attacks. physical, with the palm of the left hand extended forward and the right hand gripped while charging a lethal punch. The scenic base, which also acts as a small diorama, sees the smoke rising from Akaza's very rapid movements, along with small rocks that explode in mid-air. Under the character's feet there is also a small semi-transparent stage effect in a purplish blue color, to simulate the impact of the jump. The sculpture is certainly of very good workmanship, as is the painting even if, going to the product, we find some signs of color smearing in the hair but that in the end absolutely does not affect the final product.
Conclusions
The figure of Akaza for the Figuarts Zero line is really cool, although we see him appearing only in the final part of the Mugen Train arc, he
is one of
those characters
not to be
left behind absolutely escape, particularly if we are collecting the various Figuarts ZERO by Tamashii Nations.
Tamashii Nations is distributed in Italy by Cosmic Group.
---
Nintendo Download: 9th June (North America)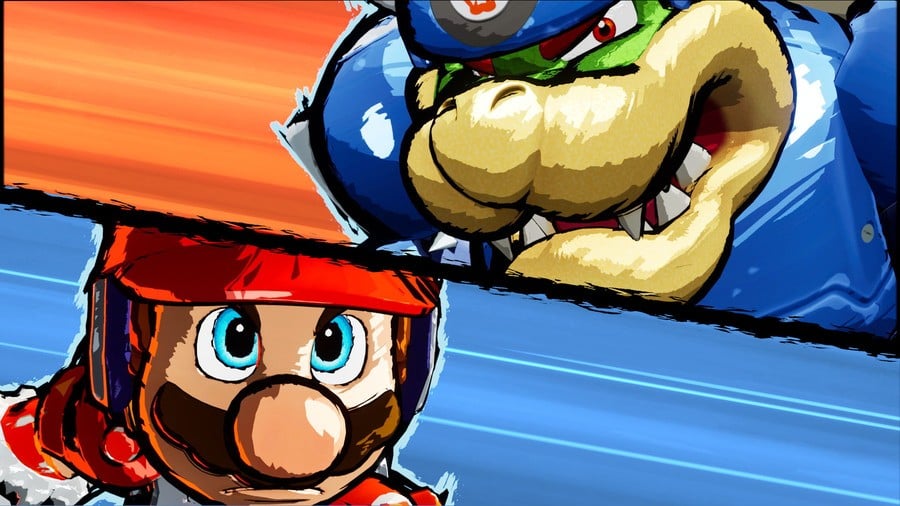 Image: Nintendo
The latest Nintendo Download update for North America has arrived, and it's bringing new games galore to the eShop in your region. As always, be sure to drop a vote in our poll and comment down below with your potential picks for the week. Enjoy!
Switch eShop - Highlights
Mario Strikers: Battle League (Nintendo, 10th Jun, $59.99) - Lace up those cleats because it's time to get gritty in the Mario Strikers: Battle League game for the Nintendo Switch system! Select among familiar faces from the Mushroom Kingdom, including Mario, Peach, Donkey Kong and Toad, and play locally* with up to eight players or Strike against the competition online!** Deploy deeper strategies by donning special gear to vary your stats, including increased scoring potential, or up your strength to resist tackles. Once you're geared up, gather your friends together in the online-only Strikers Club mode and shove your way up the rankings each season. Do you have what it takes to be the ace of Strike? Mario Strikers: Battle League will be available on June 10. - Read our Mario Strikers: Battle League review
Demon Slayer -Kimetsu no Yaiba- The Hinokami Chronicles (SEGA, 10th Jun, $59.99) - Relive memorable moments from the hit anime Demon Slayer: Kimetsu no Yaiba through the eyes of its protagonist, Tanjiro Kamado. In this action game, you'll follow the anime's story from the Unwavering Resolve Arc – where Tanjiro joins the Demon Slayer Corps – to Demon Slayer -Kimetsu no Yaiba- The Movie: Mugen Train, which features the Flame Hashira, Kyojuro Rengoku. Face off against demons from the anime series with graphical effects that faithfully re-create the iconic battle techniques in full 3D.
Freshly Frosted (The Quantum Astrophysicists Guild, 10th Jun, $9.99) - What's your favorite donut? Sweet and sprinkled, a jolly jelly-filled, perhaps a marvelous maple bar? What about one shaped like a pumpkin, a snowflake or a star? Journey through this sweet sensation accompanied by soothing narration, eye-catching themes and more than 144 puzzles to bake your way through. Discover many a whimsical shape as you explore a sweet skyscape of pastry possibilities in Freshly Frosted, available on June 10.
Switch eShop - New Releases
Ampersat (CheckMate, 10th Jun, $9.99) - Ampersat is a shooty, slashy, RPG-y game mixing old-school/retro and modern sensibilities. This is a handcrafted adventure with much appeal to fans of Roguelites. A labor of love from a solo developer, Ampersat distills some favorite childhood gaming experiences into a fresh, fun hybrid that sees you killing a lot of monsters, finding a lot of loot, freeing captured letters (um, what?) and growing from a world-weary warrior mage into a powerful smashing/blasting machine!
Arcade Archives THE TOWER OF DRUAGA (HAMSTER, 2nd Jun, $7.99) - 'THE TOWER OF DRUAGA' is an action RPG game released by NAMCO (Bandai Namco Entertainment Inc.) in 1984. Go upstairs one after another while getting various items hidden on each floor of the huge tower controlled by DRUAGA, and rescue your lover KI who was trapped on the top floor.
Beach Boys: The Perfect Date (Cooking & Publishing, 31st May, $4.99) - In love the most important thing is confidence. Show that you are a seducer and win the heart of the boy of your dreams. Don't lie! If you fail he will know it and you won't conquer his love.
Car Racing Trials (BoomHits, 3rd Jun, $12.99) - The courses in the game will allow you to push the available vehicles to their limits! Test their maximum speed on wide roads, check how well they handle on narrow obstacle courses. Make huge jumps and see if you can land safely!
Casino GOLF (KrzysztofPodsada, 3rd Jun, $4.99) - Beat 50 levels and feel the adrenaline like in a casino! Game RULES:Place a bet and put the ball in the hole. You can increase the multiplier by playing the 'VaBANQUE' with all your money. You only have one chance to play the 'VaBANQUE' in a round, and you can only do so once per round by playing the first ball. Each time you fail to place a ball in the hole, the bet multiplier decreases.
Cool Animals (Cube, 2nd Jun, $7.00) - A challenging game full of traps, but that can be overcome using the skills of our friends
Dadish 3 (Thomas K Young, 15th Jun, $9.99) - When his kids board a bus for a suspicious field trip, Dadish sets off to find them before they're turned into radish soup! Along the way he'll splash through a sewer, get lost in the desert, ride a dolphin, and reluctantly reunite with his estranged spouse. Help Dadish rescue his children once more, in his most fun and challenging adventure yet.
Delivery From the Pain (indienova, 9th Jun, $12.99) - In 201x, an anti-cancer research institute announced the discovery of the key to eternal life. In response to this breakthrough, Faith Energy Company concocted a vaccine-driven startup, the "Human X Plan. " However, the vaccine failed, with disastrous results: All infected humans were turned into zombies. The area where you live has been severely affected. To survive, and uncover the conspiracy surrounding the Human X Plan, you begin your journey.
even if TEMPEST (Voltage, 9th June, $49.99) - In a world where witch trials and witch hunts are commonplace, a tragedy occurs. Bolstered by the power to rewind time via death, the heroine Anastasia throws herself to the flames to save those she loves. . . and to achieve sweet revenge. Though born the daughter of a marquess, Anastasia suffers physical and spiritual violence at the hands of her stepmother day in and day out. The joy she had found at suffering's end is also ultimately robbed from her by someone she trusts. As she burns at the stake, Anastasia obtains the grotesque ''Fatal Rewind'' ability. 'This time, I will transform into the ideal version of myself. ' With this oath branded in her heart, Anastasia begins her life anew. But this resolve will only lead to further misfortune.
Horizon Midnight Sky Combat Aircraft – War Arena Flight Simulator 2022 (Midnight Works, 31st May, $14.99) - Online planes with stunning graphics, a huge variety of vehicles. The most famous planes are sent to battle to defend the honor of their country! Jump onto the steering wheel of your plane and do not release the trigger until you clear the entire sky of enemies! Dominate the skies and upgrade your war plane! As a fighter pilot, fly a fighter plane to fight enemy planes. If you love to play fighters then you are in the right place, just install this modern war plane game.
Horse Stable: Herd Care Simulator (Game Mavericks, 2nd Jun, $7.99) - Go to the horse farm from get your own horse and hit the road - be ready for adventures, quests, fights with predators and the opportunity to create a whole herd of horses!
JUMANJI: The Curse Returns (Marmalade Game Studio, 13th Jun, $18.99) - Get ready - the jungle's coming to challenge you! With every roll of the dice, dangerous wildlife escapes into the town and can only be stopped by you reaching the center of the board. Be careful, if the jungle overpowers you and your team - everyone loses!
Later Daters Premium (Bloom Digital, 15th Jun, $14.99) - You're the newest resident at Ye OLDE retirement community, where you'll meet a cast of sexy seniors who are all dying (not literally) to meet you. It's a lot like summer camp, but with orthopedic shoes, bridge clubs, and more jell-o. It's an adjustment as you settle in, but who knows: maybe these will turn out to be the best years of your life! Adventure, passion, and transformation are not experiences reserved for the young. Later Daters portrays the aging process as a rollicking romp and reminds us of what the elderly can teach us about our capacity for love. Remember if the chairs are a-rockin' don't come a-knockin!
Legend of Arcadieu Bundle (Gamuzumi, 9th Jun, $7.99) - The Legend of Arcadieu takes place in a mystical kingdom inside a video game. The story begins when you accidentally enter the game and become the great legendary hero. Now you need to find your way back home. With the help of a cute mage and a beautiful warrior, you must battle a horde of attractive monsters to reach your destiny. Explore a magical world filled with beautiful girls galore, silly RPG satire, and multiple romance options to choose from. The bundle features both games, The Legend of Arcadieu and The Legend of Arcadieu 2. Each game offers multiple endings each, based on the choices you make along the adventure.
METAL MAX Xeno: Reborn (PQube, 10th Jun, $39.99) - Explore a vast wasteland. Traverse the deadly ruins of Tokyo Bay which remains teeming with mechanical beasts hell-bent on hunting humanity to extinction. Travel and battle in a tank or on foot to uncover the mysteries that lay buried beneath the sands.. Explosive vehicular combat. Arm a variety of vehicles, from tanks to dune buggies, and fight an onslaught of enemies in high-stakes turn-based encounters. Upgrade your arsenal with distinctive weapons and gadgets to ensure victory against ever more deadly threats. - Read our METAL MAX Xeno: Reborn review
Mini Gardens (Silesia Games, 9th Jun, $2.99) - Connect the hose to your garden sprinklers and watch your flowers instantly grow, revealing a beautiful scene.
Mr. Prepper (Ultimate Games, 3rd Jun, $15.49) - Mr. Prepper is about being prepared. You know something is wrong and you need to get ready for what's coming. Struggle for your freedom and deal with the authoritarian government in this survival crafting game.
Mysteries Under Lake Ophelia (Baltoro Games, 10th Jun, $5.49) - A strange little place full of fish from all around the world. Nobody is quite sure why, and it seems like most people don't really care to find out. Go ahead, sink your lure and see what you can catch. Made by the creator of Fatum Betula, so you know you can expect something unexpected. Gameplay In Mysteries Under Lake Ophelia, you play as a young kid who decided to fish at the lake. You'll find yourself simply fishing the day away and trading them in for a yummy meal or some new gear. Over 30 Fish to catch Cooking mechanic Lures and rods to collect Full controller support Some other stuff
One Last Memory – Reimagined (EpiXR, 9th Jun, $9.99) - One Last Memory is an emotional story-driven 3rd person exploration game that heavily utilizes adventure game features. You play as an unknown man who re-discovers his own past and lost memories on his journey through the beautiful and diverse nature. On your way you will not only explore the intense and sad background story of the protagonist but also fight against his literally materialized fears. A great combination of a relaxing exploration and an exciting adventure game filled with joyful, sad and breathtaking moments awaits you.
Pirates Jigsaw Puzzle – Education Adventure Learning Children Puzzles Games for Kids & Toddlers (McPeppergames, 2nd Jun, $14.99) - The world of adventure awaits you! Sail Ahoy! Please note: the jigsaw puzzle game does not require any language skills! It is therefore playable for every child in the whole world! This puzzle game brings you a variety of fascinating and exciting pirate-related adventure themes. Use the touch-screen functionality and solve the jigsaw puzzles at a level of difficulty of your choice.
Pro Gymnast Simulator (RedDeerGames, 10th Jun, $19.99) - Realistic controls. Enjoy controling every important movement of your athlete. Do your best to replicate real-world gymnastics or find your own playstyle. This game gives you unlimited expressive freedom. The fun never stops. You can always polish your skills or create new maps in the level editor. The creator of this game has spent most of his life practising acrobatics and gymnastics. All the intricacies of this game are based on his real-life experience.
Samurai Riot (Wako Factory, 1st Jun, $9.90) - Samurai Riot is a 2D Arcade-style Beat 'Em Up game with a unique co-op system. Make deep moral choices throughout the branching storyline with high replay value.
Shishi : Timeless Prelude (Shishi Studios, 31st May, $9.99) - Shishi: Timeless Prelude is a colorful dungeon role-playing game. As Elia, a young mage, you will explore the depths of a sacred sanctuary to complete your training to become an Oracle. Chosen by the Goddess, the young Elia is about to start a great adventure to protect the kingdom. However, she must first complete her training. As she explores the Timeless Sanctuary, Elia becomes stronger and learns spells that will be essential to succeed the trial.
Sokocat – Combo (QUByte Interactive, 9th Jun, $3.99) - Sokocat – Combo, brings two games from the series, Sokocat Islands and Sokocat Dungeon, a puzzle game that requires the player to push stone blocks to the correct position to reach the end of the level. Sokocat Islands brings a tropical themed adventure; solve minimalist puzzles while listening to the sea and a relaxing soundtrack. Sokocat Dungeon, in the other hand, brings a mysterious adventure, Kitten Jone (the cat) now has to find artifacts in the dungeons of a castle.
Square Keeper (JanduSoft, 9th Jun, $4.99) - Square Keeper is a game turn-based puzzle where each card gives the player the possibility to execute different actions, like a sword swing, shooting with a bow or simply walking. The protagonist is trapped in a dungeon with many rooms filled with different enemies and traps. To escape you have to be able to analyze your options correctly and defeat the enemies so that the room's gate opens. There's many rooms waiting to be discovered and solved. Play your cards well!
Super Perils of Baking (Lillymo Games, 3rd Jun, $9.99) - In Super Perils of Baking, players take control of a talented student-baker who has but one goal in mind: Stopping his brother — enchanted by a cursed baking hat garnered from their school's basement — from wreaking havoc throughout the land. Written entirely in verse with a storybook-like presentation, Super Perils of Baking spans 50 core levels and totes plenty of secrets, too. With concise 2D platforming, balanced difficulty, beautiful pixel art, a fun soundtrack, and tons to unlock (including new playable characters).
The Hand of Merlin (Versus Evil, 14th Jun, $29.99) - The Hand of Merlin is a turn-based rogue-lite RPG in which Arthurian legend clashes with cosmic horror. Recruit a company of up to three mortal heroes and guide them in spirit on a desperate journey from Albion to Jerusalem. Explore a richly-imagined medieval setting on the brink of apocalypse. Trade with merchants, improve your heroes and unearth ancient relics. Search for the lost fragments of your soul, scattered across the multiverse - and save as many worlds as you can.
The Minesweeper: Crew Bomber Expedition (Cooking & Publishing, 1st Jun, $3.99) - Minesweeper easily sharpens your mind and increases your thinking speed. At the same time, it is a fun and challenging logic puzzle. The goal of the minesweeper game is to destroy the minefield without detonating any of the landmines. Use flags to mark the mines and tap the numbers to open safe squares. Plus, now you can enjoy an alternative style for the non-conformists. Enjoy the best mine detector in the world at any time!
The Wizard and The Slug (Ratalaika Games, 10th Jun, $4.99) - A fugitive wizard meets a forest slug and a strange friendship is born. Together these adventurers traverse an oddball fantasy world, unraveling the mystery surrounding an ancient curse. Play as the fastest, most agile slug in video game history together with a spellcasting wizard companion. Jump, dash, and shoot your way through this action 2D platformer with a unique health system plus an assist mode for increased accessibility. A unique mix of fun and epic, this quirky and silly tale offers creative and fun platforming action gameplay.
Thunder Kid II: Null Mission (eastasiasoft, 15th Jun, $7.99) - The Robot Empire is back, and this time, they're kidnapping all the humans! Take the role of Thunder Kid once again, rescue the hostages and track down the enemy's mysterious new leader before it's too late! Take down enemy bots and massive enemies in a unique blend of retro style that can be enjoyed by casual players and speedrunners alike. Like its predecessor, Thunder Kid II: Null Mission is a low-poly 3D run 'n' gun action game controlled from behind the main character, shifting the perspective of genre classics and adding bullet hell elements while retaining its hallmark features.
Tricky Doors (FIVE-BN STUDIO, 30th May, $0.00) - Tricky doors is a captivating game that offers a variety of puzzles. Find a creative way to get out of each room. Tricky doors is a point-and-click game in the 'escape the room' genre with plenty of mini-games and complicated quests. You can open a lot of different doors. Behind each door, you will find hostile and friendly worlds, as well as familiar and exotic landscapes. Your task is always the same - you need to leave the place where the game sent you this time through a portal to move forward. Solve puzzles and find hidden objects.
Video World (Things For Humans, 9th Jun, $3.50) - Sing and complete rhythmic challenges while you decorate a video store for Halloween and make friends with a magical pumpkin!
Ye OLDE Cribbage Club: A Later Daters Game (Bloom Digital, 15th Jun, $5.99) - Cozy up with your favorite Ye OLDE residents with a cracking cribbage contest. What is cribbage? Only the best board and card game combo ever played, enjoyed by many a senior citizen and old soul. Count card combos to peg your way through the board and crush your opponent. Chat with the Later Daters NPCs and hear their stories along the way. The Ye OLDE Cribbage Club is a part of the Later Daters game series.
Zeus Quest – The Rebirth of Earth (Crazysoft, 9thth Jun, $9.99) - This is our latest 'Family Remaster (v3)' which has made the game perfect for all the family, adults and kids alike! Help Zeus save the planet in one heck of a crazy and hilarious family adventure. A classic point and click adventure game safe for kids. It combines Greek Mythology with Sci-Fi in a funny way! Fully animated @60FPS, vector graphics and a huge plot.
What
will you be
downloading this week? (42 votes)
Mario Strikers: Battle League48%
Demon Slayer -Kimetsu no Yaiba- The Hinokami Chronicles17%
Freshly Frosted  0%
Ampersat2%
Arcade Archives The Tower of Druaga2%
Beach Boys: The Perfect Date  0%
Car Racing Trials  0%
Casino GOLF  0%
Cool Animals  0%
Dadish 3  0%
Delivery From the Pain  0%
even if TEMPEST2%
Horizon Midnight Sky Combat Aircraft - War Arena Flight Simulator 2022  0%
Horse Stable: Herd Care Simulator  0%
JUMANJI: The Curse Returns  0%
Later Daters Premium  0%
Legend of Arcadieu Bundle  0%
Metal Max Xeno: Reborn2%
Mini Gardens  0%
Mr. Prepper  0%
Mysteries Under Lake Ophelia  0%
One Last Memory - Reimagined5%
Pirates Jigsaw Puzzle - Education Adventure Learning Children Puzzles Games for Kids & Toddlers  0%
Pro Gymnast Simulator  0%
Samurai Riot Definitive Edition2%
Shishi : Timeless Prelude  0%
Sokocat - Combo  0%
Square Keeper  0%
Super Perils of Baking  0%
The Hand of Merlin  0%
The Minesweeper: Crew Bomber Expedition  0%
The Wizard and The Slug  0%
Thunder Kid II: Null Mission  0%
Tricky Doors  0%
Video World  0%
Ye OLDE Cribbage Club: A Later Daters Game2%
Zeus Quest - The Rebirth of Earth  0%
Nothing for me this week17%
So that's your lot for this week's North American Nintendo Download. Go on, be a sport and drop a vote in the poll above, and comment below with your hot picks!