Chorus: tried DeepSilver's space shooter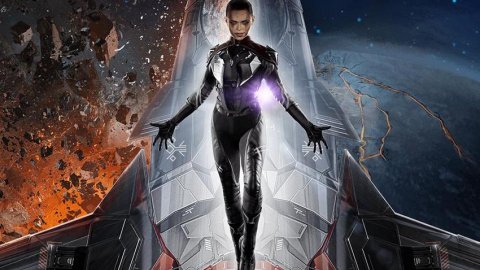 Chorus
Lately Chorus had been a bit lost track and a deafening silence had arisen around the space shooter signed by DeepSilver. Development, however, was proceeding at full speed in great secrecy, evidently, so much so that in the past few days we had the opportunity to meet the developers and try the first two hours of play, coming out of it particularly satisfied.
Chorus is a space shooter, one of those determined to put you on board an ultra-technological spacecraft and let you step into the shoes of a pilot with a dark past with some flaws to solve. In short, a more than good starting point for doing things big and, also considering the success of Everspace to which Chorus is clearly inspired, the chances of this happening can actually be high.
Let's find out why, in the our Chorus test.
An open world to explore
Ready to embark on this new adventure as Nara? DeepSilver had clear ideas right from the start and the starting point had to be a universe able to entice the player to discovery, experimentation and adventure. In the journey we will face there will be the possibility of saving survivors, but also of fighting fiercely against space pirates and other pilots, with an immense shadow that slowly envelops the other half of space. Mystery and adrenaline-fueled combat await us, with a freedom for the player to choose which missions to face and, above all, how to deal with them, thus being able to decide the pace of the game and the speed with which the contents will be completed. Nara will be our heroine, an enigmatic character with a dark past, but also a really smart space fighter pilot. A girl against whom we would not want to put ourselves, in short, and yet some madman capable of believing himself superior to everything and everyone we will meet again this time, identified precisely in that dark cult to which Nara owes her birth.
Thus begins a struggle for survival, with a plot that will guide us step by step towards the resolution of the puzzles that cloud our thoughts and that will intertwine with otherworldly powers, ready to give interesting twists. Chorus is therefore an adrenaline-pumping and compelling shooter, but potentially will also have a decidedly interesting plot, a combination that could make lovers of the genre happy.
Great effort has been poured into the creation of an epic and exciting soundtrack, which knows how to combine both the most excited moments during the fighting and the calm exploratory phases in space. From what we have seen the work on the audio is really appreciable, with deep bass capable of making the ribcage vibrate with every shot exploded by our cannons and echoes in the distance that lull the sound emitted by our engines.
Visually Chorus is extremely pleasant to watch with excellent cutscenes and a good volume of particle effects during combat. Only the settings seemed vaguely bare but it is a stylistic choice aimed at enhancing a super minimalist design, leaving other effects to fill our screen through alien conformations and spectacular explosions, with hundreds of debris to dodge while snaking at speed. supersonic.
In line with what has been said for the structures, even the spaceships maintain an angular and square solution but not for this trivialized on the contrary, the possibility of modifying the armaments and mechanical improvements leaves ample room for customization, certainly adding depth to the type of product.
Shooting is the focus but also the flight is not bad
An open world to explore between reality and mysticism We played this demo of Chorus both with the mouse combination and keyboard with both the pad and we must admit that a few minutes to get used to the multiple controls is necessary before starting g to fully understand the title and its combat mechanics. On board the Forsaken, Nara
will be able to
decide whether to use gatling machine guns, lasers or rockets by changing them instantly, different weapons for structured objectives with relative strengths and weaknesses, in a continuous game of paper, stone and scissor that prevents fossilization on a single setup for missions. She thus flies among the asteroids and the very fast enemies, always keeping an eye on the minimalist interface, but sufficiently clear and with the other on the recovery times of the special powers of the protagonist. To increase the pace of the game, Nara will be able to launch impulses to highlight crates of credits scattered around the map or use more aggressive powers such as a sort of mini warp thanks to which to get directly in the wake of the nearest enemy so as to quickly take him down. >
There are also side barrell rolls to dodge opponents' automatic locking weapons and not even a special drift thanks to which you can slide quickly in a skid and eliminate the enemies in the queue without them being able to notice it. We thus find ourselves always involved in very dynamic fights, in fast missions, but calibrated to the right point to be stimulating and a variety of things to do perhaps not overwhelming but still quite satisfying. There will also be environmental puzzles and moments of calm in the final version in which to explore special ducts full of traps, elements to be studied later in the review phase.
The experience is enhanced by a system of weapons growth based on their really practical use. Use the gatlings for a long time and their level will go up reducing their cooling time, rate of fire and so on. This also applies to all other weapons and abilities in the game. The completists, in short, will have several things to do: if they are fun and if the farming is limited, however, we will find out only from the beginning of December.
Our experience with Chorus was certainly positive and if you loved Everspace Deep Silver's game must be among those to be followed carefully. Nara is a beautiful protagonist, canonical in her dark past, but with various facets that make her interesting. The title lends itself to short sessions or full immersion trying to unravel the intrigues of the story, accompanied by a deeper-than-expected flight and combat system. Only on December 3, thanks to our review, however, will we be
able to understand
if Nara will be able to get talked about even on planet earth.
CERTAINTY
Good protagonist Flight and combat system sufficiently deep DOUBTS Will exploration be able to remain satisfactory? To check the variety of settings Have you noticed any errors?