Playdate, all on the peculiar hand-cranked console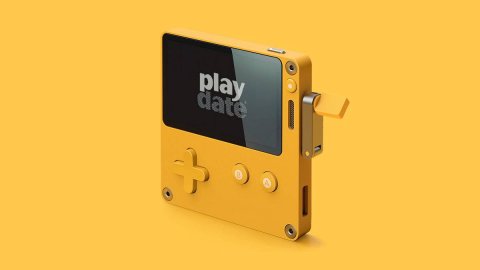 Playdate
The short but dense event dedicated to Playdate was held on June 8th. For those who do not know what we are talking about, this nice little gadget is a real portable console, developed by Panic and addressed above all to a more niche audience, not to a mainstream market.
Until the most detailed presentation, little was known about this bizarre, but undoubtedly intriguing console: right from the presentation, its crank which, according to the developers' words, would have attracted particular attention was be part of the controls just like the D-pad and the two A / B buttons. Indeed, there has been talk of games that would have used only the crank as a control system.
The name Playdate is not at all casual, as it represents the idea behind the distribution of the games: the presentation in more detail allowed us to discover this and other aspects of the console, including the price, any accessories and also the list of titles
that will be
distributed over time.
Here we summarize all the details of Playdate, a small, intelligent and peculiar console with the crank for which even the creator of Return of the Obra Din, Lucas Pope , has developed a video game.
Who is Panic?
Although Panic is a familiar name to those who have played Untitled Goose Game, it is good to say a few words about the US reality behind the project Playdate. Panic initially made a name for itself with the development of macOS and iOS applications, and then approached the world of
video games i
n 2016 with the much appreciated Firewatch; three years later we have all been troublesome geese with Untitled Goose Game and now we look forward to learning more about Nour: Play with Your Food - the perfect game
to make your
mouth water.
In short, it cannot be said that their path in publishing independent
games is to
be ignored. One might wonder why after only three games he decided to think big and work on a console, although it is perfectly consistent with the eccentric soul of the company. The same members of Panic have stated that they want to create "something really different in the world of video games" and in fact Playdate is: unexpected, intelligent, innovative in its small way, undoubtedly designed for a particular type of audience but not for this. to despise.
Announced in 2019, with an expected release in 2020 that was then delayed due to the problems caused by the pandemic, enough information had been shared about Playdate, especially regarding the size, the screen, the hardware and the famous crank. The console has also earned the cover of Edge number 333 with twenty pages of in-depth analysis that we advise you to read, in case
you are in
terested and have not yet done so. What we did not know yet specifically concerned the games, although we had already mentioned the presence of thick names in the indie scene, and above all the distribution method: we were talking about seasons and titles that would be downloaded within the console and distributed. periodically, but apart from a couple of small examples we didn't know exactly what we were going to play on Panic's yellow console.
The price was not really a mystery either, because from an initial base of $ 149 with twelve games and 2GB of storage space, more recently, it went up to $ 179 for twenty-four games and 4GB of storage. storage. The presentation on June 8 cleared several doubts.
Small, but characteristic
Playdate connected to the Stereo Dock
In summary, Playdate is a new portable and pocket-sized console, theater of new games also by some of the well-known names of the indie scene, with a screen that uses Sharp's Memory LCD technology and allows a clear view of what is being played even in low light conditions (there is no backlight ) thanks to the 170 ° viewing angle. Not only that, Panic also announced a bespoke stereo that gives the console a cute retro look, similar to old CRT TVs, and can even act as both a bluetooth speaker and a pen holder - just so we don't miss a thing.
Just like the console, the Stereo Dock was also conceived in collaboration with Teenage Engineering, the Swedish company known for its characteristic synthesizers and musical devices such as OP-1 and the Pocket Operator line, appreciated both for their functionality and for their unique design. And if
you want to
protect Playdate properly, you can also buy a custom-made case: a question that is more aesthetic than functional, although a little more protection is never refused.
As for the games, as we anticipated, the first season includes twenty-four, distributed two a week for twelve weeks: some will be long, others short, some you will like, others you will not, but it cannot be denied that the offer is somewhat tantalizing. The idea that every two weeks the console updates with new content that we know nothing about (so far, however, twenty-one games have been announced, three still remain) is at least enough to pique our curiosity. The rest will be all to be shown crank in hand. Clearly, the choice to distribute in seasons implies the potential presence of a second, a third and so on, whose contents but above all the prices - because after a first season included in the cost of the console it is easy to hypothesize the subsequent paid rounds - but for this it will still be necessary to follow the trend of Playdate once on the market.
We have already said it and we repeat it, we are not talking about a mainstream console but about something that is aimed at a specific, niche, even collector audience, certainly open to
the idea of
​​small but absolutely unique video games: it will be curious to see its impact when the time comes.
There is also Lucas Pope!
Playdate, Mars After Midnight is the new game from Lucas Pope
We have mentioned the games but we have not talked about them in detail and considering that among the developers we find Lucas Pope, it is a crime not to do so. So let's start with him, the man to whom after Return of the Obra Din you would buy everything in a poke: as he himself writes on Itch.io, his next project is called Mars After Midnight and is obviously developed from a Playdate perspective. After experimenting a bit with the console and its potential, he decided to work on a game that was lighter than the previous ones - something his children could enjoy.
Pope presents the game as a kind of Papers, Please but with no border checkpoints, no desk and, well, no paperwork either; however it is set on Mars. In reality it is difficult to give it a precise connotation, he later admits, because he does not have the video game in mind as a whole but only some elements. Given the nature of the game, Pope has also decided to take advantage of the famous crank in a simpler way, giving it
the role of
lever to raise the peephole and peek into the bizarre world created beyond. A solution that he particularly appreciates due to the fact that the in-game mechanics (peephole raised or lowered) and the physical action of the player (moving the crank up or down) coincide perfectly.
On the other hand, it is completely different. the use of the crank in Whitewater Wipeout, the game developed by Chuhai Labs that will put you on a surfboard ready to set your record in taming the wildest waves: in this case you will have to make the most of it to perform the most complex maneuvers and / or spectacular in order to get the most points. It could be a flip or a flop, it's up to you. Again, for the visual novel genre we find Lost your Marbles which puts us in the shoes of a girl looking for her dog but, when it comes to the gameplay, it turns us into a marble thanks to which we can move in the game world. Saturday Edition, on the other hand, seems to be a point and click investigative adventure: the protagonist is involved in a series of disappearances that seem to have occurred in conjunction with the sighting of some strange lights in the sky. Will it be the much talked about aliens?
A rich first season, in short, made up of twenty-four games of which only twenty-one announced and that range as much as possible between genres. Many of these are still shrouded in mystery, beyond the title we do not know much although we can hypothesize something for some of them, but undoubtedly the variety is not lacking: we are particularly curious to understand the functionality of the crank based on each and how much will predominate over standard controls.
Developer space
Playdate, twenty-one of the twenty-four total games announced. That's it? Not exactly, there is still an important feature of Playdate: its absolute accessibility in terms of developing new video games. Panic has worked and still works side by side with numerous independent developers, which is why during the presentation space was given to Pulp: it is a brand new tool to create Playdate video games, using only a web browser. This all-in-one game creation tool will allow anyone who feels inspired to bring their ideas to life and bring them to Playdate. It is a tool for novices and is, as Panic specified, distinct from the software development kit (SDK), the details of which are still to be clarified but we know it is free and does not require any specific hardware. To keep you updated, or to find answers to some questions, we refer you to the Playdate Developer Site.
Summing up, Playdate is a console that has four characteristic points: on all the controls, which are not limited to the usual d-pad, to the A + B buttons and the pause button, but they are enriched with a crank to be used as a sort of analog controller capable of giving an unexpected twist to some games; the black and white screen, which despite not being backlit is very defined, and therefore suitable for playing even in non-optimal lighting conditions; the seasons in terms of distribution, which make Playdate not just a platform but a complete experience capable of delivering brand new games directly on the console, inviting people to come and go over an entire year; finally, for those who enjoy development, the possibility of creating and implementing their own games on Playdate using Pulp or the full SDK - both available for free in the future.
Playdate, Pulp demonstration screen Sure, the price of $ 179 could be a little above what one would have expected but, in addition to being a niche project aimed at a specific target, it is really too early to to be unbalanced in this regard: it is not a small expense, however for those who are in resonance with the project and its offer could still be very valid. There is no launch date yet but Playdate pre-orders will open in July, and of course we will keep you updated when the precise day is announced, and as soon as we have more details on this small project that more and more fans are falling in love with.
Have you noticed any errors?