Xbox Series X | S and Xbox One, July 2021: the best games of the month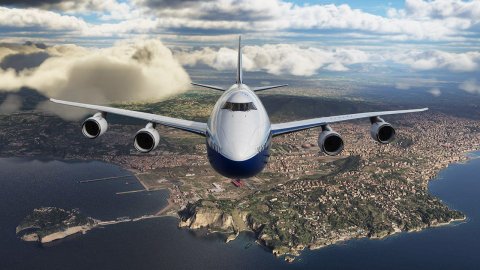 Xbox Series X | S and Xbox One, July 2021
Microsoft Flight Simulator undoubtedly stands out among the most important games of July 2021
for Xbox Series X
| S and Xbox One: the exceptional flight simulator arrives on the console of the Redmond house after having conquered millions of users on PC, ready for new evolutions aerial.
Also coming this month the next-gen version of the highly inspired A Plague Tale: Innocence, the renewed driving experience of F1 2021 with its narrative-based career, the promising futuristic twin stick shooter The Ascent and Resident Evil Re: Verse, the competitive multiplayer module of the last chapter of the Capcom series.
A Plague Tale: Innocence
A Plague Tale: Innocence, Amicia and Hugo in one of the campaign scenarios. Out
on Xbox Series X
| S on July 6th
A Plague Tale: Innocence debuts in July with the next-gen version, even more beautiful and technically inspired, catapulting us into the middle of the Hundred Years War. The game tells the story of Amicia and Hugo, two little boys hunted down by the holy inquisition and accused of having somehow spread the plague among the villages of medieval Europe as fascinating as it is disturbing.
Moving inside scenarios full of pitfalls, accompanied by a constant tension that is well connected with the stealth mechanisms of the gameplay, we will have to move silently to overcome the guards and reach a safe place, or use a torch and exploit the phobia for mice in order to create a barrier between us and our pursuers.
In case you are interested, this is our review of A Plague Tale: Innocence.
F1 2021
F1 2021 , the inevitable parade of single-seaters. Out on Xbox Series X | S and Xbox One on July 16th
First episode of the famous series officially licensed by FIA after the acquisition of
Codemasters
by
Electronic Arts
, F1 2021 celebrates the important event with a series of interesting innovations, both in terms of structure and gameplay. 'last further refined and characterized by a driving model that adapts even to less experienced users thanks to a special option.
The traditional career sees the debut of the story mode Breaking Point: inspired by the documentary Drive to Survive , puts us in the shoes of a driver engaged in the difficult climb between the divisions and determined to finally become the Formula One world champion, between life-changing choices and increasingly difficult challenges. All accompanied by an even more spectacular technical department.
Microsoft Flight Simulator
Microsoft Flight Simulator, a romantic flight over the Paris sky. Released on Xbox Series X | S on July 27th
Microsoft Flight Simulator finally arrives on Xbox Series X | S, offering owners of the new Microsoft console a flight simulator that makes accuracy and realism the same its basic principles, allowing us to fly a wide range of aircraft and travel to any place in the world thanks to the over thirty-seven thousand airports included in the package, naturally accompanied by millions of cities, buildings and scenery to admire while we are in flight.
Equipped with complex and multifaceted gameplay, but at the same time accessible, the game will see us grow gradually and become more skilled and experienced pilots, opening the doors of any aircraft and accompanying our sessions with an outline of extraordinary beauty, embellished from a dynamic weather.
Curious? Here's our review of Microsoft Flight Simulator.
The Ascent
Out on Xbox Series X | S and Xbox One July 29
Available on
Xbox Game Pass
from day one, The Ascent offers an interesting mix between traditional action RPGs and twin stick shooters, catapulting us into the cyberpunk scenario of Veles: a futuristic metropolis inhabited by individuals from every corner of the galaxy, which nevertheless one day sinks into chaos.
Under the command of a worker of the multinational that controls the city, alone or in a cooperative, we will have to take up arms and defend the inhabitants of our neighborhood from the onslaught of hordes of ruthless criminals, giving life to highly spectacular firefights while we try desperately to find out what happened.
Resident Evil Re: Verse
Resident Evil Re: Verse, a combat phase during a match. Out on Xbox One in July
After a long wait, the
Resident Evil Village
multiplayer module is preparing for its debut, challenging us in battles for six participants in which we will be able to control some of the most famous characters of the Capcom series. Resident Evil Re: Verse is this
and much more
, thanks to a fast structure that lends itself well to an impromptu use.
Engaged in frenetic deathmatches, we will have to use the weapons at our disposal to eliminate the opponents or end up killed and "wake up" in command of the most powerful villains of the saga, thus continuing to fight, but in a different way.
A setting that can keep engagement high, as we take on the role of various Chris Redfield, Jill Valentine, Leon Kennedy and Ada Wong.
The Procession to Calvary, out July 1 Watch Dogs: Legion - Bloodline, out July 6 Space Jam: A New Legacy, out July 15 Observer System Redux, in out July 16 Death's Door, out July 20 Last Stop, out July 22 Samurai Warriors 5, out July 27 The Forgotten City, out July 28
Have you noticed any errors?