ACER Predator: a special kit with Rolltop backpack, Cestus 330 mouse and Galea 350 headphones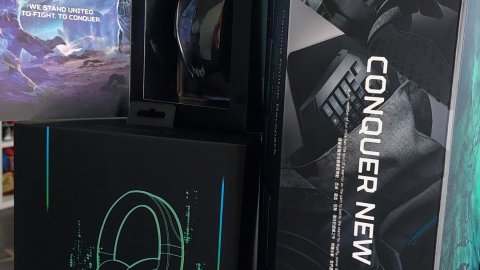 ACER Predator
These days ACER sent us a test kit consisting of 3 products from its Predator gaming line: a Rolltop backpack, a Cestus 330 mouse and Galea 350 headphones. An undoubtedly interesting package, with which we immediately tried to familiarize ourselves with to tell you about the features and functionality of each product. Among other things, all three items are
available on
already available on Amazon, so if you consider them valid you can buy them through the dedicated links you find in the article.
The unrolled Predator Backpack, very comfortable and spacious Let's start with the "case": the ACER Predator Rolltop Gaming Backpack is, in fact, a rolltop backpack, that is the type that, despite a good capacity, can be rolled up to reduce its clutter and make it easy to put it in place. The two metal buckles then offer a solid grip to hold the backpack firmly when it is rolled up.
Made of high-density polyester, it comes in lead-gray shades. It has waterproof pockets and a reinforced outer lining, designed to ensure durability and resistance; there is a padded section
dedicated to
carrying a laptop and an adapter pocket. There is a strap space designed for headphones and a side pocket where the earphone cable can be routed.
The padded back panel is designed to promote airflow and reduce sweating. In general, in short, it is a comfortable and spacious backpack, which hides many small details useful to improve the quality of life while traveling and is offered at a premium price, € 129.90 on Amazon, just to underline its build quality. .
Technical sheet
Dimensions: 66.4 cm x 43.18 cm x 15.24 cm Weight: 1.32Kg Notebook compatibility: 15 "/38.1 cm Main material: High density polyester Color: gray / black Price: 129,90 € on Amazon
ACER Predator Galea 350 headphones
The ACER Predator Galea 350 headphones The ACER Predator Galea 350 headphones are a gaming headset with 7.1 virtual surround sound, with 50 mm neodymium drivers. flexible and unidirectional microphone with built-in noise cancellation, while the audio controls allow you to manage all volumes directly from the speakers.
They weigh about 352 grams, have a good wearability and, thanks to the mini-jack connection of 3, 5 mm are compatible with practically any device, including consoles through the joypads. They have a standard equalization with an excellent volume excursion and with an audio output capable of pushing hard on the bass. with an average price range , € 105.12 on Amazon, which could make them interesting for those who are not
looking for
wireless headphones and want to get their hands on a refined and efficient product.
The Acer Predator Galea 350 headphones worn
Data sheet
Impedance: 32 Ohm Sound pressure level: 116 dB Minimum frequency response: 20 Hz Maximum frequency response: 20 kHz Interface: 3.5 mm mini-phone / USB Color: Black Shape: Circumaural Weight (Approx.): 352g Microphone Technology: Noise Canceling Microphone Design: Boom Earphone Design: Over-the-head Earphone Type: Binaural Membrane Size: 5cm Price: € 105.12 on Amazon
ACER Predator Mouse Cestus 330
Mouse ACER Predator Cestus 330 Finally we come to the mouse ACER Predator Cestus 330. A 16000 dpi pointing device that can take advantage of 5 different Pixart 3335 sensor settings to change the sensitivity level with one click. The mouse is also customizable thanks to 4 RGB light patterns and can take advantage of NVIDIA's Reflex Latency Analyzer technology to accurately measure the time elapsed between your click and the screen response. You can also measure how much reactivity there is between the mouse, the PC and the display.
Considering its price, € 39.90 on Amazon, it is practically impossible not to recommend this device to those looking for a product without too many frills, well built and particularly easy to handle. Clearly it falls into a particularly cheap price range but NVIDIA's implementation of the latency analyzer immediately makes it a primary mouse that could accompany you for a long time in your gaming sessions.
Predator Mouse datasheet Cestus 330
Interface: USB Cable length: 1.80m Motion detection: Optical Motion resolution: 16000 dpi Number of buttons: 7 programmable Scroller: wheel Lifecycle (clicks): 20 million Color: Black Weight: about 153 gr Dimensions: 41 mm x 65 mm x 124 mm Price: 39,90 € (on offer) on Amazon
The Predator Kit sent by Acer Have you noticed any errors?