PlayStation Plus, April 2021: Days Gone, Oddworld: Soulstorm and Zombie Army 4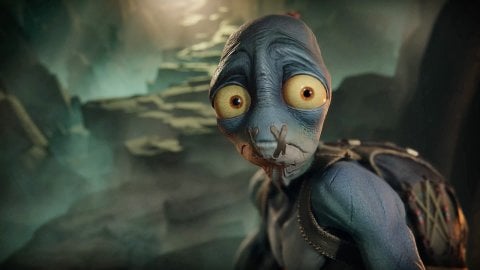 PlayStation Plus, April 2021
The April 2021 update for
PlayStation
Plus brings three new games to the Sony subscription service catalog, one of which is completely new. Let's talk about Oddworld: Soulstorm, the latest chapter in the adventure of Oddworld Inhabitants, which puts us in command of the brave Abe for a new, engaging mission.
PS4
owners PS Plus subscribers will be happy to hear that the excellent action survival Days Gone will also be available for them for free, at no additional cost, as happens on PlayStation 5 with the PlayStation Plus Collection. And if the zombies of the Bend Studio title weren't enough, there are also those of Zombie Army 4: Dead War.
Did the readers of sportsgaming.win like the April games? According to our inevitable survey, the answer is yes: 37% of users said they were very satisfied, 27% quite satisfied, for a total of 64% of positive feedback.
Days Gone
Days Gone, the protagonist riding his bike. One of the latest PlayStation 4 exclusives, Days Gone now needs very little introduction. The game is set in a post-apocalyptic future, a society devastated by the sudden spread of a virus that has turned most people into dangerous Freakers: mindless but rather ferocious mutant creatures.
The protagonist of the adventure, Deacon St. John, is a former biker who, together with his friend Boozer, survives by making his services available to the highest bidder and traveling aboard his motorcycle from one settlement to another to transport important resources and bring on term assignments of various kinds.
Days Gone, a fight sequence with the Freakers. Against the backdrop of a large open world that can be freely explored but full of pitfalls, in this case hordes of Freakers who guard the territory or hole up inside very dangerous nests, we will have to deal with the most disparate situations but we will also
be able to
cling to the hope of finding people we thought we had lost forever.
As we upgrade the bike by collecting parts and completing missions, we will often have to fight not only Freakers but other survivors as well, drawing on a rich arsenal that includes numerous firearms and explosives . All while enjoying graphics that on
PS5
are brought to 60 fps.
Oddworld: Soulstorm
Oddworld: Soulstorm, the intricate game scenarios. Available in April directly in the PlayStation Plus line-up, Oddworld: Soulstorm is the new chapter of the captivating adventure signed by Oddworld Inhabitants, which continues the events of the excellent remake New 'n' Tasty! to put us back in command of Abe, the brave Mudokon determined to lead his people to freedom.
Within a two-and-a-half-dimensional context, with more complex interactions and more depth gameplay compared to the previous episode, we will find ourselves having to solve environmental puzzles, overcome traps and obstacles, as well as defend ourselves from the attacks of the inevitable enemies who want to put us back in chains.
Zombie Army 4: Dead War
Zombie Army 4: Dead War, the protagonists grappling with hordes of zombies. The zombie-based shooter developed by Rebellion returns with Zombie Army 4: Dead War, catapulting us into the final stages of an alternate World War II in which Adolf Hitler, cornered and close to defeat, has exploited the esoteric knowledge of the third reich to revive the killed German soldiers and thus create an unstoppable army of the undead.
The armies of darkness have invaded all of Europe, but there are territories that still stand and the infallible sniper Karl Fairburne comes charged with catching up with them to try to launch a last, desperate offensive against the enemy from there. Once in Italy, the officer will therefore have to face his most difficult mission, alone or with the support of some comrades in the cooperative.
Arrivals and departures in April 2021
Non more available on PlayStation Plus from April 6th
Final Fantasy VII Remake
- PS4
Maquette - PS5
Remnant: From the Ashes - PS4
Farpoint - PS4
Available on PlayStation Plus from April 6th
Days Gone - PS4
Oddworld: Soulstorm - PS5
Zombie Army 4: Dead War - PS4
Have you noticed any errors?