Video games in Italy: is everything okay?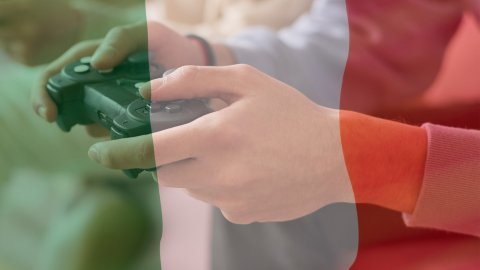 Video games in Italy
A few days ago IIDEA, or the Italian Interactive Digital Entertainment Association, released a survey on the Italian video game market in 2020. The analysis highlights a positive economic trend in the sector but it is legitimate to ask whether these data maintain a positive connotation under all points of view: changing the interpretation does the situation seem less rosy?
POSITIVE DATA ...
Before commenting on the data that convinced us the least, we would first like to highlight those that we have welcomed with joy, first of all the record recorded by digital purchases. These mark a + 32.7% compared to the previous year, adding digital purchases between PC and console, for a total of 799 million in revenues. It is true that the motivation is easy to say: last year it was a bit difficult to leave the house to physically buy a video game and, let's face it, it still is now. However, it is likely that many of the people who have discovered digital due to the pandemic and the limitations associated with it, may not go back. Obviously, the number marked by the people who play, or 16.7 million Italians (about 38% of our population) is also very interesting, especially looking at the subdivision based on the age group, showing that the video game is not for force a passion that affects only the youngest.
The presence of virtual reality in the survey is also extremely important, which, it is true, was counted within the "accessories" category and which highlights a negligible sale of units (about 20,000). The hybrid nature of virtual reality, which acts as a real peripheral in the case of
PlayStation
VR or which assumes the connotation of an independent platform in the case of Oculus Quest, has correctly led IIDEA to include it among the accessories and the fact that, albeit with a really small number, this peeping face in the survey is great news because it means it has an impact on the market.
... AND DISCOURAGING DATA
Now let's move on to those data they threw a veil of despair in the heart of the writer. The first thing that catches the eye is the ranking of the best-selling games, where the third and first place goes to FIFA, respectively FIFA 20 and FIFA 21. The disconcerting figure, however, is that GTA V in second place. Here the reasons that lead to an election of the Rockstar title among the most purchased can be many, not necessarily one excludes the other. Surely we are talking about a game with a strong installed base and that has been able to retain its audience very well especially through the online multiplayer campaign ... however, even if a good game, we are talking about a title released eight years ago: really the market does not does it have anything better to offer if I don't play it eight years ago?
The factors that influence the data can be, for example, how much it is streamed and brought by online content creators, how widespread it is, how many people play it , how much word of mouth counts (and we will get to this figure in a few lines) but also how much it costs. In fact, we are talking about a game that has been out for a long time and even buying it at full price it is very difficult to exceed € 35. Going to see the overall ranking in its 20 positions and looking at it through the filter of the launch window, less than half of the games have come out in 2020 and this could mean taking the data a bit with a grain of salt, that not all players are willing. to pay full price for the game's release, preferring an older, less expensive game than launching into something new. Animal Crossing: New Horizons and
The Last of Us
Part II which were two world phenomena and are respectively in fourth and fifth place: it would have been difficult in a country like ours to break down the FIFA defensive wall but at least they could have aspired to that second place occupied by GTA V.
Another data on which we feel the need to dwell is that of the players, because while it is true that out of 16.7 million players, 56% are Men and 44% % women (fairly distributed by age group), then looking at the distinction between men and women for the devices used, out of 6.7 million console users 4.2 are men 2.51 women, out of 7.2 million PC users 4.5 men and 2.7 are women ... and out of 10.7 million smart devices 5.4 are men and 5.3 are women. We apologize in advance for the abundant amount of mischief that permeates this statement, but we have a vague suspicion that most of the 10 and a half million mobile players are not inclined to try experiences like Gorogoa, Monument Valley, Sky or all the games in the GO series by Square Enix (all titles that demonstrate the incredible potential of mobile as a platform), but are more likely to play or large free-to-play commercial phenomena or simply direct their gaze towards all those games, let's call them, from the "catalog" Zynga ".
Obviously there would be nothing wrong, whoever is writing this piece has been playing Zombie Tsunami for years having a lot of fun, but we return to the question already asked about GTA V: really the market offers such a basic offer and so uninteresting to find yourself playing guilty pleasure mobile? Even from the point of view of undemanding and fun video games, the PC and console stores are full of them. And no, it is not true that the contemporary videogame offer is not adequate for female tastes, much more likely all the more casual players do not even know the potential of video games as an entertainment tool. And here we come to the data that we personally found most demoralizing, which hurts inside. When it comes to sources of information, 38% of players turn to family and friends while only 13% read specialized sites: it is as if the data said who is writing is less reliable than your cousin. With all due respect to your cousin, God forbid.
CULTURAL PHOTOGRAPHY
Net of the excellent result recorded from a commercial point of view, analyzing the data under a different profile, which considers more the quality of the purchase, the cultural photography that emerges is fairly worrying. We video game enthusiasts (where by passion we mean not only the mere use of the video game but also the interest in this from a cultural point of view, fed through reading, information, in-depth analysis, content creation and dissemination) we are not represented on the market. . It is useless to go around it: there are several recurring stereotypes in our country, phrases that are often encountered on the internet and on social networks which, in this case, are reality when reading the survey data. Many of us are always particularly disinterested in the FIFA moment within EA's presentation during E3, yet this eats the first and third. We constantly complain about the annual release of a series like
Call of Duty
. Sixth and seventh place.
We complain that Assassin's Creed is "always the same" and the leaderboard is Valhalla and Odyssey. For those who are convinced that this is an all-Italian phenomenon,
we would like
to say that this time it is not quite so, because according to the same type of survey carried out by ISFE (the Interactive Software Federation of Europe), it appears, reading the 2020 survey and that refers to 2019, a FIFA 20 in first place followed by the granite GTA V with a Call of Duty: Modern Warfare to close the podium.
Admitted and not granted that this is actually a problem, why prefer strongly main titles stream is neither a fault nor a crime, it is clear how the videogame industry, inside and outside the borders of our country, generates an interesting turnover which, however, we are not sure corresponds to a correlated literacy of the public to the medium. Also in this case we are faced with a non-problem, after all you don't have to be an established director to enjoy a film, but here we are perhaps facing a different audience, made up of people who get information through word of mouth, who tend to buy the most sponsored titles, who maybe play a game from eight years ago because they know what.
The pressure points here could be younger players and services. Speaking of the youngest players, it is very important first of all to educate the parents and from this point of view IIDEA is doing an excellent job with an ad hoc program dedicated to parents and a very active commitment through PEGI and all age-related regulations. video games recommended. After all, the data that instills the most hope of all within the market research that has been done is precisely the power of the video game as a communication tool between parents and children. This is an extremely important and delicate segment of the market that must be preserved and educated. Then there is the whole other part of players, what we would define as "consolidated buyers". The difference here can be made by services, such as an
Xbox Game Pass
but also initiatives such as PlayStation Plus gifts. In short, a not too expensive opportunity to demonstrate that video games have a lot to offer even to those who may have yet to find out. Services can bring variety to gamers' homes at a minimal price by educating them through their offering; also because if word of mouth is the most widespread information method, services are perhaps the best way to sneak into the habits of players.