The best shark games for PC, console, iOS and Android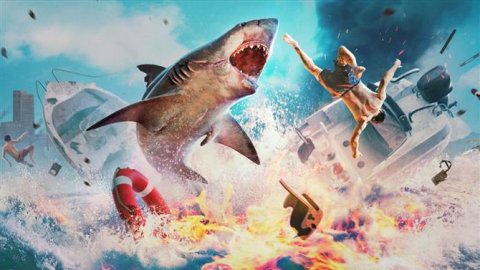 The best shark games for PC
Sharks. Monstrous man-eaters, or just misunderstood overgrown fish seeking affection? Since discovering this by taking a bath in the ocean is not a brilliant idea, the only way we have to get an idea of ​​their danger firsthand is through a nice video game. Sharks have long been regular guests of the movie world, but the gaming industry is less likely to give them space. Over the years, however, various shark games have been released: in this article we will discover some of them.
Here are the best shark games of all time!
The Shark - Jaws Unleashed
Jaws - Jaws Unleashed: a timeless classic If we have to talk about the best shark games, it's impossible not to start with Jaws Unleashed. We are talking about a 2005 game, obviously inspired by the 1975 film of the same name. The game is set 30 years after the events of the first feature film and also takes place on Amity Island, the location of the first, second and fourth films in the saga. The city is growing and the local population with it. However, the great activity in the area has also attracted the aquatic hunter that we have all learned to fear.
The game will obviously put us in the shoes of the shark and will give us access to a series of levels and also to a freely navigable open map. By causing destruction, completing levels and collecting collectibles we will be able to obtain skill points to spend to enhance our creature. The Shark offers various stats (such as power, health, speed or accuracy). During the levels we will always have to feed our shark, under penalty of loss of health, and we will have to be careful not to take damage. Shark was badly received by critics, we admit, but it was enjoyed by gamers and achieved considerable commercial success, becoming one of the worst best shark games ever ... if that makes sense! In any case, it is impossible
not to be
fond of a game based on one of the best known and most appreciated shark film sagas.
The Shark has been released on
PlayStation
2, PC and Xbox.
Maneater
Maneater: for those looking for a modern work The shark mania is never dead and in 2020 Maneater was released, which in a sense can be considered a spiritual sequel to the aforementioned The Shark. Maneater tells the story of a small shark who loses his mother to a shark hunter, Pete "the scaled" LeBlanc. The hunter marks our little protagonist with a knife and frees him, in order to find him as an adult and know that he has recaptured his prey. The cub grows up and, once adult, begins hunting LeBlanc. Maneater is a story of revenge and obsession, not typical in a "light" genre like the one you play with sharks.
In terms of gameplay, Maneater allows us to feed on other sea creatures and humans to level up, upgrade the shark and transform it into bigger and more dangerous versions. There are also various customization options visible on our creature, such as external bone plates and metal spikes. The game is divided into regions, small maps in which we will finally have to fight against a large creature, a sort of final boss in the form of alligators, killer whales or other sharks.
Maneater is available on PC, PS4, Xbox One and can be run via backwards compatibility on PS5 and
Xbox Series X
| S. It will also be released on
Nintendo
Switch later in 2021.
Depth
Depth: The Choice for Multiplayer Shark Games Most of the best shark games are single player works, designed for those looking for a solitary adventure. In 2014, however, Digital Confectioners released Depth, an asymmetrical multiplayer game in which one player takes control of a large shark while the rest control heavily armed divers. There are seven types of shark (White Shark, Tiger Shark, Mako Shark, Bull Shark, Hammerhead Shark, Alopias Shark and even a legendary Megalodon Shark). The shark obviously has great speed and enhanced senses that allow it to find humans more easily.
The latter must instead go in search of sunken treasures to power up and have a better chance against the sea creature. Divers have access to various equipment such as shotguns and spear guns, assault rifles and even explosive naval mines. One of the strengths of Depth is also the atmosphere: the environments are dark and disturbing, real chilling places of death that will keep us in tension throughout the match. As a bonus, you can also play offline against the AI ​​in case you want to train to become a shark game champion.
Depth is available on PC.
Hungry Shark World
Hungry Shark World: Colorful Shark Games Hungry Shark World is the sequel to the acclaimed Hungry Shark Evolution. The game is developed by
Ubisoft
and allows us to control a shark that, surprise surprise, wants to devour everything in its path. We will have access to as many as thirty-three different shark species divided into eight different size categories. The game offers a large open world that will allow us to explore the islands of the Pacific, the Arctic Ocean, the exotic Arabian Sea and even the South China Sea. We will have to feed on more than a hundred types of creatures, from humans to whales passing through submarines!
Hungry Shark World will also allow us to customize our shark with various types of skins that will also affect the predator's statistics . Missions include high score challenges, prey hunts and boss battles. Furthermore, our shark
will not be
alone: ​​we will be able to accompany him with a "pet", such as a baby shark, but also an octopus and even a bald sea eagle who will use special skills to increase our health, score and much more. .
There is also
no shortage of alternative ways to test our skills. It is certainly one of the best shark games for mobile.
Hungry Shark World is available on iOS and Android mobile, PS4, Xbox One, Nintendo Switch.
Shark World
Shark World: Shark Games Are Not Just Action We know, the name is extremely similar to Ubisoft's game, but Shark World (by Tap Pocket) is something a little different. Up to now we have only offered you action games, Shark World is however a management software with automatic turn-based battles. Our task is to manage a small marine ecosystem, create terrains where to place the eggs of our sharks which, with a classic mobile game counter, will hatch and create new creatures that we can bring into battle. Each fight will put us in front of various creatures whose power is determined by the level and type (water, fire, earth). We will therefore have to field the right sharks to get the better of the opponents, remembering also that each creature has a special ability that allows it to inflict more damage on an enemy or heal its team.
Sharks they can be upgraded by leveling them up, using classic mobile game currencies. Shark World is fortunately quite generous and
allows you to
get a good amount automatically, collecting the rewards when you return to the app. Sharks start in puppy format and can also be made to evolve into an adult version: at that point it is possible to cross the various species to obtain new ones. The total number of species is huge and new ones are always unlocked as you level up. If you are looking for a long-lived shark game that is not your usual action game, Shark World is certainly one of the best shark games available.
Shark World is available on iOS and Android mobile.