Justice League, the Snyder Cut on Sky at the same time worldwide: it's official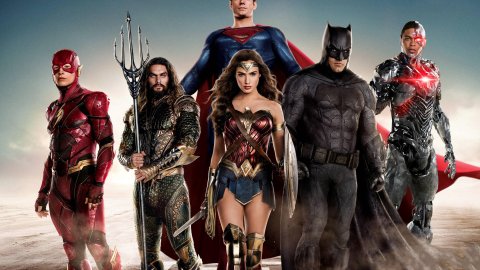 Justice League, the Snyder Cut on Sky at the same time worldwide
Sky has announced that it has acquired the rights to distribute Justice League's Snyder Cut in Italy simultaneously with the rest of the world. So from March 18, subscribers to the service will
be able to
see the film in preview, moreover without any surcharge.
For the rest it remains confirmed that Justice League's Snyder
Cut will be
available for rental / purchase on all major Italian digital video platforms. Read the official press release for more details:
The highly anticipated ZACK SNYDER'S JUSTICE LEAGUE will arrive on Thursday 18 March, at 8 am, premiered on Sky Cinema Uno, streaming on NOW TV and available on demand. , simultaneously with the release in
the United States
. The film will also be broadcast in prime time on Saturday 20 March at 9.15 pm on Sky Cinema Uno.
In ZACK SNYDER'S JUSTICE LEAGUE, determined to make sure Superman's (Henry Cavill) final sacrifice was not in vain, Bruce Wayne (Ben Affleck) joins forces with Diana Prince (Gal Gadot) in order to recruit a team of metahumans in order to protect the world from an imminent threat of catastrophic proportions. The task turns out to be more difficult than Bruce imagined, as each component must face the demons of their past, to transcend what has blocked them, allowing them to unite and finally form an unprecedented league of heroes. Finally together, Batman (Affleck), Wonder Woman (Gadot), Aquaman (Jason Momoa), Cyborg (Ray Fisher) and Flash (Ezra Miller) may be late to save the planet from Steppenwolf, DeSaad and Darkseid and their terrible intentions. .
ZACK SNYDER'S JUSTICE LEAGUE stars Ben Affleck, Henry Cavill, Amy Adams, Gal Gadot, Ray Fisher, Jason Momoa, Ezra Miller, Willem Dafoe, Jesse Eisenberg, Jeremy Irons, Diane Lane, Connie Nielsen, J.K. Simmons. The screenplay is by Chris Terrio, from a story by Chris Terrio, Zack Snyder and Will Beall, based on DC characters, Superman created by Jerry Siegel and Joe Shuster. The producers of the film are Charles Roven, Deborah Snyder, while the executive producers are Christopher Nolan, Emma Thomas, Wesley Coller, Jim Rowe, Curtis Kanemoto, Chris Terrio and Ben Affleck.
In addition to Italy, Zack Snyder's Justice League will be broadcast on Sky Cinema from 18 March also in the United Kingdom, Ireland, Germany and Austria.
Zack Snyder's Justice League
---
Justice League Snyder Cut UK release date confirmed: How to watch on Amazon, Sky, Now TV
Zack Snyder's Justice League teased in explosive trailer
This week it was announced Zack Snyder's Justice League will be available to watch in the UK on Sky Cinema and NOW TV. The movie will be released on the streaming services in the UK on Thursday, March 18, 2021, the same day US fans will be able to stream the Snyder Cut on HBO Max.
Sky Cinema subscribers will be able to watch Zack Snyder's Justice League from March 18 on their chosen device. 
Similarly, NOW TV subscribers will also be able to watch the return of Batman (Ben Affleck), Superman (Henry Cavill) and Wonder Woman (Gal Gadot) on their streaming device. 
Sky Cinema is available to subscribers for £11 a month, while NOW TV's Cinema Pass is £11.99 a month.
There is bad news for Amazon Prime subscribers, however. 
READ MORE: Justice League: Zack Snyder has bad news about Superman mystery
Justice League: The Snyder Cut is being released on Sky Cinema and NOW TV (Image: HBO MAX)
Justice League Snyder Cut: Zack Snyder's new movie is due for release next week (Image: GETTY)
At the moment, no plans have been announced for the film to be released for rental on Amazon's streaming service. 
Similarly, no plans have been revealed on whether Amazon Prime Video will have Zack Snyder's Justice League included in their streaming package. 
The release time for the movie has not yet been announced, but it will likely be available at the same time it goes live in America on HBO Max. 
At the moment, Justice League is said to be released at midnight in the US. This would make the UK release time either 7am or 8am on March 18. 
Zack Snyder's version of the film retells the story of the Justice League which was released in 2017.
Justice League Snyder Cut: Batman Wonder Woman and Flash are returning (Image: WARNER BROS)Justice League The Snyder Cut: Sneak peek at four-part film
At the time, Snyder directed the film but was forced to step away from the project after a family tragedy.
After Snyder stepped down Marvel director Joss Whedon took the project on and carried out a number of reshoots and edits.
The film was panned by critics and fans alike and garnered a disappointing $657.9 million at the box office. 
Following huge amounts of public outcry and campaigning, last year Warner Bros and HBO confirmed Snyder would be releasing another version of his movie. 
The four hour-long movie will expand on every storyline teased in the original version of Justice League and introduce a few more. 
Not only will Superman be revived with a black suit for the first time, he will be teaming up with Batman, Wonder Woman, Aquaman (Jason Momoa) and The Flash (Ezra Miller) to battle Darkseid. 
Darkseid is DC Comics' most villainous character, similar to that of Marvel's Thanos, and controls the hellscape planet called Apokolips.
The film is also cut up into six distinct chapters, each with a unique title. 
The six chapter titles are: 'Part 1: 'Don't count on it, Batman', Part 2: The Age Of Heroes, Part 3: Beloved Mother, Beloved Son, Part 4: 'Change Machine', Part 5: All The King's Horses and Part 6: 'Something Darker'.'
However Snyder recently revealed there is an epilogue scene which was not revealed.
He said: 'There is an epilogue that's called 'A Father Twice Over' that, well I guess wasn't released.
'The last part is called 'Father Twice Over' and that's, you know, takes you to the end of the movie. That's the big epilogue... from there to the very end is 25 minutes, 20 minutes, plus the credits. There's actually seven parts, yes.'
He also said of the chapters: 'The movie's chock-a-block… None of these chapters don't have a big gigantic thing in them.' 
Zack Snyder's Justice League will be available on Sky Cinema and NOW TV on March 18, 2021.