Justice League: "Justice is Gray", Snyder will release a third version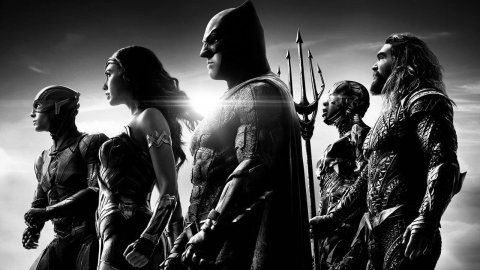 Justice League
Zack Snyder
plans to release a third version of
Justice League
, or a second version of the "Snyder Cut" if you prefer. This is "Justice is Gray" and that's exactly what you think: a black and white version of Zack Snyder's Justice League. A "trailer" was also presented, which you can see in the tweet below. The footage shows a scene from the film, simply in black and white.
During a live stream, Zack Snyder said: "For me, the film continued its life when I left it. left the direction of the first version of the film after a family tragedy]. However, I kept it on my computer and turned it into black and white [...], I don't know if I did it in protest or it was just my way of handling the whole thing. I turned it black and white and for me the film stayed black and white for two years ... and it still is, so one of the requests I made when I agreed to finish the film was 'I also want to create a black and white version of Justice League'. "
Justice is Gray: ready for 4 hours in black and white? Zack Snyder also claims that he was drawn to the idea of ​​releasing the film directly in black and white, but he decided not to, as he had already decided to release it in 4: 3, an unusual format. He then explained that he still wanted to allow fans to see the film as he imagined it, so he decided to offer it as an additional version. Justice is Gray doesn't have a
release date
yet, though: it's coming "soon", that's all we know.
Finally, Snyder assures that creating Justice League: Justice is Gray wasn't simply a matter of "deactivating the colors ", but it was a dedicated process. Finally, you can see the making of which takes us behind the scenes of the film.
Source
---
Zack Snyder prevents Henry Cavill's CG-removed mustache from defining Superman | EW.comSkip to contentTop NavigationView image
Zack Snyder happy his Justice League keeps Henry Cavill's CG-removed stache from defining actor's Superman
this link is to an external site that may or may not meet accessibility guidelines.