E3: Games fair also canceled in 2021 - but there are replacements
E3
The major video game fairs did not take place as usual last year. Instead, Gamescom offered a purely digital event that could be watched online in front of everyone in live streams. And the E3 even failed completely. The reason for this is well known: The ongoing coronavirus pandemic makes major events impossible. 2021 will still be fully influenced by the exceptional situation, so that many large events will continue to be canceled; and also the E3 is affected again. However, this time a replacement is already being planned.
Also interesting: "Don't buy our game!" says the developer of The Sinking City. Why?
E3 cancellation is certain
One thing is already certain, namely the cancellation of a classic version of the E3 with a large audience in Los Angeles. The information comes from the Board of Los Angeles Convention and Tourism Development Commission in Los Angeles that is responsible for approving and designing events in the city. From their calendar, the information emerges that the E3 2021 as a classic event has already been canceled. However, the production team is currently working on organizing the fair as an online digital event and streaming it from the Los Angeles exhibition center if possible. This coincides with the presumed plans of the ESA (Entertainment Software Association), responsible for the implementation of E3.
Recommended editorial content Here you will find external content from [PLATTFORM]. To protect your personal data, external integrations are only displayed if you confirm this by clicking on "Load all external content": Load all external content I consent to external content being displayed to me. This means that personal data is transmitted to third-party platforms. Read more about our privacy policy . External content More on this in our data protection declaration.
Replacement event for E3 2021
As it became known a few weeks ago, this time E3
will not be
completely like 2020, but take place as a digital event and last four days. Allegedly, the ESA is currently in talks with the major publishers to organize, among other things, keynotes, a preview day and an award show. All of this is to be broadcast online in live streams, and around twelve hours of live stream per day are supposedly planned. More information can be found in this news item. Former
Nintendo
of America boss Reggie Fils-Aimé has already criticized ESA's digital plans for E3 2021 - everything else can be found here.
Source: wccftech.com
---
E3 2021 Cancelled in Favour of (Another) All-Digital Event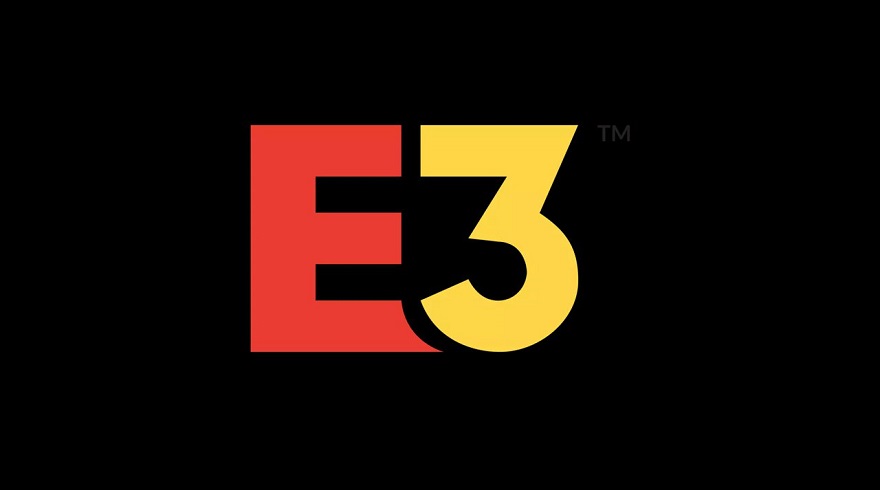 E3 undoubtedly represents one of the most major gaming events on the annual calendar. However, as you may recall, the physical event was cancelled last year due to the ongoing COVID-19 situation. With hopes that the physical event may have been able to return this year, however, it would appear that in a report via DSOGaming, an update to The Board of Los Angeles Convention and Tourism Development Commission convention schedule may have inadvertently let the cat out of the bag that E3 2021 is, again, going to be an all-digital affair!
E3 2021 Physical Event is (Probably) Canceled!
In the updated report, it can clearly be seen that E3 is not going ahead in Los Angeles. It will, instead, be re-organized as an online/all-digital showcase pretty much exactly as we saw last year. While this will undoubtedly be disappointing news to some, however, this isn't all bad.
With the event being all-digital, it opens the doors to a lot more developers being able to reveal their titles. With some big launches/reveals expected, particular in regards to bolstering the recently released PS5 and Xbox Series X, exciting things are on the way.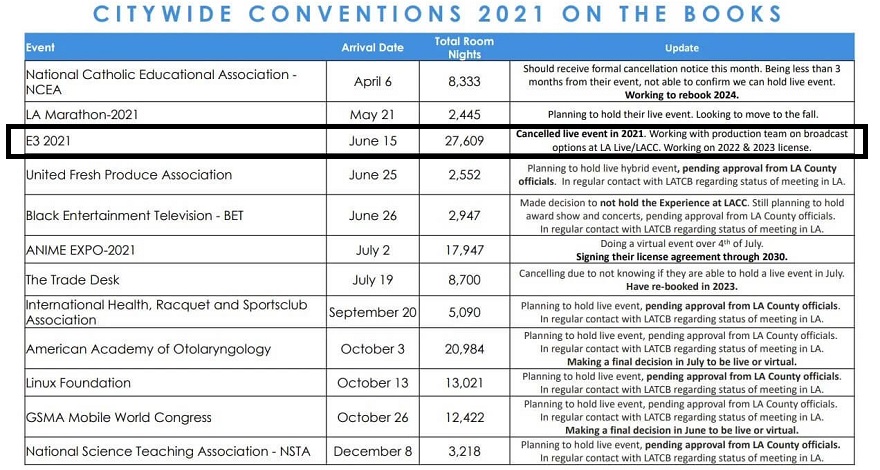 What Do We Think?
We should note that, at the time of writing, the official E3 website is neither confirming nor denying the cancellation of the physical event. Albeit, a quick look (via the link here) does already show significant leanings towards watching videos rather than buying tickets. With E3 2021 set to officially kick off on June 15th though, with the Coronavirus still showing little signs of being any notable less significant then, we'd suggest you get yourself a nice gaming chair and get comfy because there's going to be plenty of amazing things to (probably) check out from the comfort of your own home!
What do you think? – Let us know in the comments!