Crying Suns is the next free PC game from the Epic Games Store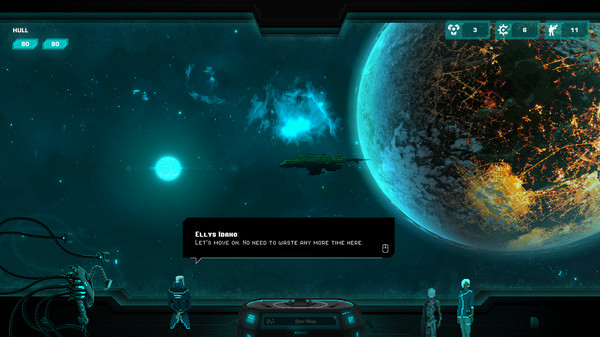 The fascinating
Crying Suns
, a tactical rogue-lite inspired by Dune and Foundation, is the next free PC game given away by the Epic Games Store. Developed by the French Alt Shift, Crying Suns has already been available for a few months on Steam, iOS and Android, but will arrive on the Epic Games Store for free on January 7, 2021 starting at 5pm.
Simultaneously with the announcement of the latest free Christmas game,
Jurassic World Evolution
, Epic Games has also announced the next free game for PC, so as to resume the now pleasant habit of Thursday afternoon.
📢 [BIG NEWS] 📢
Crying Suns is now available on your mobiles and tablets!
On iOs: https://t.co/FcxtjLaRYo
On Android: https://t.co/UdvmPs5uKK

Let's spread the word!

Discover the launch trailer here: https://t.co/faiCQaOmrV#mobile #tactical #gamedev pic.twitter.com/JWUi1oAfU8

— CryingSuns (@CryingSuns) June 25, 2020
Crying Suns is described as a tactical rogue-lite in which you play
the role of
a commander of a space fleet as you explore a mysteriously fallen empire. The game mixes 2D and 3D graphics and is inspired by Dune and Foundation.
On the Epic Game Store page we can also discover the story behind Crying Suns:
"Later 700 years of peace and prosperity, the Galactic Empire has suddenly fallen. The OMNI, godlike robots who have done everything for their human masters, have mysteriously shut down. And humanity, having long since lost the ability to surviving alone, is dangerously on the verge of extinction. However, somewhere in a remote corner of the galaxy lies Gehenna, a planet made up of ice and rock that houses a secret structure inside, considered the greatest exponent of imperial technology as well as mankind's last lifeline.
You are a clone of Admiral Ellys Idaho, a weapon forged from human flesh, the best Imperial Admiral ever to fight among the stars. You've just been awakened on this planet d to its strange dark-humored guardian, Kaliban, the last remaining OMNI.
You have a mission: to masterfully command a warship through districts of the empire overwhelmed by chaos and violence, and where every wrong move could be the last in an attempt to reactivate the OMNI and save
the future of
mankind. But now you
will have to
leave Gehenna ... because time is almost up. "
Technical specifications
In order to play Crying Suns you will not need a particularly high-performance PC. Here are the requirements of
minimum and recommended
system:
Minimum
Windows
7 Dual-core processor 2.5 GHz or equivalent Memory 4 GB Storage 2 GB DirectX 10 Dedicated GPU graphics, 1 GB VRAM / AMD HD5750 or equivalent
Recommended
Windows 10 Core i3 2.5 GHz processor or equivalent 4 GB memory 2 GB storage DirectX 11 Dedicated GPU graphics, 2 GB VRAM / GTX 750ti or equivalent