Oxenfree 2: Lost Signals, we tried the sequel to the Night School Studio adventure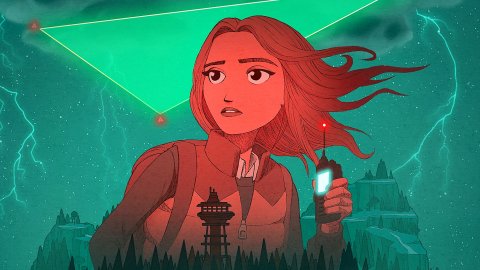 Oxenfree 2
When a film festival starts dealing with video games, it is easy for an "insider" to have doubts. These are still different mediums and, although usually those who select feature films for a festival boasting a considerable artistic sensitivity,
it is not
obvious that this is automatically translated into the choice of high-level games. The Tribeca selection, on the other hand, managed to impress us positively: practically every single game chosen has shown either to have qualities exceeding expectations or distinctive characteristics such as to completely capture our attention. Really curious, therefore, that what impressed us least of all was the sequel to an already established title like Oxenfree.
Warning, we are certainly not condemning Oxenfree II ahead of time. The demo we tested was simply too short and poorly calculated to show the real qualities of the title. Our job, however, is to analyze what is offered to us and it must be said that, despite the limitations of our tried, only one particular factor has given us doubts. If nothing else, from a narrative point of view, the game seems to have even greater potential than its predecessor, and we believe this is enough to attract those who loved it.
We tell you why in our Oxenfree 2 trial: Lost Signals.
Radio links
Oxenfree II: You are not alone in this adventure. Oxenfree II: Lost Signals does not take up places and protagonists from the first episode, despite being set in the same universe and apparently connected to those events. Here, in fact, you take on the role of a researcher named Riley, who is forced to return to her native island when a disturbing portal appears in the coastal city of Camena accompanied by strange interference.
A rather classic underlying mystery, which however represents a perfect basis for Night School Studio, considering that the team has already amply demonstrated that they k
now how to
build exciting stories starting from simple bases only in appearance. In this specific case, however, the intent seems to be even more to focus everything on the characters, given that the protagonist not only converses with extreme frequency, but is also accompanied by a former schoolmate named Jacob ( and Jacob is anything but a dark and silent partner).
Much of the game, therefore, advances once again by dint of choices and dialogue, and we in particular found ourselves in the role of Riley in one zone rocky of Camena, looking for a way to stop a nearby interference. Now, it is up to the player to decide where to move on the map, however at each crossroads (and there are not many) there is usually a conversation in which the two must decide
what to do
, with potentially traumatic results. One of the first choices, for example, concerned a practically impossible jump, which we preferred to avoid in order to travel a longer, but also safer journey.
Let's be clear, Oxenfree II at the base is not an action platform, nor a derivative of some kind: we are facing a graphic adventure, therefore solutions and events do not usually boast who knows what interactivity. However, it is precisely here that we have turned up our noses, because if on the one hand we understand the limitations in the structure of the genre, on the other hand this sequel seems to us even too "blocked" in the options available.
Great talkers, bad jumpers
Oxenfree II: the radio will often be your most useful tool While, in fact, the game offers you a large number of dialogue options (three choices at a time, commonly) designed to offer a specific characterization of Riley - although it is unclear whether this will lead to significant changes in her approach to the "mission" around which everything revolves - the same cannot be said in solving puzzles and overcoming obstacles. To make you understand the situation, during the tested demo we were faced with only a couple of puzzles, with the final one appearing after the opening of another portal that transported us to the past version of a disused mine.
The possibility of opening gaps in time (linked to the protagonist's radio) offers a myriad of possibilities when it comes to conceiving elements of this type, but here it has simply presented us with a new linear path, at the end of the which we found a lift waiting for us. Here the problem arose: the elevator was linked to a specific final scene, complete with a dramatic tremor and collapse of the mine, but it was easily possible to move it upwards to use it as a platform right away. Here, until we moved Jacob into position and managed at least three other steps related to the scene described above, it was impossible to use him that way.
Oxenfree II: the island where it all takes place is gloomy to say the least. There does not seem to be any kind of adaptation to the player's choices in the "played" parts, even when these perhaps anticipate rather easy puzzles. That's a shame, as we believe increased responsiveness would help with overall immersion and variety. To further underline this, most of the alternative areas we visited before reaching the climax of the scene (mainly a wooden shelter near the coast) are almost devoid of objects and testimonies: the developers clearly want everything to happen according to their own times. and their wills.
The criticisms just leveled are certainly not devastating for charity, and it is appropriate to underline once again
how they are
linked only to a brief phase in play; we are also quite convinced that we will see a sharp increase in options and complexity in the following chapters, even if we doubt that the structure will change that much as we advance in the campaign. The game's narrative, if nothing else, remains quite fascinating right from the start, and we have no doubt that now of the end Oxenfree II can surpass its predecessor in many respects. However, it is certainly a more ambitious game, and the mixture of timelines and mysterious dialogue via walkie talkie (which we avoid revealing to you so as not to anticipate too much) is an excellent basis for a memorable story.
Maybe spoiled by the other tested demos, we came out cold from the short test of Oxenfree II, also due to the structural limitations demonstrated by the game. That said, the story looks fascinating once again, and the title is clearly more ambitious than its predecessor. This is enough to have confidence, considering the developer's past.
CERTAINTY
Fascinating narrative and great variety of dialogues DOUBTS Almost zero interactivity and very guided progress in the phase we played Have you noticed any errors?