Matchpoint - Tennis Championships, the tried and true of an ambitious Top Spin emulator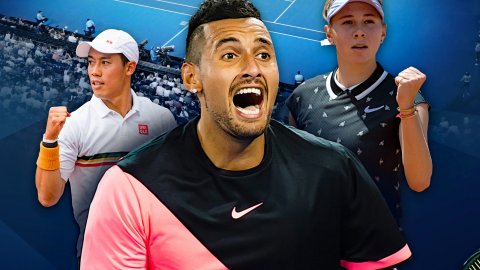 Matchpoint - Tennis Championships
Tennis
games have always enjoyed excellent videogame adaptations. If we consider Pong the first attempt to emulate the sport of the Borg and the Sampras, over the years there have always been simulations of absolute quality such as Super Tennis, Jimmy Connors Pro Tennis Tour or Top Rank Tennis. Even Super Mario doesn't disdain to pick up the racket.
After the glories of Top Spin 2 and Virtua Tennis 3, however, the games capable of reproducing this sport in a serious way have disappeared from the market. In recent years only Tennis World Tour and AO Tennis, both of which have come under the control of Bigben Interactive, have tried, but with mixed results.
Waiting for SEGA or 2K to decide to revive their series from the ashes , are Kalypso Media and Torus Games trying to fill this niche with a product that tries to refer to the giants of the past. A
few days after
its release we tried Matchpoint - Tennis Championships and we are ready to tell you what we think.
Watching Top Spin
A glance at Matchpoint - Tennis Championships The purpose of the authors seems to be quite clear, that is to try to encapsulate the qualities of a game like Top Spin in an experience that, inevitably, can count on a less impressive budget than the 2K series. Despite this, Torus Games has tried to do their homework as well as possible, offering an experience that is entirely based on the PAM Development game.
So we have a rather classic configuration of the buttons, with the frontal ones that are linked to a specific shot (flat, top spin, damped and lob) and the lats to give certain effects.
It is not
eworthy, especially given the modern drifts, the fact that the power of the blow and its direction affect the accuracy of the same.
In other words, Matchpoint - Tennis Championships puts the outcome of a shot in the player's hands (and in the athlete's statistics): too much force or too much angle will inevitably lead the ball out.
A choice that rewards the most skilled players and that gives a stronger sense of progression during the single player career: as we develop the skills of our or our alter ego his shots will become more and more powerful and precise, allowing more strategies, as it will be possible to try to force a rally to send the opponent out of position.
Career
The Matchpoint Editor - Tennis Championships Unless you want to use one of the pre-set tennis players, the developers have come up with a career mode through which to advance our athlete. This will unfold in a rather classic way, along a calendar in which you will have to choose one of the two options proposed: do you try your luck in a Major or do you try to win a minor tournament? Do you train or do an event for money? Each choice will influence the growth path of our tennis player, from his stats to what he can wear.
From this point of view, although decently animated, polygonal models are rather ugly and poorly proportioned, when viewed from Neighbor. On the other hand, the possibilities for aesthetic customizations are good.
In addition to the career, it will be possible to challenge opponents online or combine matches locally. It is therefore the bare minimum for this kind of production.
A question of budget
There will be 3 surfaces of Matchpoint - Tennis Championships The work done, therefore, seems to be promising, but the studio's budget and experience limits seem set to emerge soon. We are always talking about a preliminary version of the game, but for the moment the tennis players seem to be infallible machines unable to miss a shot, if not by a few centimeters. It is true that the ball goes out, and it does it often, but it always does it because of a wrong calculation of strength, not because it was hit badly. This thing is especially noticeable against non-human opponents, real walls capable of repelling, especially at the beginning, any ball we send against them. Our tennis player, on the other hand, also due to an accentuated inertia that slows down his movements, seems to struggle to keep up with the frenzied rhythm given by his opponents.
No, there doesn't even seem to be an optimal calculation of fatigue and tennis players they go back and forth along the baseline without ever missing a beat or having a minimum of sagging.
It's not just that: far more notable is the lack of doubles, a not exactly new discipline in tennis . Then it is true that there are some official tennis players (at launch there will be 16 and new legends will arrive over time), but the ATP license and that of the main world tournaments are missing. Also in this case they are things to which you can turn a blind eye, but which are always pleasant.
Cross play
The variety of shots of Matchpoint - Tennis Championships One of the most appreciable elements of Matchpoint - Tennis Championships is its cross-platform nature that will allow tennis players from all over the world to challenge their friends regardless of the platform used. The game, which we remember will arrive on PC,
PlayStation
4, PS5,
Nintendo
Switch and Xbox, also through the Game Pass since the launch, therefore tries to involve as many players as possible so as to build a large user base, possibly able to make the competitive side of the game lively.
In case you are interested, the demo is available on Steam at this address.
Matchpoint - Tennis Championships seems to be a well packaged game, with very specific limits, but with a solid basis to try to fill the void left by the various Top Spins and Virtua Tennis. During the review, the production of Torus Games will have to demonstrate that it has the depth necessary to satisfy lovers of great virtual tennis, as well as a career capable of keeping them glued to the game for a long time. While waiting for the developer to complete the package with new legends, but above all double.
CERTAINTY
Deep gameplay Simple career, but intelligent DOUBTS The AI ​​will be balanced Where are the doubles? Have you noticed any errors?