Goals, a new opponent for EA is coming from Sweden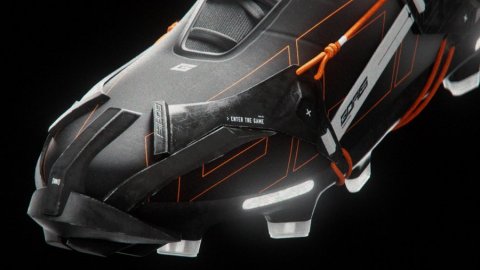 Goals
The name should be a guarantee (hopefully!): Andreas Thorstensson, 43-year-old Swedish former professional player of Counter-Strike (team SK Gaming), has decided to challenge none other than EA and Konami on their favorite terrain, namely
football
.
Announced last summer with great fanfare, after months of silence Goals magically reappeared a few days ago with a new trailer, which you can see below. No, this is not the remake of the old Goal! programmed by a certain Dino Dini, but of a free-to-play title designed for multiplayer (esport in primis) and cross-play. No "gaillo card", no "kick of angalo" but a "play to earn" model complete with blockchain and NFT (Non Fungible Token) to reward the most skilled players and encourage the purchase and sale of digital assets.
On paper it is a triple A production embellished with a cross-play system that should guarantee a better online gaming experience than the various FIFA and eFootballs. Goals' goal is to differentiate themselves from the football titles of this generation by offering different game mechanics and a new way of experiencing fantasy football. In short, the project announced by Thorstensson promises to be ambitious (not even FIFA has cross-play ...) and the risk of a sensational hole in the water is just around the corner.
After a series of bombastic declarations and many beautiful words, the first Goals gameplay video has arrived. It is a cinematic trailer that instead of dispelling doubts has fed them even more. Paraphrasing the legendary magician of Segrate, we are really "amazed and perplexed ..."
But we will talk about it in this special dedicated to Goals.
Gameplay to be discovered
Goals Let's take a look at the published video: no trace of the gameplay. As the former champion Thorstensson wrote on his Twitter profile, the game will soon be presented in another video. First of all, several soccer fields are shown (ok, this is a football simulation and we had guessed this!) Ranging from suburban pitches to more modern facilities.
Question: will we play in any stadium on the planet? Will we have our own custom plant as an NFT? In the middle of the skyscrapers and inside the subway cars of a metropolis of the future, some more or less cryptic messages appear on a series of intelligent billboards: "Changing the Game", "
The Future of
Football", "To next level to goals "," The game changing ".
What we can safely label as a simple advertising move hides something even more ambitious: a gameplay that aims to revolutionize the football simulations published so far. We at Multiplayer have been waiting for years for a credible alternative that can break the EA-Konami duopoly but also with all the optimism we can have it is a promise that is not easy to keep: words, words and words ...
Workouts
Goals The trailer in computer graphic is not bad at all as well as the chosen piece of music: suddenly the camera moves and from the gray skyscrapers zooms on a window where a football player appears (with lots of written "Training Suit" on the shirt) engaged in running on a futuristic treadmill surrounded by numerous computers that meticulously analyze his performance. And finally the ball appears with a series of players engaged in a sort of glass cage (not the one invented by Mister Orrico ...) to master the ball, ride an exercise bike and pull towards a virtual door.
Then they are catapulted into a real soccer field to train. At this point another question is legitimate: what role will the training play in the gaming experience proposed by Goals? A simple trick to take advantage of NFTs?
Are there any
FUT-style upgrades? Will there be a men's and a women's championship?
Goals Overall, the CG video impressed us positively: we don't know anything about the game engine (
Unreal Engine 5
?) But the animations and the faces of the players seemed realistic to us . As for the possible launch window (at present a release date is impossible to predict), we are talking about a project that should see the light - to be optimistic - in a couple of years. All that remains is to wait for the next trailer and some more detailed information.
Difficult to analyze and judge a trailer of this type: nothing has been seen of football played. The development team has put together a captivating but far too generic movie. Training stages and methodologies seem to play a leading role in the project, probably to exploit the potential of the discussed NFTs. We are still in the early stages of development and it is impossible to make any kind of judgment. We await with curiosity the next steps of Thorstensson and his boys: because there is a real need for an alternative to the usual two ...
CERTAINTIES
It's a football simulation The NFTs will play a central role A multiplayer-oriented free-to-play The development team played FUT DOUBTS The gameplay is waiting to be discovered Which graphics engine implements Goals? How invasive will NFTs be? It will arrive - perhaps - in 2/3 years ... Have you noticed any errors?