Xbox Game Pass, May 2022: Games arriving in the second half of the month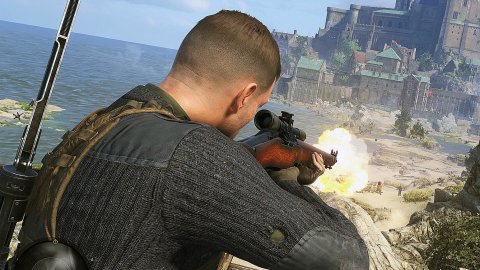 Xbox Game Pass, May 2022
Waiting for the announcements that will arrive next month, the
Xbox Game Pass
program continues with the new games arriving in the second half of May 2022, which presents a decidedly rich delivery with 12 titles to be added to the catalog in these two weeks. While the eyes continue to be on the Xbox & Bethesda Showcase of June 12, 2022, which will probably bring several news also regarding the
Game Pass catalog
, this month continues in the meantime with a nice injection of games especially on the indie front, but there are also some productions of greater caliber, however all framed in rather different genres in order to reiterate the usual variety of the offer.
Getting ready to see
what it is
, treating them one by one below, we also remember that 7 games will leave the catalog at the end of May, among which we point out in particular the presence of Resident Evil 7 Biohazard and Yes Your Grace, so before launching into the new proposals, if you are interested in the upcoming titles it is advisable to deepen these in order to conclude them before go away (or eventually buy them, of course). And now let's take a look at this new batch of games on Xbox Game Pass for May 2022.
Her Story - PC, May 17th
Her Story, an image of the game The heavy use of live footage in Full Motion Video is something that hasn't been seen for years but which characterized an entire period of video games, especially at the dawn of the CD-ROM. Sam Barlow picked up this instrument but folded it for a whole new concept, managing to build a narrative adventure with a "murder mystery" setting in which we basically have to look and listen, but consequently also interact on the story by recomposing the pieces. in a sensible way. In Her Story of her we are faced with 7 videos from 1994 in which a woman (Viva Seifert, actress and musician in reality) is interviewed by the police about the mysterious disappearance of her husband. Starting from the clues we can draw from the stories, looking for evidence and any inconsistencies, we must try to reconstruct "her story" and find out what happened to her husband in this non-linear investigative adventure.
Jurassic World Evolution 2 - PC, Xbox and Cloud, May 17th
Jurassic World Evolution 2, image of the management system in action A management software that allows you to build and control every aspect of a dinosaur park is an idea with enormous potential and it can be said that Frontier has managed to exploit it to a large extent, especially with Jurassic World Evolution 2, which expands and evolves the elements already seen in the good first chapter. Beyond some bizarre intricacies set by the team in managing the various modes, the new chapter of the series represents a good realization of the idea that each of us had of a title like that. As reported in our review of Jurassic World Evolution 2, the second chapter enriches the basic structure with new elements and technical evolutions in every respect, currently representing an ideal transposition of the famous franchise in the form of a video game, after many years of tie-in. not too convincing.
Skate (EA Play) - Cloud, May 17th
Skate, a scene from the EA game After the arrival on consoles, Skate is also available this month in a version cloud, allowing anyone, at any time, to face the world aboard a board with wheels. Upon its release in 2007, Skate represented a real revolution in the field of skateboarding video games, then consolidating itself with the following episodes and essentially stopping a decade ago, at the end of what was the brief push of EA towards the new brands. Since then, the series has become a sort of cult and many have asked for its return, which seems destined to be realized with the new chapter in development: for the moment, we can celebrate this comeback on the videogame scenes with the revival of the first and mythical chapter, which for the first time presented a real simulation of skate in an open world tailored to this sport, a kind of dream come true for the many enthusiasts of the board on wheels.
Little Witch in the Woods (Game Preview) - Xbox and PC, May 17
Little Witch in the Woods, a screenshot The life of an aspiring witch is full of commitments and Little Witch in the Woods proves it well, putting us in the shoes of the young Ellie, eager to become an official witch but with several challenges to face along the way. The game offers us a large amount of occupations and activities to carry on, because the protagonist evidently has a very full life: her aim is to help the inhabitants of the village in which she finds herself to live and to progress in her skills and knowledge of magic to being able to become a full-fledged witch. It's all about exploring, gathering resources and ingredients, crafting potions, interacting with numerous NPCs and taking part in different situations in order to progress and reach the coveted status of a full-blown sorceress. Little Witch in the Woods is currently in a Game Preview state, therefore in a non-definitive version, but it is a very interesting addition to the catalog.
Umurangi Generation Special Edition - Xbox, PC and Cloud, May 17
Umurangi Generation Special Edition, screenshot of the particular title Among the most particular games of this release is Umurangi Generation Special Edition, an expanded edition of the original Origame Digital title which also won the Independent Games Festival 2021. It is a first-person photography game set in a "retro-futuristic" world that puts us in a decidedly strange situation. Set in Tauranga, city of Aotearoa, the story unfolds with a looming crisis in the background: the largest cities are isolated by walls and the United Nations has deployed the army and giant robots to stop an alien invasion. In all this, life in the cities tries to continue as normal as possible, even if obviously the situation is far from standard. In the role of a Tauranga Express courier, we will have to go around Tauranga taking pictures to tell that world and its reality through the lens of the camera.
Farming Simulator 22 - Xbox, PC and Cloud , May 19
Farming Simulator 22, screenshot of the agricultural simulation One of the major phenomena seen so far in the wide range of Simulators reaches Xbox Game Pass with its most recent incarnation: Farming Simulator 22 represents a further evolution on the now historical theme , representing an even broader and more realistic farm simulation than previously seen. Obviously the structure is the same, as well as most of the activities and features, but expands the consolidated base with an even greater amount of vehicles to use, crops to manage, various farms, various activities and game modes. It is certainly not a revolution compared to what we saw previously but it is a particularly solid and well-finished chapter, as also reported in our review of Farming Simulator 22, confirming itself as the best simulation in its specific field but also one of the most complete and interesting in general.
Vampire Survivors - PC, May 19
Vampire Survivors, a screenshot in the middle of the action A real indie revelation, Vampire Survivors is, according to who there is got stuck inside, one of the most insidious games of these years. In the sense that once you enter the mechanism, it becomes very difficult to detach, so you are warned. The extremely simple and minimalist look, if not really crude, does not deceive: Vampire Survivors is a survival roguelike with horror tones (so to speak) that focuses everything, exclusively, on the gameplay and on its powerful progression mechanism, which allows numerous evolutions of various types for the protagonist. Left alone to face tides of enemies that attack us all together, we can rely on more and more particular weapons and fighting techniques, with the refinement of our hero's skills, becoming real enemy-mowing machines. It is an unequal and desperate struggle, which inevitably ends with the death of the protagonist, but we will have to do everything to sell the skin dearly.
Floppy Knights - Xbox, PC and Cloud, May 24
Floppy Knights, a screenshot of the particular strategic deck builder We have seen how card games and "deck builders" are among the genres most led to successful hybridizations and also Floppy Knights we can make it fall into this case, considering the particularity of its gameplay. It is a sort of mix between turn-based strategy and card game, also characterized by a very particular graphic style, which makes it unique. Similar to a kind of strange cartoon for children, the title of Rose City Games combines a "retro-futuristic" vision with the vagaries of an illustrated fairytale, while concealing a decidedly complex and well-thought-out structure, capable of testing even the strategic experts. The story sees the kind inventor Phoebe and her mechanical arm / robot Carlton grappling with an invasion of bizarre creatures, to be fought using the Floppy Knights, fighters loaded from floppy disks that can be organized into real armies. >
Hardspace: Shipbreaker - PC, May 24
Hardspace: Shipbreaker, an image of the particular space simulation Among the many professions we have tried in the
world of video games
, that of the space junkyard was still missing. 'list, but fortunately we can now remedy this gap with Hardspace: Shipbreaker, a game in which
we have to
explore the wrecks of spaceships, destroy them and recover materials and objects of interest. In the game we play the role of a sort of highly specialized worker in recovering materials within extreme situations: in fact, it is a question of traveling in space in search of wrecks, exploring them while avoiding the various environmental threats we encounter and recovering objects. and materials requested by our clients. All while trying to advance the protagonist's equipment in order to make it more effective and powerful, as well as trying to repay the billionaire debt we have with the ruthless LYNX Corp. Not exactly the most romantic vision of the space adventurer, but one that will surely be impressed.
Sniper Elite 5 - Xbox and PC, May 26
Perhaps the most notable release of this Xbox Game Pass release is Sniper Elite 5, as it is of a triple A game rather expected by a good slice of players and coming to day one directly in the catalog.
The fifth chapter of the Rebellion sniper saga gives us an adventure with precision shots in the middle of the Second World War, with the protagonist Karl Fairburne engaged behind enemy lines to thwart Operation Kraken of the Nazi army. As per tradition, the main element of the game is the large single player campaign that takes us around France in 1944, but there are also different modes such as PvP and cooperative multiplayer, all always focused on precision shots. As we have also seen in our recent trial dedicated to the game, Sniper Elite 5 remains very faithful to its traditions, both in the strengths (tactical kills from a distance) and in the less convincing ones, such as the most typical fights from third-person shooter . In any case, a title definitely to download and try.
Cricket 22 - PC, May 27
Cricket 22, a screenshot of the game One month after launch on console, arrives on PC also the inevitable Cricket 22, a real mass phenomenon in our area. Joking aside, it cannot be said to be a very popular discipline outside its home countries, but the official Cricket simulation can, if nothing else, satisfy the urge to try exotic sports. In the game we find the official and particularly faithful reproduction of the sport in question, with the 2021-22 season of the Ashes Series, which Wikipedia teaches us to be the official Cricket league between England and Australia. The game would seem to be the definitive title for fans of this sport, taking advantage of a completely reworked physics simulation system for the ball and players, as well as of course new introductions in terms of licenses and content. Cricket 22 introduces the men's and women's Big Bash league, the Caribbean Premier League and The Hundred.
Pac-Man Museum + - Xbox, PC and Cloud, May 27
Pac-Man Museum +, an image of Pac-Land On the occasion of 40 years of honorable activity, Bandai Namco has decided to launch Pac-Man Museum +, a large collection of 14 games starring the famous character created by Namco and its derivatives. Inside we really find everything: from the first Pac-Man to the legendary Pac-Land, up to the most recent reinterpretations such as Pac-Man 256 and Pac-Man Championship Edition. There is very little to say about such a compilation: these are historical titles, or rather derivations and various interpretations of that incredible idea by Toru Iwatani that has forever marked not only the videogame scene but also the popular culture of mass. With Pac-Man Museum + it is therefore possible to access in a practical way a good part of the most successful games of the series and the download through Xbox Game Pass is certainly recommended to everyone.
Have you noticed any errors?