PlayStation Plus May 2022: FIFA 22, Tribes of Midgard and Curse of the Dead Gods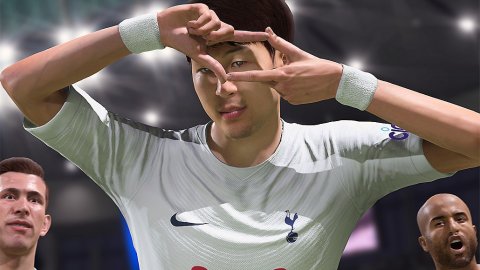 PlayStation Plus May 2022
On June 22,
PlayStation
Plus will change its face, as we know: the
Sony
subscription service will complement the current offering of the PlayStation Now streaming platform and at the same time will aim to strengthen its catalog by introducing a large number
of PS5 and
PS4 games that users can download for free, as long as you subscribe to the right plan among the three available.
However, it is still early to think about it, and so the traditional update arrives
for May 2022
, with three new titles that include the FIFA sports blockbuster 22, the mythological cooperative experience of Tribes of Midgard and finally the roguelike with isometric view Curse of the Dead Gods.
A selection that the readers of sportsgaming.win liked? Also this time the opinions were generally negative: according to our survey, 38% of users said they were not satisfied at all and 21% were unsatisfied, while the May games were liked "quite" by 26% of the respondents and "very much. "only 16%.
FIFA 22 (PS5 and PS4)
FIFA 22, Mbappè The latest edition of Electronic Arts
football
, FIFA 22 needs very little introduction. The package also this time includes classic modes, from Career to VOLTA Football, from Pro Club to Ultimate Team, and a large amount of official licenses ranging from leagues to official teams, passing through iconic competitions such as the UEFA Champions League, CONMEBOL Libertadores and the UEFA Europa Conference League.
In terms of content, in short, the title of EA Vancouver and EA Romania guarantees respectable numbers, albeit with no big news, and widely tested mechanisms on the gameplay front, invariably refined in its characteristics thanks to an improved artificial intelligence, a new set of tactics applicable
in real time
and a revised ball physics.
The PlayStation 5 version is clearly the most sophisticated from a technical point of view, with athletes even more resembling their real counterparts (but not all, and the gap is noticeable), animations never so realistic, rich stadiums of details, a good commentary in Italian signed by Daniele Adani and Pierluigi Pardo, and finally an excellent support to the peculiarities of the DualSense controller. The FIFA 22 review.
Tribes of Midgard
Tribes of Midgard, the characters engaged in exploring the scenario Developed by the Canadian team Norsfell, Tribes of Midgard is an action RPG with a cooperative vocation and strongly inspired by Norse mythology. In the game we will find ourselves in command of a mighty warrior who is stolen from Valhalla, brought back to life and tasked with doing everything possible to stop the advance of Ragnarok, the legendary twilight of the gods.
A feat clearly not simple, but we will
be able to
complete with the help of other users, in the context of games for up to ten participants, exploring a fascinating cel-shaded scenario and experimenting with the two modes included in the game, namely a short but intense and a survival ready to test our skills.
Curse of the Dead Gods
Curse of the Dead Gods, a fighting sequence We also find roguelike elements in Curse of the Dead Gods, an adventure with dark and disturbing features in which we take on the role of an explorer struggling with dungeons full of darkness and traps, but also of riches and divine gifts: how far we decide to push ourselves before succumbing and starting again our difficult path all over again?
Equipped with a solid and interesting combat system, the title of Passtech Games offers us various types of weapons, for close or ranged encounters, but an insufficient bestiary of enemies to satisfy our fury, especially after having obtained the necessary experience to make expeditions less complicated than in the first hours.
The final result therefore moves between ups and downs, but will not fail to fascinate fans of this kind of setting, as written in the Curse of the Dead Gods review.
May 2022 arrivals and departures
No longer available on PlayStation Plus from 3 May
Hood: Outlaws & Legends - PS5 and PS4 Slay the Spire - PS4 Spongebob SquarePants: Battle for Bikini Bottom - Rehydrated - PS4
Available on PlayStation Plus from May 3rd
FIFA 22 - PS5 and PS4 Tribes of Midgard - PS5 and PS4 Curse of th and Dead Gods - PS4
Have you noticed any errors?