ASUS ROG Strix SCAR 17 SE: announced the gaming laptop with flagship hardware and a special look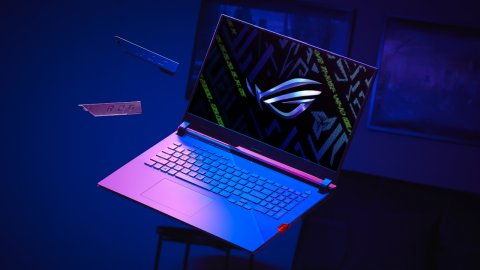 ASUS ROG Strix SCAR 17 SE
ASUS
has decided to
push the performance of the ASUS ROG Strix SCAR high-end gaming laptop series further with a special edition, presented alongside the equally distinctive ASUS ROG Flow X16 convertible, which features the top of the range of the new Intel mobile processors. . It therefore aims at the enthusiast band, offering enough power to give enormous satisfaction even in the professional sphere, with the 8 high-performance P-Cores and the 8 high-efficiency E-Cores of the Intel Core i9-12950HX, a 24-thread processor that dominates the mobile scene in no uncertain terms, sporting such brute power that it can tail an Intel Core i7-12700K.
The ASUS ROG Strix SCAR 17 Special Edition shown at the unveiling event Not surprisingly it's the the heart of this configuration which in terms of options also provides the top for the GPU, with the possibility of being able to mount up to the
NVIDIA GeForce RTX
3080 Ti Laptop from 16 GB with 175 W of power supply. In fact, ASUS has not forgotten to give enough power to the components to be able to express themselves to the maximum, including 65 W for the CPU, using to contain the temperatures, an impressive VRM, a customized Vapor Chamber that covers 48.8% of the motherboard. and the paste ends in liquid metal Conductonaut Extreme. And that's enough to allow for a design with a minimum thickness of 23.4 millimeters, even if on the back the laptop reaches 28.3 millimeters which makes up for a pair with a weight of 3 kilograms.
These are pretty good numbers for a device of this power that does not seem to forget anything, in any sector. Among the options we find in fact up to 4 TB PCIe 4.0 in RAID 0 for storage and we find up to 64 GB of DDR5 4800 MHz memory. In addition, connectivity includes two USB-C ports, one of which is Thunderbolt, and an Ethernet port from 2.5 Gbps. There is no 4K resolution option for the screen, but there are two display options that honor the gaming nature of SCAR.
A summary of the outstanding features of the ASUS ROG Strix SCAR 17 Special Edition The first of the two variants of the 17.3-inch 16: 9 screen stops at 1920 x 1080 resolution, but reaches a 360 Hz refresh, combined with the promise of a 3 millisecond response time, ensuring extreme fluidity. All seasoned with 100% sRGB range coverage which is not bad given the frequency. For the second screen option we go down to 240 Hz refresh with a resolution of 2560 x 1440, but in this case the color coverage rises to 100% of the DCI-P3 range, promising very high color fidelity and therefore a yield. higher in titles with high graphics content.
All this has a price that should be between 10% and 20% more than the standard model, but the expense includes, in addition to ad hoc dissipation and enthusiast processor , an aesthetic work that fully respects the cyberpunk style of the SCAR series, but adds a little magic: friezes on the lid made with a special invisible ink, the result of six months of work also aimed at guaranteeing longevity, which returns reflections metallic in normal light and glows by coloring under ultraviolet rays.
The interior of
the ASUS ROG Strix SCAR 17 Special Edition lets you glimpse the hardware components It therefore enhances an already rich look that includes RGB bar under the front edge, the possibility of replacing the left block of the rear heel , the keystone II illuminated in red on the right and a diagonal that cuts the interior in two, with the right side partially transparent and reveals the hardware.
ASUS ROG Strix Scar 17 SE data sheet
CPU: Intel Core i9-12950HX GPU: up to NVIDIA GeForce RTX 3080 Ti (Max TGP 175 W) Screen : Option 1 - 17.3 "WQXGA (1920 x 1080) IPS 16: 9 (360 Hz / 3 ms / 100% sRGB / Dolby Vision / Adaptive Sync / Pantone Certified) Option 2 - 17.3" WQXGA (2560 x 1440) IPS 16: 9 (240 Hz / 3 ms / 100% DCI-P3 / Dolby Vision / Adaptive Sync / Pantone Certified) RAM memory: up to 64 GB DDR5 4800 MHz Storage: NVMe PCIe 4.0 SSD up to 4 TB in RAID 0 Wireless connectivity: Wi -Fi 6E, Bluetooth 5.2 Ports: 1x USB-C 3.2 Gen 2 (Power Delivery, DisplayPort 1.4) 1x Thunderbolt 4 2x USB-A 3.2 Gen 1 HDMI 2.1 (4K 120Hz signal) 2.5G Ethernet 3.5mm combo audio jack Webcam: No Battery: 90 Wh Keyboard: Chiclet Aura Sync with 2 mm travel and RGB lighting Per-Key Audio: 4x Dolby Atmos powered speakers Two-way noise cancellation Dimensions: 395.0 x 282.1 x 23.4 ~ 28.3 mm Weight: 3.0 kg approx Price : You do not have bile Availability: Not available
Have you noticed any errors?