PS5 April update: support for external drives and more, details from Sony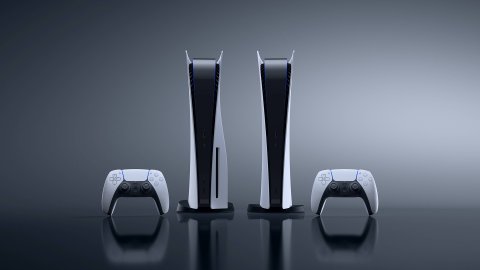 PS5 April update
PS5 is about to receive the April update, which will be available from tomorrow, April 14, 2021 and is configured as a first and important update to the console system software, with the details that have been released in these minutes by
Sony
and concern the support for external USB hard drives, new social features and various other features.
On PS5 comes the ability to transfer PS5 games to external USB memory
The first point could be the one of greatest interest to PS5 users, as it finally introduces the ability to keep PS5 games on an external USB hard drive. This means that it will be possible to transfer PS5 games from the console's internal storage memory to the USB extended storage memory, solving the problem of the limited space available in the console's internal SSD.
Remember that PS5 games next gen cannot be launched from an external hard drive, but only deposited, so in order to be used they must be transferred back to the internal memory exactly as happens with
Xbox Series X
| S and next gen games, but the transfer should be fast and painless. Also note that PS5 games cannot be downloaded directly to USB extended storage, according to Sony.
As for the new "social" features of PS5, we would like to point out the possibility of activating Share Play between
PS5 and PS4<
/a>
with cross-gen games: PS4 and PS5 players can now use Share Play while chatting in parties. This means that PS5 console users can allow their PS4 console friends to view their game screen or try PS5 games via Share Play and vice versa. Options include the ability to share your screen with a friend and virtually hand over your controller, or a secondary one, to a friend and play co-op games together.
New PS5-optimized customization and control options include the following improvements:
Improved Game Base: The Game Base menu has been improved to allow faster access to important content and features. Now you can easily switch between Parties and Friends and start chatting with your existing parties or view individual activities of your friends online. Additionally, you can turn notifications on or off for each party you join. Disable Game Chat or Adjust Player Volume: You can now quickly mute game chat, so you can mute your microphone and the voices of your players. other players. Plus, you can easily adjust the volume of other players' individual voice chat in the same chat, so you don't have to ask your friends to turn down or turn up the microphone every time Pre-download game updates: when activated by developers, updates games will be pre-downloaded to your console if the "automatic updates" setting is on and the console is on or in rest mode. This way you can start playing the latest version of a title right after the update is released. Customize your game collection - with the ability to search your collection or hide games, it's now easier to find content and customize Viewing your game collection Screen Zoom: You can now adjust the screen magnification according to your preferences from the Settings menu New Settings and Trophy Statistics Screen: You can now customize the trophy level for automatic acquisition of a snapshot of the screen or a video clip, so you can choose to capture and save only the images or videos of the moments when you win higher rank trophies, such as Gold or Platinum. We are also introducing a new trophy stats screen for players, where you can see your trophy level and status summary at a glance.
The PS5 Trophies now have a more advanced tracking system and the ability to share linked images and videos. Among the novelties we also point out new features for the PlayStation App to simplify remote connection to the console . After the introduction of the wish list regarding the Store, it will soon be possible to join a multiplayer session on PS5 from the app, manage the storage memory of the PS5 console, compare trophy collections with friends and sort and filter the products displayed in the PlayStation Store.
Have you noticed any errors?