PlayStation Now, April 2021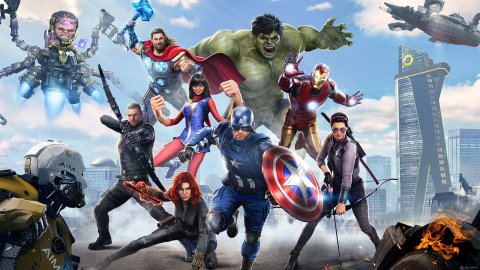 PlayStation Now
PlayStation Now pushes the accelerator again in April 2021, with an update featuring three very interesting games, almost all recently released, in a mix of triple A productions and deep indie experiences.
Let's talk the ambitious
Marvel
's Avengers action tie-in, the crazy and fun looter shooter Borderlands 3 and the fascinating adventure The Long Dark, available in streaming or downloadable and installed locally by those who own a
PS4
or a
PS5
.
Marvel's Avengers
Marvel's Avengers, the Black Widow during the first sequences of the campaign. Marvel's Avengers (PS4, available until July 5, 2021), the much talked about and certainly controversial project created by Crystal Dynamics, tries to take advantage of the official license of the Most Powerful Heroes of the Earth to involve us in a spectacular action-oriented adventure, in which you can play the role of characters such as Captain America, Iron Man, Thor, Hulk and the Black Widow, but not only.
It is in fact the young Kamala Khan, Miss Marvel, the real protagonist of the game's campaign , which takes place a few years after a terrorist attack that shook the life of the Avengers forever and in which Captain America seems to have lost his life. The team disbanded, but the world has since become less secure and AIM seems to play a role in all of this.
Marvel's Avengers, Kamala Khan is the promising newcomer to the group. The girl will therefore have to make sure that the heroes return to work together, joining forces to challenge those who plot in the shadows to conquer the planet. An enterprise that is anything but simple, in which we
will be able to
alternate at the command of different characters and exploit their powers and their peculiar characteristics, giving life to battles with a great visual impact.
Very well done also from a technical point of view, Marvel's Avengers ultimately pays duty due to the GaaS structure, which inevitably makes some scenarios less interesting, designed to function as open maps for cooperative missions, and has an important influence on the progression system.
Borderlands 3
Borderlands 3, Zane in action. The famous shooter series by Gearbox Software confirms all its merits with Borderlands 3 (PS4, available until September 29, 2021), bringing the traditional looter shooter experience of the game beyond the borders of Pandora for a new, exciting adventure in which we will have to prevent the dangerous Calypso twins to form a virtually unstoppable space army.
A no small feat, which we will have to try to complete as part of an extremely large cooperative-based campaign, consisting of several main missions and many secondary quests in which to fully exploit the peculiar characteristics of the four characters at our disposal.
Borderlands 3, a combat sequence. The Borderlands 3 roster is in fact made up of Amara, a shrewd and lethal punk siren, who loves close combat; FL4K, the beastmaster of the group, able to summon a beast to help him in battle by biting his opponents; Zane, a skilled soldier capable of creating holograms and delivering precision hits; and finally Moze, a skilled fighter who can climb aboard the powerful Iron Bear mech.
Accompanied by a narrative that is always engaging and over the top, as well as by a technical sector that is once again expressed through use effective cel shading, Borderlands fans are sure to feel at home with this third episode, which basically lacks nothing.
The Long Dark
The Long Dark, a look to the settings. The Long Dark (PS4, available indefinitely) is a survival adventure in which we play the role of a man who miraculously survived a plane crash, but who finds himself lost in a cold and hostile environment. Hungry and injured, we will have to explore the scenery in search of water, food and resources that can allow us to survive ... but for how long?
That's not all: we were flying together with a traveling companion who is missing and our first thought is to find it again, but to do so we will need to take refuge every now and then to avoid hypothermia and face the many challenges of wild nature.
We will not be alone in the cold of the forest, in fact, but surrounded by lethal predators, in particular packs of wolves moved by an unprecedented ferocity, capable of sniffing our scent and attacking us promptly. Will we survive such a tough test?
Have you noticed any mistakes?