Xbox: "some" future Bethesda games will be Xbox and PC exclusives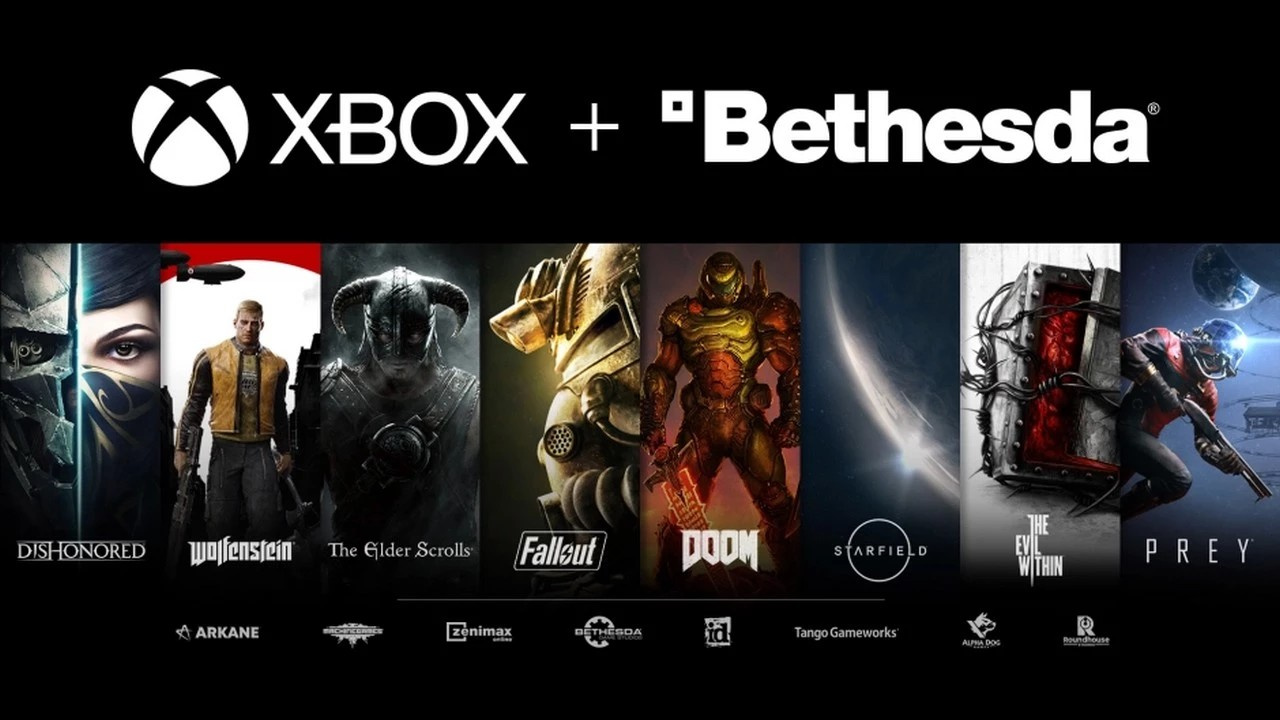 Xbox
It's done, Bethesda officially joins the
Xbox
family, as Phil Spencer announces in a freshly shared statement. He evokes in particular the burning question of the exclusivity of future Bethesda games.
Announced last September, the acquisition of ZeniMax Media, Bethesda's parent company, is now "officially recorded". To celebrate the news,
Microsoft
issued a statement in which Phil Spencer, Xbox boss, is delighted to welcome the eight studios that are id Software (Doom), ZeniMax Online Studios (The Elder Scrolls Online), Bethesda Game Studios (Fallout , The Elder Scrolls), Arkane (Prey, Dishonored, Deathloop), MachineGames (Wolfenstein, the upcoming game Indiana Jones), Tango Gameworks (The Evil Within, Ghostwire Tokyo), Alpha Dog (MonstroCity: Rampage) and Roundhouse Studios.
Now that the acquisition is official, we will
be able to
start working together to bring you
more and more
amazing games (...) It is vital that the Bethesda teams can continue to develop games like them. always have. We look forward to helping them reach more and more players around the world, making their new titles the greatest games in their history. Phil Spencer.
Phil Spencer previously said that the decision to release future Bethesda games on platforms other than PC and Xbox consoles would be made on a case-by-case basis. He brought up the issue again, confirming that "some" of them will be Xbox and PC exclusives. Of course, they'll all be available when they're released in
Xbox Game Pass
.
With the arrival of Bethesda's Creative Teams, gamers should know that Xbox consoles, PC, and Game Pass will be the best platforms to enjoy the new Bethesda games and that some of them, in the future, will be Xbox and PC exclusives.
The press release ends with the announcement of the arrival, starting this week, of other Bethesda games in the Xbox Game Pass catalog. As a reminder, we already find Doom Eternal, Skyrim and Dishonored 2.
Now that we are one and the same team, we can start working together on what lies ahead. We'll tell you more later this year. In the meantime, to celebrate this special moment in the right way, we'll be adding more Bethesda games to the Xbox Game Pass catalog starting this week. Stay tuned, we will share more details with you very soon!
---
Microsoft finalizes $7.5 billion Bethesda acquisition, promises Xbox exclusives
Microsoft has finalized its $7.5 billion deal to acquire ZeniMax Media, the parent company of Doom and Fallout studio Bethesda Softworks. The finalization comes just a day after Microsoft secured regulatory approval from the EU for the acquisition, and it will now bolster the company's first-party Xbox games studios up to a total of 23.
"This is the next step in building an industry-leading first party studios team, a commitment we have to our Xbox community," says Microsoft's gaming chief Phil Spencer. "With the addition of the Bethesda creative teams, gamers should know that Xbox consoles, PC, and Game Pass will be the best place to experience new Bethesda games, including some new titles in the future that will be exclusive to Xbox and PC players."
This deal includes Bethesda sub-studios like Dishonored developer Arkane, Wolfenstein studio MachineGames, Doom maker id Software, and The Evil Within studio Tango Gameworks. Microsoft now has 23 first-party game studios, compared to Sony's 13 PlayStation Studios.
Bethesda will now be run as a separate business at Microsoft, with its existing leadership. This is the same approach Microsoft has used for its recent big acquisitions, including Mojang, LinkedIn, and GitHub.
In a separate blog post, Bethesda marketing chief Pete Hines reveals that there won't be any big changes just yet:
"First, let me say that we're not making any landmark announcements or changes right now. As we've all shared, the expectation is that Bethesda Softworks and our studios will continue as we have in the past, just with more support and resources than we've ever had before. Obviously, Game Pass has been an important initiative for Xbox, and we'll be working on putting even more of our games into Game Pass than ever before. Beyond that? Stay tuned, we're just getting started together."
Microsoft originally announced its plans to acquire Bethesda in September, promising to honor PS5 exclusivity commitments for Deathloop and GhostWire: Tokyo. Games like The Elder Scrolls: Online will also "continue to be supported exactly as it was."
Developing...