Radeon RX 6700 XT: What we know about the new AMD card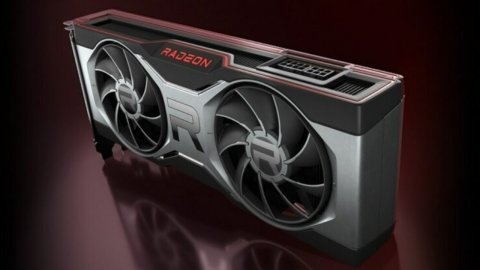 Radeon RX 6700 XT
With the official presentation of the Radeon RX 6700 XT we finally have in hand the specifications and the release date of the new AMD GPU, arriving in stores on March 18, 2021. One day, this, that many will keep an eye on in the hope of grabbing a video card, a rare commodity in a period in which between high demand and production lines at the limit, the availability of GPUs is at a minimum, while prices have jumped to the stars. For this we do not expect a great availability, even if AMD has promised a greater number of pieces, also guaranteeing the distribution of a version that is
not to be
taken for granted for a mid-range model. But on the other hand we are not talking about an economic card. While taking the field as an entry level option of the RDNA 2 series, the Radeon RX 6700 XT has an MSRP of $ 479 and thus falls just below the RTX 3070 in the Founders Edition version.
Features
Radeon RX 6700 XT: the new card With a price of 100 dollars lower than that of the RX 6800, the Radeon RX 6700 XT is inevitably satisfied with a more modest allocation starting from 12 GB of memory, however abundant for a GPU that looks at 1440p at maximum detail and which, as highlighted by AMD, also has no problems with high-resolution texture packs that increase memory use, even exceeding 10 GB in some cases, in titles such as Red Dead Redemption 2,
Call of Duty
:
Black Ops Cold War
, Dirt 5 and Horizon Zero Dawn.
On the other hand, the drop in performance linked to the only 40 Compute Units of the Navi 22 chip with 2560 stream processors, again based on RDNA 2 architecture and made with a 7-nanometer production process, which are decidedly lower than the 60 Compute Units equipped from his older sister. But they are partially offset by frequencies that start at a base clock of 2,321 GHz and go up to 2424 MHz of game clock, significantly higher than the 1815 GHz of the higher-end card. A huge leap, thanks to a high quality power supply, a 10-layer PCB and other devices that make the Radeon RX 6700 XT a card designed to stably maintain extremely high frequencies. Hence a TDP not too lower than that of the RX 6800, with 230W against 250W, which brings us to the two 8 and 6 pin connectors for the auxiliary power supply. But two fans are enough to cool the card, thanks to a more advanced dissipation that makes abundant use of heat pipes and also guarantees a stopped fan mode, obviously completely silent.
Performance
Radeon RX 6700 XT: benchmarks Among the features of the card we also find the AMD Smart Access Memory, a technology that guarantees full access to the card memory offers advantages in some games, and 96 MB of infinity cache. But the lion's share is undoubtedly by the Navi 22 chip which, thanks to the high frequencies, confirms the goodness of the new Radeon 6000 series in terms of game performance. This at least speaking of naked and raw rendering, where the newborn AMD stands out clearly on the RTX 3070 in titles like Assassin's Creed Valhalla and Dirt 5. It also wins in Borderlands 3 and Hitman 3, beating it instead almost on par with the NVIDIA card in Cyberpunk 2077, Call of Duty: Black ops - Cold War and Gears 5. It performs well therefore, with the only sound defeat, according to the benchmarks shown by AMD, in Watch Dogs Legion, where it is also inferior to the RTX 3060 Ti.
As for the 40 accelerators dedicated to ray tracing instead , beyond good performance in optimized titles like Dirt 5 and Godfall, we can take for granted a situation similar to the higher-end Radeons. So let's talk about something less in terms of the ray tracing power of the RTX 3070 and the lack of an upscaling similar to NVIDIA's DLSS, which is fundamental to compensate for the weight of ray tracing in titles where it is implemented massively. But in this regard it is worth mentioning the evolution of FidelityFX technologies, among which the evolution of the Anti-Lag now compatible with DirectX 12 stands out, the announcement of which was highlighted by some benchmarks, obviously linked to eSports, which see the Radeon RX 6700 XT reach 348fps in Counter-Strike: Global Offensive, 180fps in Hyper Scape, 272fps in
League of Legends
, 212fps in Overwatch, 360fps in Rainbow Six Siege, 452fps in Valorant. Enough therefore also to take advantage of extremely refreshed monitors.
Present and future support
Radeon RX 6700 XT: the new GPU To this must be added the games with support for Radeon Boost technology and optimizations for titles Dirt 5, Godfall, Rift Breaker, World of Warcraft: Shadowlands and
Microsoft
Flight Simulator, in some cases relevant in terms of performance even if far from the benefits of DLSS. It is no coincidence that there is great anticipation for the Super Resolution technology, the upscaling for the Radeons whose arrival should not be too far in time. In fact, there is talk of the next main release of the Adrenaline drivers, a potentially very important event for a family of cards that could gain a lot of appeal thanks to artificial intelligence.
The promise of the Super Resolution, on the other hand, is that of a significant increase in performance, hopefully able to compensate for the weight of ray tracing which among other things will be available to the new Radeons also in
Resident Evil Village
, along with support for FidelityFX technologies. But only those who manage to buy a Radeon or a new generation console will have to worry about all this, since these will also enjoy the benefits of Super Resolution. And it will be complicated for some time to come, given a market situation that is unlikely to be resolved by increasing the availability of a single card or, looking at the competition, by limiting the mining capabilities of an entry level model.