Monster Hunter Rise: Chef Hiro creates Dango inspired by the Nintendo Switch game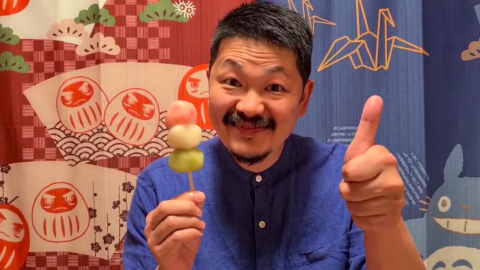 Monster Hunter Rise
Nintendo
has decided to collaborate with the famous Chef Hiro, the official Ambassador of Japanese Cuisine in Italy, to create special sanshoku dango inspired by
Monster Hunter Rise
for Nintendo Switch
.
The kitchen is the mirror of the culture from which it comes and, when it comes to places with a strong culinary tradition like Japan, it turns into an iconic element that represents the country itself. A heritage to be preserved and made known to the whole world, which has become the fulcrum of many entertainment productions from the Land of the Rising Sun: from films, to manga, through anime and up to video games.
This is the case of the video game series Monster Hunter, a real institution in Japan, which has made food an integral part of the game mechanics. And
this is how
players find themselves carefully choosing the virtual dishes to consume before setting off on the adventure, to have the most useful and suitable bonuses to successfully complete their missions. Have you read our review of Monster Hunter Rise?
And Monster Hunter Rise further strengthens this link between gaming and cooking by introducing a famous Japanese dessert, the dango, into the video game. For the occasion, the official Ambassador of Japanese cuisine in Italy, Chef Hirohiko Shoda, created his recipe for sanshoku dango, small Japanese dumplings on a stick made with glutinous rice flour. The video recipe is available on the legendary Chef Hiro's Instagram and Facebook pages.
The recipe involves the creation of three balls made with a mixture of Japanese mochigome rice flour, granulated sugar and warm water, then placed on a stick. Sanshoku dango are a typically spring dessert and this is demonstrated by the three colors that distinguish them: white, pink, which represents the cherry blossoms that characterize the Japanese spring, and green, a color connected to nature and the season of the "awakening of insects" , as the Japanese often call it.
Within Monster Hunter Rise, dango are the traditional dish of Kamura village and players will
be able to
enjoy them before each hunt along with other delicacies from head chef Yomogi. Monster Hunter Rise is in fact a video game that allows players to go hunting for monsters, alone or in company. Belonging to the RPG genre, it is an epic adventure made of adrenaline-pumping action: hunters will have to rely on their skills and dozens of different weapons, each with their own fighting style, to face gigantic monstrous creatures. The goal is to obtain new resources to forge weapons and armor of all kinds useful for the next hunt, to protect the village of Kamura from the ultimate threat: the fearsome monster Magnamalo.
Monsters are undoubtedly one of the aspects more iconic than Monster Hunter, a series that for over 16 years has made Japanese gamers go crazy: just think that, for today's release of the last chapter, the Japanese company Mark-on has decided to give holidays to many of its employees , which would otherwise have been unproductive due to the game.
var ig = document.getElementById ('ig_acfur'); ig.innerHTML = "\ u003Cblockquote class \ u003D \ u0022instagram \ u002Dmedia \ u0022 data \ u002Dinstgrm \ u002Dcaptioned \ u003D \ u0022 \ u0022 data \ u002Dinstgrm \ u002Dpermalagram00_stgrm \ u003D? utm_source \ u003Dig_embed \ u0026amp \ u003Butm_campaign \ u003Dloading \ u0022 data \ u002Dinstgrm \ u002Dversion \ u003D \ u002213 \ u0022 style \ u003D \ u0022 background: #FFF \ u003B border \ u003B border: 0 0 1px 0 rgba (0,0,0,0.5), 0 1px 10px 0 rgba (0,0,0,0.15) \ u003B margin: 1px \ u003B max \ u002Dwidth: 540px \ u003B min \ u002Dwidth: 326px \ u003B padding : 0 \ u003B width: 99.375% \ u003B width: \ u002Dwebkit \ u002Dcalc (100% \ u002D 2px) \ u003B width: calc (100% \ u002D 2px) \ u003B \ u0022 \ u003E \ u003Cdiv style \ u0022pad \ u003D \ u003Cdiv style \ u0022pad \ u003B \ u0022 \ u003E \ u003Ca href \ u003D \ u0022https: //www.instagram.com/tv/CM1riphq_VV/? utm_source \ u003Dig_embed \ u0026amp \ u003Butm_campaign \ u003FF # line \ u0022Dloading \ u003FF style background \ u003FF \ u002Dheight: 0 \ u003B padding: 0 0 \ u003B text \ u002Dalign: center \ u003B text \ u002Ddecoration: none \ u003B width: 100% \ u003B \ u0022 target \ u003D \ u0022_blank \ u0022 \ u003E \ u003Cdiv style \ u003D \ u0022 display: flex \ u003B flex \ u002DdirectionB align \ u002item: row \ u002 center \ u003B \ u0022 \ u003E \ u003Cdiv style \ u003D \ u0022background \ u002Dcolor: # F4F4F4 \ u003B border \ u002Dradius: 50% \ u003B flex \ u002Dgrow: 0 \ u003B height: 40px3 \ u002Bright width: u002Bright 40px \ u003B \ u0022 \ u003E \ u003C / div \ u003E \ u003Cdiv style \ u003D \ u0022display: flex \ u003B flex \ u002Ddirection: column \ u003B flex \ u002Dgrow: 1 \ u003B justify \ u003 \ u00E22 u003Cdiv style \ u003D \ u0022 background \ u002Dcolor: # F4F4F4 \ u003B border \ u002Dradius: 4px \ u003B flex \ u002Dgrow: 0 \ u003B height: 14px \ u003B margin \ u002Dbottom: u00 100px \ u003 u003C / div \ u003E \ u003Cdiv style \ u003D \ u0022 background \ u002Dcolor: # F4F4F4 \ u003B border \ u002Dradius: 4px \ u003B flex \ u002Dgrow: 0 \ u003B height: 14px \ u003 \ u003 \ u003 \ u003 \ u223 \ u003 \ u003 \ u003 \ u003 / div \ u003E \ u003C / div \ u003E \ u003C / div \ u003E \ u003Cdiv style \ u003D \ u0022padding: 19% 0 \ u003B \ u0022 \ u003E \ u003C / div \ u003E \ u003Cdiv style \ u003D \ u0022display: block \ u003 \ u003B height: 50pB height: 50pB height: auto 12px \ u003B width: 50px \ u003B \ u0022 \ u003E \ u003Csvg height \ u003D \ u002250px \ u0022 version \ u003D \ u00221.1 \ u0022 viewBox \ u003D \ u00220 0 60 60 \ u0022 width \ u0022px \ uml u003D \ u0022https: //www.w3.org/2000/svg \ u0022 xmlns: xlink \ u003D \ u0022https: //www.w3.org/1999/xlink \ u0022 \ u003E \ u003Cg fill \ u003D \ u0022none \ u0022 fill \ u002Drule \ u003D \ u0022evenodd \ u0022 stroke \ u003D \ u0022none \ u0022 stroke \ u002Dwidth \ u003D \ u00221 \ u0022 \ u003E \ u003Cg fill \ u003D \ u0022 # 000000 \ u002 \ u002D (transform \ u0022 .000000) \ u0022 \ u003E \ u003Cg \ u003E \ u003Cpath d \ u003D \ u0022M556.869,30.41 C554.814,30.41 553.148,32.076 553.148,34.131 C553.148,36.186 554.814,37.852 556.852.869,37.524 , 36.186 560.59,34.131 C560.59,32.076 558.924,30.41 556.869,30.41 M541.60.657 C535.114.60.657 530.342,55.887 530. 342.50 C530.342.44.114 535.114,39.342 541.39.342 C546.887,39.342 551.658.44.114 551.658.50 C551.658.55.887 546.887,60.657 541.60.657 M541.33.886 C532.1.33.886 524.886,41.1 524.886.50 C524.886.58.899 532.1,66.113 541.66.113 C549.9,66.113 557.115.58.899 557.115.50 C557.115.41.1 549.9,33.886 541.33.886 M565.378,62.101 C565.244.65.022 564.756,66.606 564.346.67 .803,69.06 563.154.70.057 562.106.71.106 C561.058.72.155 560.06.72.803 558.662,73.347 C557.607.73.757 556.021,74.244 553.102.74.378 C549.944.74.521 548.997.74.552 541.74.00.552 C5 74.521 528.898.74.378 C525.979.74.244 524.393,73.757 523.338.73.347 C521.94.72.803 520.942.72.155 519.894.71.106 C518.846.70.057 518.197,69.06 517.654.67.663 C517.244,66.606 516.1016 516. 479.58.943 516.448.57.996 516.448.50 C516.448.42.003 516.479.41.056 516.623.37.899 C516.755,34.978 517.244,33.391 517.654,32.338 C518.197,30.938 518.846,29.942 519.894,28.894,27.894 523.338,26.654 C524.3 93,26,244 525,979.25,756 528,898.25,623 C532,057.25,479 533,004,25,448 541,25,448 C548,997,25,448 549,943,25,479 553,102,25,623 C556,021,25,756 557,607,26,244 558,662,21,654 562,106,28,894 C563,154,29,942 563,803,30,938 564,346,32,338 C564,756,33,391 565,244,34,978 565,378,37,899 C565,522,41,056 565,552,42,003 565,552.50 C565,552,57,996 565,522.58,92 , 37.631 C570.674,34.438 570.167,32.258 569.425,30.349 C568.659,28.377 567.633,26.702 565.965,25.035 C564.297,23.368 562.623,22.342 560.652,21.575 C558.743.20.834 556.569.20.126 553.350 20.033 549.148.20 541.20 C532.853.20 531.831.20.033 528.631.20.18 C525.438.20.326 523.257,20.834 521.349,21.575 C519.376,22.342 517.703,23.368 516.035,25.035 C514.368.26.702 513.342,28.377 30.349 C511.834.32.258 511.326,34.438 511.181,37.631 C511.035,40.831 511.41.851 511.50 C511.58.147 511.035.59.17 511.181,62.369 C511.326,65.562 511.834,67.743 512.574,69.651 C525.61 514.314 , 73.296 516.035.74.965 C517.703.76.634 519.376.77.658 521.349.78.425 C523.257,79.167 525.438.79.673 528.631,79.82 C531.831.79.965 532.853,80.001 541.80.001 C549.148.80.00659 553.869.79. .562,79,673 558,743.79,167 560,652,78,425 C562,623,77,658 564,297,76,634 565,965.74,965 C567,633,73,296 568,659,71,625 569,425,69,651 C570,167,67,743 570,674.17,569,562 570.8570,62,62 58.147 571.50 C571.41.851 570.966,40.831 570.82,37.631 \ u0022 \ u003E \ u003C / path \ u003E \ u003C / g \ u003E \ u003C / g \ u003E \ u003C / g \ u003E \ u003C / \ u003C / div \ u003E \ u003Cdiv style \ u003D \ u0022padding \ u002Dtop: 8px \ u003B \ u0022 \ u003E \ u003Cdiv style \ u003D \ u0022 color: # 3897f0 \ u003B font \ u002Dfamily: Arial \ u002 \ u00size font \ u002 \ u00sif u003B font \ u002Dstyle: normal \ u003B font \ u002Dweight: 550 \ u003B line \ u002Dheight: 18px \ u003B \ u0022 \ u003E View this post on Instagram \ u003C / div \ u003E \ u003C / div \ u003E \ u003Cdivding style \ u003Cdivding : 12.5% ​​0 \ u003B \ u0022 \ u003E \ u003C / div \ u003E \ u003Cdiv sty le \ u003D \ u0022display: flex \ u003B flex \ u002Ddirection: row \ u003B margin \ u002Dbottom: 14px \ u003B align \ u002Ditems: center \ u003B \ u0022 \ u003E \ u003Cdiv \ u003E \ u002Fground style \ u002Dground \ u003Color4 \ u002Dground \ u003B border \ u002Dradius: 50% \ u003B height: 12.5px \ u003B width: 12.5px \ u003B transform: translateX (0px) translateY (7px) \ u003B \ u0022 \ u003E \ u003C / div \ u003E \ u003Cdiv style \ u003 u0022background \ u002Dcolor: # F4F4F4 \ u003B height: 12.5px \ u003B transform: rotate (\ u002D45deg) translateX (3px) translateY (1px) \ u003B width: 12.5px \ u003B flex \ u002Dgrow: 0 \ u003Bright margin u003B margin \ u002Dleft: 2px \ u003B \ u0022 \ u003E \ u003C / div \ u003E \ u003Cdiv style \ u003D \ u0022background \ u002Dcolor: # F4F4F4 \ u003B border \ u002Dradius: height 50% \ u003 width: 50% \ u003 width \ u003B transform: translateX (9px) translateY (\ u002D18px) \ u003B \ u0022 \ u003E \ u003C / div \ u003E \ u003C / div \ u003E \ u003Cdiv style \ u003D \ u0022margin \ u002Dleft: 8px \ u002Dleft: 8px \ style \ u003D \ u0022 background \ u002Dcolor : # F4F4F4 \ u003B border \ u002Dradius: 50% \ u003B flex \ u002Dgrow: 0 \ u003B height: 20px \ u003B width: 20px \ u003B \ u0022 \ u003E \ u003C / div \ u003E \ u003Cdiv style \ u22 width: 0 \ u003B height: 0 \ u003B border \ u002Dtop: 2px solid transparent \ u003B border \ u002Dleft: 6px solid # f4f4f4 \ u003B border \ u002Dbottom: 2px solid transparent \ u003B transform: translateX (16px )Y (\ u002Deg translate4dx) \ u0022 \ u003E \ u003C / div \ u003E \ u003C / div \ u003E \ u003Cdiv style \ u003D \ u0022margin \ u002Dleft: auto \ u003B \ u0022 \ u003E \ u003Cdiv style \ u003D \ uxp \ u002 width: 0 solid # F4F4F4 \ u003B border \ u002Dright: 8px solid transparent \ u003B transform: translateY (16px) \ u003B \ u0022 \ u003E \ u003C / div \ u003E \ u003Cdiv style \ u003D \ u0022 background \ u002Dcolor4 \ u00gDcolor: # F4F2F : 0 \ u003B height: 12px \ u003B width: 16px \ u003B transform: translateY (\ u002D4px) \ u003B \ u0022 \ u003E \ u003C / div \ u003E \ u003Cdiv style \ u003D \ u0022 width: 0 \ u003B height: 0 \ u0022 border \ u002Dtop: 8px solid # F4F4F4 \ u003B border \ u 002Dleft: 8px solid transparent \ u003B transform: translateY (\ u002D4px) translateX (8px) \ u003B \ u0022 \ u003E \ u003C / div \ u003E \ u003C / div \ u003E \ u003C / div \ u003E \ u003Cisplay \ u003Dlay style: flex \ u003B flex \ u002Ddirection: column \ u003B flex \ u002Dgrow: 1 \ u003B justify \ u002Dcontent: center \ u003B margin \ u002Dbottom: 24px \ u003B \ u0022 \ u003E \ u003Cdiv style \ u004F4 \ u002Folor: # border \ u002Dradius: 4px \ u003B flex \ u002Dgrow: 0 \ u003B height: 14px \ u003B margin \ u002Dbottom: 6px \ u003B width: 224px \ u003B \ u0022 \ u003E \ u003C / div \ u003E \ u003C background u002Dcolor: # F4F4F4 \ u003B border \ u002Dradius: 4px \ u003B flex \ u002Dgrow: 0 \ u003B height: 14px \ u003B width: 144px \ u003B \ u0022 \ u003E \ u003C / div \ u003E \ u003C / div \ u003E \ u003 \ u003E \ u003Cp style \ u003D \ u0022 color: # c9c8cd \ u003B font \ u002Dfamily: Arial, sans \ u002Dserif \ u003B font \ u002Dsize: 14px \ u003B line \ u002Dheight: 17px \ u00Bottom \ u002B margin: u002 \ u002B margin : 8px \ u003B overflow: hidden \ u003B padding: 8px 0 7 px \ u003B text \ u002Dalign: center \ u003B text \ u002Doverflow: ellipsis \ u003B white \ u002Dspace: nowrap \ u003B \ u0022 \ u003E \ u003Ca href \ u003D \ u0022https: //www.instagram/ utph_CM1? \ u003Dig_embed \ u0026amp \ u003Butm_campaign \ u003Dloading \ u0022 style \ u003D \ u0022 color: # c9c8cd \ u003B font \ u002Dfamily: Arial, sans \ u002Dserif \ u003B font \ u003style \ u00BxDsize normal normal \ u003B line \ u002Dheight: 17px \ u003B text \ u002Ddecoration: none \ u003B \ u0022 target \ u003D \ u0022_blank \ u0022 \ u003E A post shared by Chef Hirohiko Shoda (@chef_hiro) \ u003C / \ u003E / p \ u003C / div \ u003E \ u003C / blockquote \ u003E "; var instagram_js = document.getElementById ('instagram-js'); if (! instagram_js) {instagram_js = document.createElement ('script'); instagram_js.src = 'https://www.instagram.com/embed.js'; instagram_js.id = 'instagram-js'; document.body.appendChild (instagram_js); } instagram_js.onload = function () {instgrm.Embeds.process (); }