Call of Duty: Warzone, model Alex Zedra discovers and accuses two streamers of cheating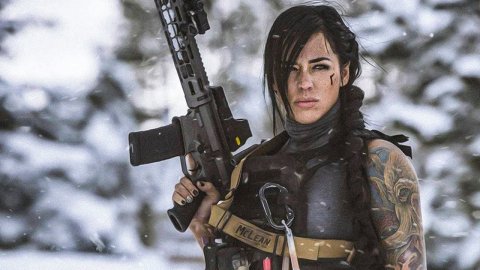 Call of Duty
Other cases of cheating have emerged in
Call of Duty
: Warzone, with the particularity that this time Alex Zedra, the model who plays the flesh and blood version of the character Mara, discovered the two players, who are popular streamers. br>
The question arose practically by chance, even if the doubts about the two had already begun to thicken for some time: they are Sarah "Icy Vixen" Belles and BeardedBanger, both well-known players of Call of Duty: Warzone and also streamers somewhat followed, with about 40,000 followers collected in a relatively small period of time.
Among the evidence made by Alex Zedra is the video visible in the tweet below, randomly recorded by the model during a Twitch session in the course of a Call of Duty: Warzone tournament, in which Belles is seen hitting a player with extreme precision. The suspicion is that the girl used wallhack or auto-aim systems, which made it possible to accurately locate a player who could not be seen in that way by the streamer, being covered by a hill.
The fact that Belle was already preparing the blow before she even saw the enemy, despite no comrades having instructed her on the position of this, was particularly suspicious. Similarly, Belle's partner BeardedBanger has also been accused of using aim-assist systems and the like to achieve excellent scores in Activision's battle royale.
Both have taken action by deleting most of the saved videos in their channels, but have still suffered the suspension of their respective accounts by Twitch, with investigations in progress. At the moment there does not seem to be an official response, but the provision from the streaming platform seems rather explicit for the moment. In the video below, for example, BearderBanger seems to be able to know with great precision and in advance the position of enemies covered by sight, moreover it maintains a lock-on on the head of the enemies regardless of their movements with precision that seems unnatural.
Alex Zedra had also ended up herself at the center of a diatribe some time ago, but without having direct fault: Clayton Haugen, author of a film project, had accused Activision of having stolen his character "Cade Janus" , played by Zedra, to create the Call of Duty Mara.
Source
---
Call of Duty: Black Ops Cold War Leak Reveals New Map Modern Warfare 3 Fan Will Like
A new Call of Duty: Black Ops Cold War leak has surfaced online, and it has the full attention of Modern Warfare 3 fans. Call of Duty: Black Ops Cold War Season 2 is set to end on April 21, which means Season 3 is only a month and a couple of weeks away. For Warzone, it looks like players are getting an explosive event featuring nukes and a zombie takeover that will bring a new map to the free-to-play experience. Right now, it looks like Call of Duty: Black Ops Cold War will have a far less exciting transition from Season 2 to Season 3.
While it doesn't look like Call of Duty: Black Ops Cold War will get a special, season-transitioning event, it does look like it's getting a brand multiplayer map dubbed Echelon that will reportedly be a mix of the following three maps: Highrise, Vertigo, and Dome.
The leak comes the way of 'Black Ops Cold War Newz,' and unfortunately, it's not accompanied by any media, however, the leak does note the map has a big crane, is set on top of a tall building, and has two domes similar in style of Modern Warfare 3's Dome map.
Concluding, the leak claims the map is a 6v6 map and has been 'held back since before Season 1,' though it's not divulged why it's been held back.
For now, take all of this with a grain of salt given that it's all unofficial. Further, even if everything here is correct and as exciting as it sounds, it's also subject to change.
Call of Duty: Black Ops Cold War is available via the PC, PS4, PS5, Xbox One, Xbox Series X, and Xbox Series S. For more coverage on Cold War, Warzone, Modern Warfare, and every other COD game under the sun, click here or check out the relevant links below: